Junior Gold Miners: Subprime in Gold
Monday, 12/15/2008 11:21
Junior gold miner stocks have collapsed for the same reasons the subprime bubble blew up...
BEFORE THE RECENT market meltdown, the market for junior gold miner companies had already been experiencing a severe correction from its peak of early 2007, writes Trey Wasser of Pilot Point Partners – a veteran broker and venture capitalist for over 23 years at Merrill Lynch, Kidder Peabody and Paine Webber – for The Gold Report.
Despite rising and historically high Gold Prices, money began leaving the market in earnest in the summer of 2007. By late last year, the correction had become a full-fledged bear market.
Then the credit markets collapsed in September 2008. This caused another leg down which also included the major mining companies and the underlying commodities.
Many Gold Mining juniors are now trading at a market capitalization that is less than their cash holdings. Most are down over 80% from their 2007 highs. What went wrong in a market that held so much promise just 18 months ago? How can the market undervalue precious metal properties at $800 gold and $10 silver? Will the markets for junior Gold Miner stocks – or for other junior miners – ever recover?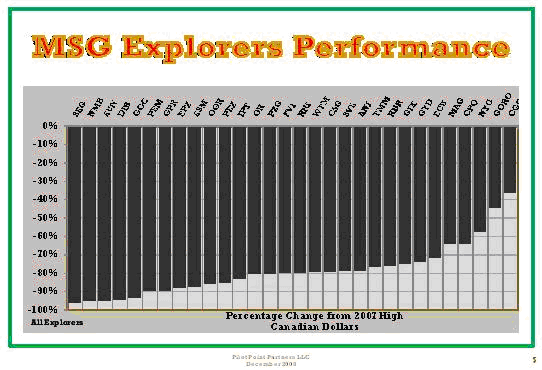 To answer these questions, we must look very closely at the cause of the demise. Unlike in the late 1990's, there is no Bre-Ex to take the blame. There is not one major speculative company, with salted samples and geologists jumping from helicopters, for the market to point to and say "they ruined it for all of us".
The fact is that in an environment of easy credit, wild speculation and an attitude of "it's different this time", many investors have been caught shamelessly doubling and tripling down in junior mining stocks that are now simply doomed to fail.
The parallels between the mortgage market in the United States and the junior mining market in Canada are striking. Because they are a product of the same loose credit policies. Based on the false premise that everyone should own a home, American bankers and brokers were allowed to leverage the housing market with a seemingly endless supply of mortgage-backed securities. They then leveraged these securities many times creating today's still incalculable risk in derivative products.
Today, shareholders are losing all their equity. Bankers and management have already made millions in fees, salaries and bonuses that were based on the "paper profits" from all these leveraged securitized transactions.
While we won't (but probably could) make the case that Canadian investment banks operated on the like premise that everyone should run a mining company, the process is very similar. As money from yen carry trades and other loose credit sources poured into the Canadian Venture Exchange, PPOs, RTOs and IPOs flourished in the mining sector. A retired geologist and a financier could joint venture a property in an obscure part of some third world country and become a mining company. The bankers would gladly raise them $5 million, then $5 million more for fees that often approached 10% and also included a piece of the pie.
The process was fueled by greed as "blue sky" was promoted as an "asset", as defined by a 43-101 report. Insiders made millions on their private placement shares as the process was repeated over and over. No one really cared if there was a truly developable project in many of the "shells". Drill rigs began turning, with geologists in charge, and a belief that the equity window would never close. Investment bankers were highly compensated, but few of the companies ever even received (or warranted) research coverage.
Leverage was added as companies morphed themselves into separate entities, one for gold, one for silver and one for base metal. Senior executives were often found starting a new company while still holding management positions at several others. The bigger the "blue sky" the more money a company could raise. In many cases, less than fifty cents of every dollar actually went into the ground as promotion budgets swelled. Many of the majors were even caught in the folly and invested into some overpriced or questionable projects. This added to the speculation as the 'buyout" business model replaced the concept of building a legitimate mining company. However, when buyout offers did appear they were often rejected. Management proved unwilling to part with their ticket to the equity window and their place at the feed trough.
Barrick Gold's 2006 buyout offer for NovaGold was deemed inadequate by management and rejected. When the dust had cleared in April 2007, it marked the exact top of the market for the Venture Exchange. Barrick explained that their "fair and final offer of $16" was based on "deteriorating economics at Galore Creek and the newly filed litigation at Rock Creek." At the time, these appeared to be face-saving excuses for a failed tender offer. Today, they seem more prophetic, as NovaGold struggles to survive.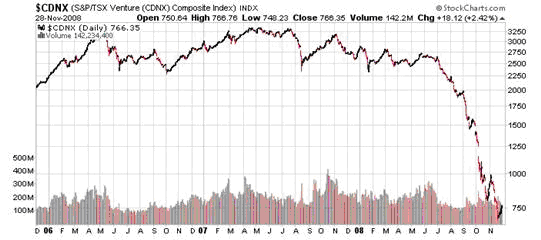 Interestingly, many of the pundits and gold bugs who have been warning of the leverage and speculation in the US mortgage/derivatives markets failed to recognize the same risk in the junior gold miner stocks.
Most also failed to predict the deluge for mining stocks as those loose credit policies were arrested and unwound. Many actually participated in the leverage at the private placement level. Today, they continue to bash the US Dollar although it stubbornly remains the safe haven currency in a financially troubled world.
So where do we go from here and when does the market for junior mining stocks recover? Unfortunately for shareholders, a majority of the companies will never recover. Many are out of cash and have no prospects for additional equity. These will slowly fold and their only legacy will be as historic drill results. Some companies have developed bankable assets and might secure some type of debt financing. The process will be slow and painful, much like mortgage foreclosures. Many cash strapped companies are now in "hunker down" mode. It appears that "hunker down" is mining terminology for "stop all operations and cover G&A as long as possible".
When their cash is depleted, many of them will also fold.
Unfortunately, even some of the best gold miner juniors failed to focus their resources on a flagship property and advance it into an actual development project. Easy capital enticed them to build a "pipeline" of properties more appropriate for larger companies. Investors were easily swayed with this "irons in the fire" business model. Today the market is seeing these undeveloped properties for what they are, liabilities not assets. There are a few that were smart (and lucky) enough to advance a project that is truly developable. These will receive additional equity, albeit at substantial dilution to existing shareholders. Others will proceed, without shareholders, as debt holders take over the projects. Some will merge. But mergers won't bail out existing shareholders as few premiums will be paid in the consolidations.
Even the companies with projects nearing production are finding it difficult to finance construction in the current market. Companies with once profitable poly-metallic mines are being forced into "care and maintenance" at current base metal prices.
Easy capital is mostly inefficient capital. Looking at mining projects today, it is amazing to see just how little was actually created with the billions invested into the junior sector over the past several years. The capital was simply spread too thin. Way too many companies were created. But, like the mortgage market, it was mostly the securitization process that created profits for insiders, bankers and management.
With mortgage backed securities, somewhere underneath all that paper, is a house. The sub-prime analogy stops here. Obviously there will be no bailout for junior mining companies, but there will be survivors. There are some real developable mining assets, under all that paper, that are currently being severely undervalued. Unlike most other assets, gold continues to hold on to the bulk of its gains of the past five years. Base metals appear to be forming a bottom and their current underperformance relative to gold cannot be sustained. President-elect Obama has stated that he will develop a series of infrastructure-based jobs programs in the US. This build-out will compete for metals with China, India and other emerging countries as their growth accelerates in a worldwide economic recovery. Money will begin to flow back into commodities and other hard assets as credit market free up, early next year.
In this financially challenged market it is still difficult to differentiate the "baby from the bathwater." Our North American Gold & Silver Explorers Model is currently following 24 companies we believe will survive to drill another day. Companies with cash flow or high cash balances will not only survive, but will be positioned to acquire new assets as other companies fail or drop properties. We are currently positioning our clients for a strong rally beginning in Q1, 2009.