Euros & gold
Thursday, 9/13/2007 10:20
Gold traders should keep a close eye on the European Central Bank's money-pumping activities...

"THE CURRENT CYCLE of Eurozone interest-rate tightening is nearing its end," said EU Monetary Affairs Commissioner Joaquin Almunia on Sept 3rd.
"The main part of the interest rate rise is already done. I don't think it is going to rise much more. In the very short term, rate cuts won't be announced but for sure, in the medium term, interest rates are going to fall because the Spanish, European, world economies are fundamentally solid."

Almunia is a mediator between the European Central Bank, which wants to push interest rates higher, and European politicians – led by France's Nicholas Sarkozy – who want the ECB to weaken the Euro currency.

And here, Almunia seemed to be signaling a compromise between the two warring factions, allowing for one final ECB rate hike to 4.25%, but not immediately at the (then) upcoming Sept 6th meeting.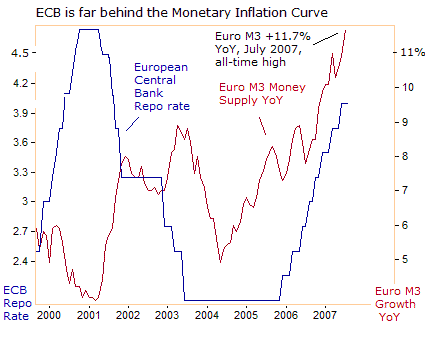 With the German inter-bank system in turmoil, Eurozone politicians are applying pressure for a steady monetary policy, worried that the "Bernanke Put" of sharply lower US rates could drive the Euro sharply higher, even without the help of ECB rate hikes.

A stronger Euro can act as a quasi-tightening mechanism by shielding Eurozone importers from higher costs for crude oil and other raw materials. The ECB is also under pressure to cut interest rates, at a time of out-of-control Euro M3 growth.

"The ECB needs to restore confidence by giving the signal that it stands ready to defend growth and jobs by cutting interest rates if necessary," the European Trade Union Confederation said on August 30th. "To maintain robust growth and job prospects, the ECB needs to consider a timely cut in interest rates," said Reiner Hoffmann, deputy of the ETUC.

Calls for a steady ECB policy are gaining the upper hand over the hawkish views of Greek central banker Nicholas Garangas. He warned six-weeks ago, on July 17th, that "risks to inflation have increased."

"It is crucial we act in a firm and timely manner, preemptively, to ensure price stability," he added, citing higher oil prices and high capacity utilization as inflationary drivers.

Just a month ago, ECB chief Jean "Tricky" Trichet uttered the words "strong vigilance" yet again, signaling a tightening in Eurozone credit costs after the central bank held rates steady at 4.00% on August 2nd. "[It] is of the essence to insure that risks to price stability over the medium term do not materialize," Trichet said.

However, "When I use the words 'strong vigilance', don't forget we never pre-commit," Tricky Trichet added, keeping his audience off balance.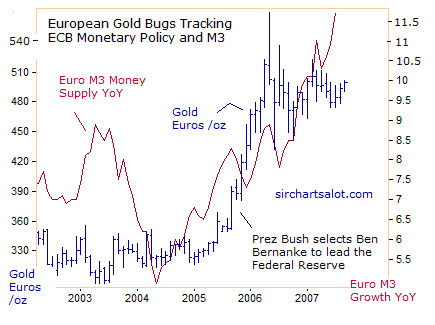 Meantime, inflation psychology is bubbling in the Eurozone, with crude oil standing above $75 per barrel, and the Price of Gold in Euros climbing back above €500 per ounce for Frankfurt investors.
European gold bugs are itching to buy the yellow metal, with Trichet's "strong vigilance" rhetoric to contain the Euro M3 money supply dissipating into thin air.

Serious gold traders will keep a close eye on "Tricky" Trichet's money pumping operations from here. The ECB added temporary funds to money markets in a series of injections in August but has since withdrawn most of the surplus, only to add fresh funds again in the week-commencing Sept. 10th.

The initial liquidity draining put upward pressure on the six-month Eurozone interbank lending rate (Libor), pushing to as high as 4.75% late last – its highest since 2001 and roughly 40-basis points higher than normal.
It remains uncertain whether "Tricky" Trichet will countenance a de-facto tightening of the Euro Libor rate. "Should this persist tomorrow, the ECB stands ready to contribute to orderly conditions in the Euro money market," the central bank said on Sept 5th.

Amid all the stress and turmoil in the German banking system these days, gold is looking like a "safe haven"...immune to the toxic disease of sub-prime US mortgage slime.

Should you place your faith in Euros or Federal Reserve notes? "Money is too important to be left to central bankers. You essentially have a group of unelected people who have enormous power to affect the economy. I've always been in favor of replacing the Fed with a laptop computer, to calculate the monetary base and expand it annually, through war, peace, feast and famine by a predictable 2%," said Milton Friedman.

This article is just the Tip of the Iceberg of what's available in the Global Money Trends newsletter. Visit now to learn more...