China's Gold Imports - a Worry for Beijing?
Thursday, 2/16/2012 11:55
Private gold demand has suited Beijing's aim to date. But what now that imports are surging...?
GOLD ALWAYS goes where the money is, writes Adrian Ash at BullionVault, and today's new data today from our friends at the World Gold Council again show gold mapping the deep shift of relative wealth, from West to East, here in the 21st century.
Indian and Chinese households between them bought 1 in every 2 ounces of gold sold worldwide last year says the WGC's new Gold Demand Trends report. By value (and on our maths here at BullionVault), China's private gold demand has jumped above 0.6% of its huge GDP. That still lags India's ridiculous 2.7%, but it has tripled in 5 years and is starting, we think, to worry policymakers in Beijing.
Suddenly starting after last month's Chinese New Year, we learnt this week from our friend Bruce Ikemizu at Standard Bank in Tokyo, China's gold importers must seek permission for each shipment not only from the central bank, but also from the bureaucrats of the State Administration of Foreign Exchange (SAFE).
"Therefore, it takes longer to import gold," says Bruce – a frustration for those banks importing gold, but likely only to delay, not deter, the flow of metal into China. In a country where gold exports are banned, however, and where domestic mining output now leads the world, gold demand is already tempering the trade surplus.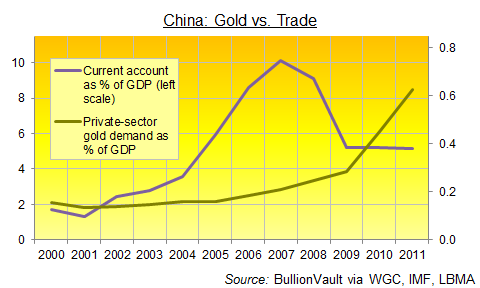 Of course, and thanks to its world-beating mine output, the cash outflow needed to pay for China's surging gold demand remains very much smaller than India's bill. Still the world's No.1 gold buyer, India has no domestic mine supply. Gross gold imports in 2011 exceeded its gross gold demand by 35 tonnes on the WGC's data at 969 tonnes.
The impact of that cash outflow is plain to see on India's trade balance. And that deficit – the only current account deficit in the region as Morgan Stanley notes – showed keenly on the Rupee's exchange rate in 2011, down 15% versus the Dollar as the currency markets sought to force re-adjustment.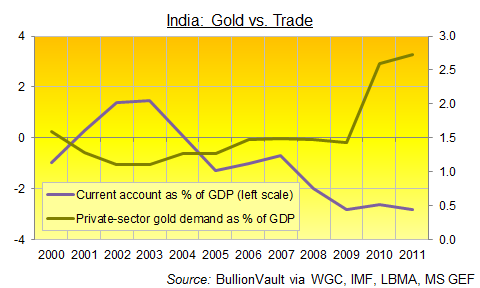 Back in China, however, gold imports through Hong Kong alone totaled 428 tonnes in 2011, tripling from 2010, leapfrogging the new record in gold-mining output (itself 6% higher from 2010 at 361 tonnes) and equal to more than 55% of China's total private gold buying as reported by the WGC today.
Yes, the deeper shift of wealth from West to East demands this transfer, but coming just after India doubled its import duty on gold and silver last month – imports which matched three-quarters of India's entire current account deficit in 2011 – the new move by SAFE should remind precious-metals bulls that massive demand growth can pose a risk to itself. First from high prices dissuading new buyers (as seen in global jewelry demand since 2005) and also, potentially, from state interference.
Gold has, since China's deregulation began a decade ago, offered a useful if not vital way of diversifying the nation's savings. Western deficits and the debt crisis confirm that role in 2012 and beyond, but now that China's gold imports have overtaken domestic mine output, gold also risks denting the trade surplus – a key plank of Beijing's economic-growth model. These two aims won't be easily reconciled.
Looking to Buy Gold for your own private reserves today...?