Gold Market? Tumbleweed
Friday, 6/15/2018 18:15
If you liked $1300 gold, you gotta love it now...
VOLATILITY was long overdue in the gold market, writes Adrian Ash at BullionVault.
Tired of waiting, the hot money has now thrown in the towel...causing the very spike in price action it just gave up waiting for.
But this spike in volatility might prove just that, however – a spike.
Because the bullion market has sailed so far into the doldrums, it risks getting stuck there. And not just against the almighty Dollar.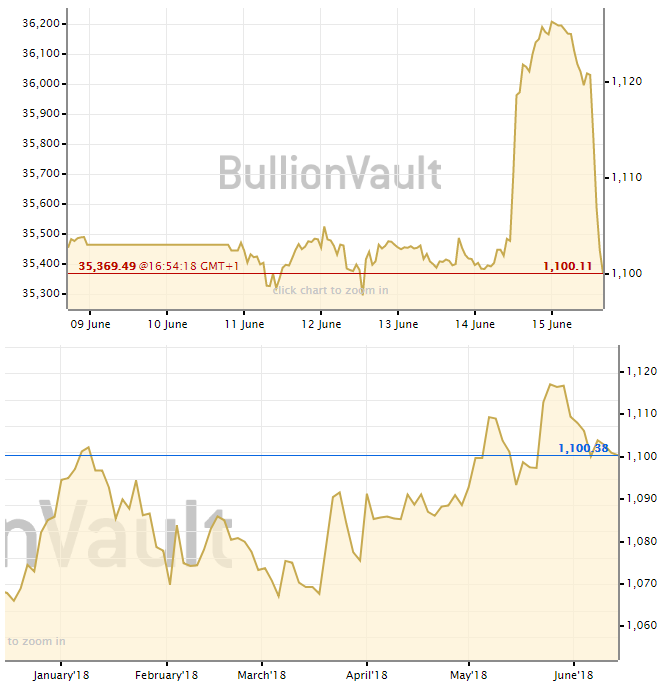 Squint hard enough though, and gold's slow shuffle towards the half-way mark in 2018 does show two distinct phases.
First it jumped above $1300 and then held that level as a floor. Then gold cracked below $1300 as
US bond prices fell
and the yields they offer jumped in mid-May. $1300 has been a ceiling since then.
Higher rates make any zero-yielding asset tougher to hold, all other things equal. All things considered, gold also did well this week to creep back above $1300 as both the US Fed and European Central made noises about tightening policy, too.
But whether it's Iran, North Korea or Italy, this year's slew of geopolitical news has failed to shift gold prices higher.
Friday morning's volloy of shots in the US-China trade war then failed to boost gold again...
...and so those hedge funds betting that gold would go up finally quit.
Their push via the Comex futures and options market was clearly the only thing keeping gold at $1300 this week. Because now it's gone, the price has sunk $20 per ounce, and we're left facing a long summer ahead.
ETF demand has vanished. Retail investors
remain AWOL
. Asian buying won't return until jewelers start re-stocking for the Indian wedding season towards August.
Still, this drop should at least ease the selling pressure in the physical market. Price-wise traders are likely to buy the drop too, looking to take a profit when the metal next pops higher. On BullionVault today, one-third of Friday afternoon's buyers have sold higher up sometime in the last 7 days.
But the risk for short-term bulls is that the hot money turns tail and starts shorting gold instead of betting that it will rise.
Call it spite, if not idiot trend trading.
Longer-term investors might call it an opportunity.