Gold Investment: Barometer of Stress Shrugs at US Election 2020
Tuesday, 11/03/2020 09:44
Gold investment trading, demand and new interest all slip...
GOLD INVESTMENT
among Western savers retreated as prices slipped in October, with sentiment among private investors falling to the weakest since before the Covid Crisis began even as global stock markets dropped ahead of today's fractious US election,
writes Adrian Ash at BullionVault.
That's according to our latest data, taken from the largest online and smartphone platform for private investors to own physical gold, now caring for $3.6 billion of precious metals for over 90,000 users worldwide, 89% of them in North America or Western Europe.
Gold investment demand, trading and new interest all tailed off last month. So if gold should act as a barometer of political stress, then either it's broken or investors are very relaxed about the outcome of today's vote.
But all financial markets have gone into wait-and-see mode ahead of Election 2020, and the underlying demand for physical bullion remains positive as the longer-term outlook remains bullish. Whoever wins, the White House will oversee new record deficit spending to fight the Covid Crisis, aided by unprecedented monetary stimulus from the Fed.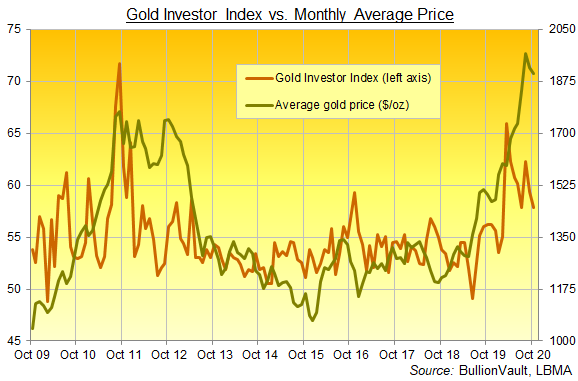 The Gold Investor Index tracks the number of people buying gold against those choosing to sell it, rebased as a proportion of all gold owners at the start of the month so that 50.0 would signal a perfect balance between the two.
The
run-up to Trump's 2016 victory
saw the index rise to 56.8, then a 3.5-year high. Last month in contrast saw the Gold Investor Index slip to 57.9, matching July's dip to the weakest reading since February and 6.0 points below March's 8.5-year record.
October's gold trading volumes on BullionVault eased to the lightest since December, down by one third (34.7%) from September and less than one-fifth (18.7%) of
March, the busiest month since BullionVault opened
in 2005, when our technology saw an average of $13.5m (£10.9m, €12.2, ¥1.5bn) in precious meyals change hands every day.
That makes sense given that investment-grade gold bullion prices meantime slipped 1.1% in October on a month average basis, and volatility fell by one-third on a daily basis from the average level since the Covid Crisis began in March.
But October also brought the fewest new US users to BullionVault since February, down by 36.3% from September's count and 35.4% below the count in October 2016, eve of Donald Trump's election to the White House.
That contrasted a little with the global picture, where last month saw the overall number of first-time precious-metal investors slip just 9.1% from September's count to total 18.8% more than it did in October 2016.
Gold investment demand also fell by weight in the run-up to Election 2020, with new and existing users of BullionVault as a group adding 0.4 tonnes of gold to their holdings last month net of client selling, one-third less than the last 12 months' average. That still took the weight of customers' gold property up to a fresh all-time record of 45.4 tonnes, worth $2.7bn (£2.1bn, €2.3bn, ¥287bn) and stored in specialist vaults in each client's choice of London, New York, Singapore, Toronto or most popular Zurich.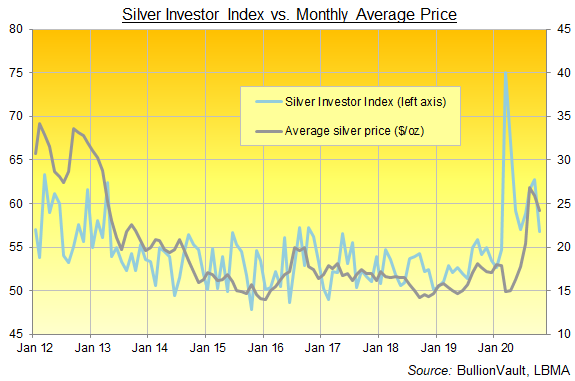 Silver holdings also grew again to a fresh record in October, up 25.9 tonnes to 1,110 tonnes worth $843m (£649m, €729m, ¥88bn).
But with the number of people buying silver across the month falling 3 times faster than the number of those selling it, the Silver Investor Index fell by 6.0 points, its sharpest retreat since May, to read 56.8 – back below its 12-month average and down 18.3 points from March's series record.