2020 Extends Record Gold, Silver Investing on Price Dip
Tuesday, 10/06/2020 10:13
Price jump less frantic than 2011's surge, now holding firmer...
GOLD and SILVER INVESTING
demand continues to set new records as the dreadful Covid-19 pandemic wears on,
writes Adrian Ash at online and smartphone marketplace BullionVault.
Now September has seen gold demand on BullionVault – the world's largest precious-metals investing platform – conclude the strongest Q1-to-Q3 run in our 15-year history. Silver investing demand has already beaten 2011's full-year peak.
Now used by more than 90,000 customers from 175 countries, BullionVault today cares for 45 tonnes gold, 1,099 tonnes of silver and 1.9 tonnes of platinum worth $3.6 billion (£2.8bn, €3.1bn, ¥381bn), more than any other comparable service.
Gold demand over the first 9 months of this year totalled 5.7 tonnes net of customer selling. Worth $353m (£272m, €299m, ¥37.2bn) at current prices, that net gold demand comes only 0.6 tonnes behind 2011's full-year record.
Demand for silver, also stored and insured in each customer's choice of specialist vaults around the world (and again with Zurich most popular), has already beaten 2011's full-year record by more than 76%, totalling 262 tonnes worth $202m (£156m, €171m, ¥21.3bn).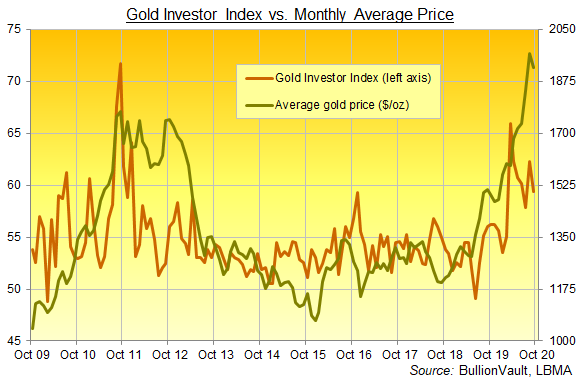 This September's calmer price action in gold saw the number of investors buying the metal on BullionVault ease 22.2% from August to the fewest since February, but it still totalled 100.6% more than 2019's pre-Covid average.
The number of BullionVault users selling gold meanwhile dropped 27.5% from August to the fewest since December, and came only 7.5% above last year's pre-Covid average.
Together that saw the Gold Investor Index – BullionVault's unique measure of private-investor activity in physical gold – slip from 62.3 in August to 59.4 in September.
That would still have marked a 9-year high in the Gold Investor Index if not for spring-summer 2020's record run of strength as private investors turned to gold amid the Covid-19 pandemic and lockdowns.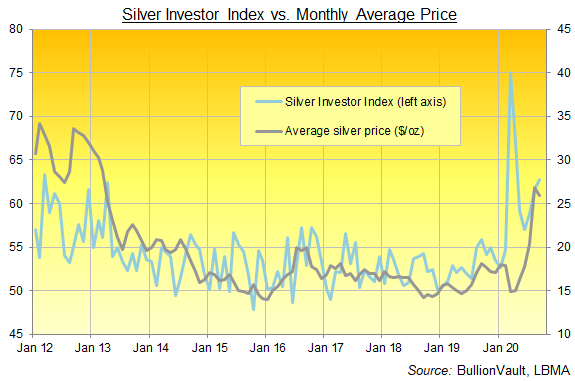 The Silver Investor Index – which would also read 50.0 if the number of people starting or adding to their holdings across the month exactly matched the number selling all or some of theirs – rose to 62.8 last month from 61.6 in August.
The 3rd monthly rise in a row, but still below March's sudden series record of 75.1, this increase came as the number of silver buyers slipped 10.3% for the month but the number of sellers sank by 42.1%.
September's count of silver buyers was 249.1% ahead of 2019's average. The number of sellers was 74.5% above those pre-Covid levels.
This continued strength in demand to invest in gold and silver came as both metals slipped back from August's surge. But compared to the precious-metal peaks of 2011, both the rise and the retreat so far have been much less frantic.
In the 12 months to August silver's month-average price rose 56.9%, before edging back just 3.7% in September to average $25.89 per ounce. Spring 2011 in contrast saw silver rise 131.9% in the 12 months to that April's record high before sinking 12.4% in May.
Gold priced in Dollars meanwhile rose 31.3% over the 12 months to
August's new record high
before slipping 2.3% to average $1922 per ounce in September. That snapped 5 months of gains – the longest stretch of rising prices since the metal's previous Dollar-price top of mid-2011 ended with a 12-month gain of 44.4% and then a 6.0% drop.
So while this year's surge in gold and silver prices has been dramatic, it was less steep on the way up than the big top of 2011, and it has so far been more stable at these new higher levels.
This reflects both a switch to gold ETFs such as SPDR's GLD and iShares' silver SLV, plus more notably to
physical metal rather than leveraged derivatives
among short-term traders, as well as a more considered, long-term approach by private investors, private banks and fund managers wanting to spread risk rather than chase momentum.
Gold and silver morphed from must-have assets to a runaway trade as the financial crisis peaked and crested a decade ago. Here in the last quarter of a truly awful 2020, and ahead of the most fractious US election since the last one, the case for investing in precious metals is winning more converts and looking both stronger and more consistent so far.