Gold Bullion Sentiment Hits 3.5-Year High Before US Election
Tuesday, 11/01/2016 09:21
US investors jump on gold bullion price drop ahead of Trump-Clinton presidential vote...
GOLD BULLION
sentiment amongst Western private investors leapt to a new 3.5-year high in October, led by surging interest from the United States ahead of next week's bitter election for the White House,
writes Adrian Ash at BullionVault.
The Gold Investor Index – which measures the balance of private investors starting or growing their gold bullion holdings over those reducing them – jumped to 56.8 last month from September's 55.0 reading, beating the post-Brexit peak of 56.0 in August.
The index would read 50.0 if the number of net buyers exactly matched the number of net sellers across the month. It hit a series peak of 71.7 in September 2011, and bottomed at 50.5 over winter 2014/2015.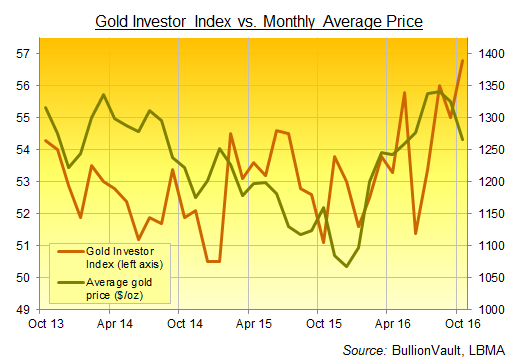 October's daily average gold price retreated 4.4% from September against the rising US Dollar, falling to the lowest level since April at $1266 per ounce.
The sharpest monthly drop in almost a year, that saw the number of gold buyers across the month on BullionVault – the world's online leader in privately-owned vaulted bullion – rise by more than one third, while the number of sellers fell 16% compared to September.
Regionally the sharpest jump came amongst US investors. The headcount of US residents growing their gold bullion holdings during October as a whole outnumbered US sellers by almost 4-to-1. New US account openings also jumped in October, reaching the second-highest monthly level since January 2013 and rising 81%
from September
to stand 36% ahead of the previous 12-month average.
Self-directed US investors, in other words, leapt on the pullback in gold prices to build their holdings ahead of next week's election. But just as with the UK's Brexit shock in June, the wider financial markets seem complacent about next week's result.
So for gold bullion prices, the risk of a sharp rise if Trump produces a shock win looks much greater than a drop if Clinton matches expectations.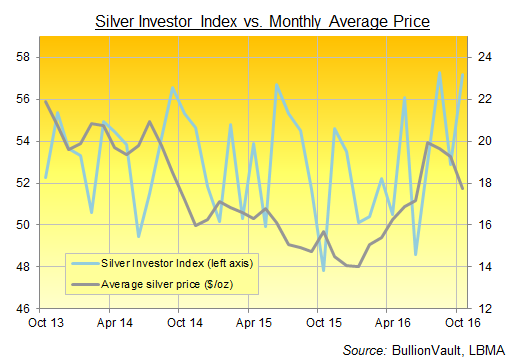 BullionVault's Silver Investor Index also rose in October, moving up from 52.9 to 57.2 but ending just shy of August's 3-year high at 57.3 as prices fell over 8% on their monthly average – the sharpest drop since the precious metals crash of Spring 2013.
Silver's run of 6 monthly gains to the end of August had been the metal's longest stretch of rising prices since 2006.
By weight, BullionVault users added 10.7 tonnes of silver bullion to their holdings in October, taking the total above 632 tonnes.
The fourth monthly inflow of 10 tonnes or more so far in 2016, that took calendar year-to-date silver growth to 85 tonnes, already beating every full year since 2012 and 46% ahead of 2015.
Gold holdings also grew strongly by weight, marking the second strongest month in 3 years after August's inflow of almost 0.5 tonnes with a further addition of 0.4 tonnes.
Now
holding a record 36.3 tonnes
, BullionVault users have added 1.9 tonnes over the last 12 months. Thta's 57% more than previous November-October period and the strongest 12-month inflows since the year-ending May 2013.
Yes, price drops such as October's 4.4% fall have invited the strongest monthly additions. But the underlying trend – both in extra gold demand and in our Gold Investor Index of sentiment – has moved higher together with 2016's rebound in gold prices.
While price sensitivity remains a factor, private gold bullion demand continues to move past the 'bargain hunting' constraints of the 2012-2015 price slump.