New Wave of Gold Investing as Prices Jump
Tuesday, 4/05/2016 09:00
30-year record sees new private gold investing double, but selling also jumps...
GOLD'

s
largest Dollar-price rise in almost 30 years saw a jump in new private investing,
writes Adrian Ash at BullionVault.
New account openings here at the market-leading physical gold and silver exchange online almost doubled between January and March compared with the previous 3 months, reaching a level not seen since spring 2013.
Back then, in contrast, gold investing prices suffered their worst-ever fall, dropping 25% against the US Dollar between April and June 2013 and drawing a wave of 'bargain hunting' from private individuals buying gold at what were then the lowest prices in almost 3 years.
Gold ended last month 17% higher versus the Dollar from the end of December, its strongest quarterly rise since Q3 1986.
For UK investors, gold added 20.4% against the Pound for its strongest quarterly jump since the financial crash of Q4 2008. Eurozone investors saw gold rise 11.8%, the fourth sharpest rise since 1999, when the single currency was launched.
The number of people funding an account at BullionVault for the first time rose 93% in Q1 compared to the last quarter of 2015, and grew 60% from last year's quarterly average.
This marks a clear switch from the pattern of bargain hunting since early 2013, and suggests that a new wave of private investors is seeking shelter in physical gold from poor stockmarket returns and zero-to-negative interest rates.
So why didn't our Gold Investor Index – which measures private buy and selling of physical bullion – jump sharply higher?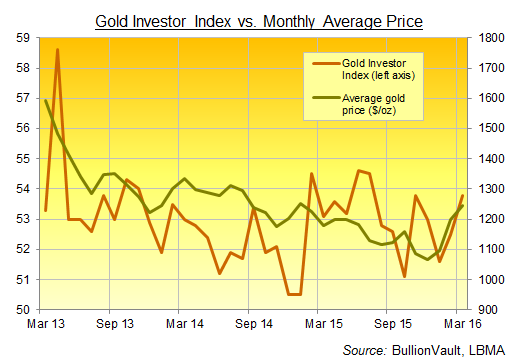 It's because the first quarter's sharp price gains also saw existing gold investors increase their sales, with the number of BullionVault users cutting or quitting their position jumping 54% compared with 2015's quarterly average.
That curbed the rise in BullionVault's Gold Investor Index to 53.8 in March from February's 52.5, matching the high of November 2015 when sharp price falls last met strong 'bargain hunting' demand.
A reading of 50.0 would signal a perfect balance of net buyers with net sellers.
This move by existing owners to cut losses or take profits after 5 years of falling prices could, perhaps, hit the wider retail investing industry if 2016's young rally continues.
But the volume of new buying on BullionVault – where selling is as easy and cheap as buying, instantly 24/7 online – also drove what could prove a signal change in the underlying picture. Because March was only the sixth month in the last 3 years that the Gold Investor Index rose together with the average US Dollar gold price, and it marked the first time since October 2012 that both the index and gold rose together for two months in succession.
The total quantity of gold held by BullionVault users also rose in March, recovering 25% of
February's client liquidation
of 0.15 tonnes – the heaviest net selling since December 2014 – to reach 34.4 tonnes, worth $1.4 billion.
Alongside prices, BullionVault's Silver Investor Index also rose in March, gaining a 3-month high of 52.2 from February's reading of 50.5 as silver's average price increased 2.5% across the month.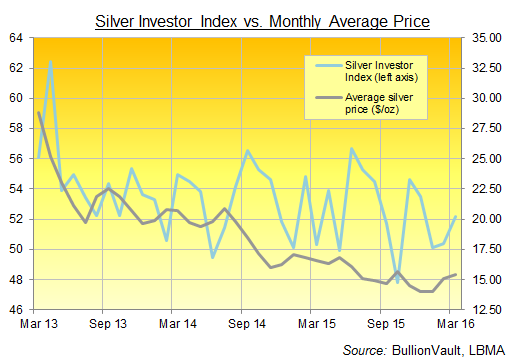 BullionVault users added a further 3.8 tonnes to their aggregate silver holdings in March, taking the total to a new record of 552 tonnes. And it's worth noting that while the Silver Investor Index has dropped below the 50.0 mark three times during the last 2 years of bear market, BullionVault has never seen net monthly client selling of silver by weight – not since we first offered the metal on the live 24/7 trading platform at New Year 2010.
Might that change if silver continues to rise in price, inviting previous bargain hunters to cut losses or take profit?