Gold Investing Jumps But New Buyers AWOL
Tuesday, 3/07/2023 09:02
Fewest 1st-time precious-metal buyers in 45 months...
AFTER the spike spurring heavy profit-taking this New Year, the retreat in gold prices has seen investor interest in the precious metal jump the fastest in 2.5 years, says Adrian Ash at BullionVault.
But with gold prices holding within 5% of their recent month-average records in all major currencies, investing demand remains light net of investor selling, while the number of new investors buying any precious metals for the first time is the weakest since spring 2019.
But those factors have lost the urgency and shock value which worked to boost investor demand
this time last year
. And so investor interest in gold has become highly price-sensitive, mirroring moves in the market as more investors look to
trade gold
actively, buying the dips and selling the spikes while longer-term allocations sit on the sidelines, waiting for a deeper correction.
Gold's pullbacks, however, are being kept shallow by the strong bid from Asia's big jewelry markets and emerging-market central banks. In contrast to Western investor and
gold ETF
flows, they're eager to buy gold at these levels, putting a floor beneath current prices.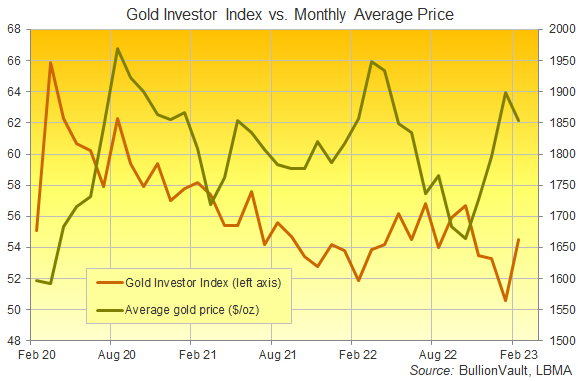 Gold priced in the Dollar fell 5.2% across February, the steepest drop since June 2021, and the precious metal lost 2.3% on its monthly average from
January's 9-month high
.
That still left gold at a month-average price topped only 10 times ever in Dollar terms and 6 times in Euros, while February's
UK gold price in Pounds per ounce
came 2nd only to January's new all-time high.
Even so, and led by existing investors, the number of people choosing to buy gold last month rebounded by 1/5th from January's figure while the number of sellers more than halved.
Together that sent
the Gold Investor Index
3.9 points higher from the New Year's 3.5-year low – the steepest increase since Dollar prices set their current all-time spot market record at $2075 per ounce in August 2020 – to read 54.5. The index would read 50.0 if the number of sellers exactly matched the number of buyers across the month. It hit a 9-year high of 65.9 as the Covid Crisis swept the world in March 2020.
Month-to-month, the Gold Investor Index has now moved in the opposite direction to the price of gold for 8 months running, a record on BullionVault's series, starting in October 2009.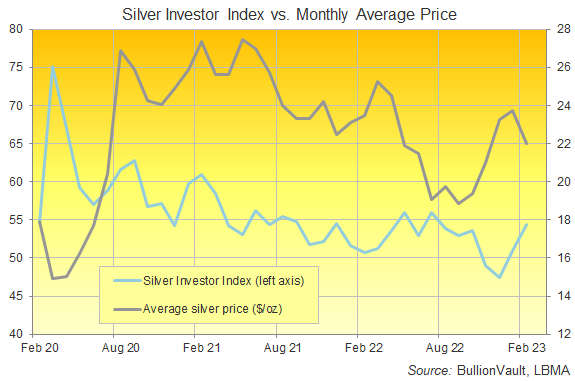 Silver prices
in the US Dollar meanwhile fell 10.7% across February – its steepest drop since September 2020 – and on a month-average basis the more industrially-useful precious metal lost 7.3%, its sharpest retreat since last July.
That pullback saw the Silver Investor Index jump to a 7-month high of 54.4, up by some 3.5 points for a 2nd month running after setting a series record low of 47.5 when prices jumped by double-digits in December.
By weight, silver last month reversed almost half of January's 9.6-tonne liquidation, taking client holdings back to 1,246 tonnes worth $822m (£680m, €775m, ¥112bn) – now down 22.8% from spring 2021's record highs above $1.0bn.
For gold, last month's rally in demand saw BullionVault client gold holdings regain only 1/10th of January's 331 kilogram outflow, taking the total up 47.8 tonnes worth $2.8bn (£2.3bn, €2.6, ¥383bn) – a drop by value of 5.1% from January's new all-time record.
Now used by more than 100,000 private investors to hold over $3.7bn (£3.0bn, €3.5bn) of fully insured gold, silver, platinum and palladium in 5 secure locations worldwide, BullionVault in February saw the number of first-time precious metals buyers fall 16.1% to the fewest in 45 months.