Gold, India and a Global Imbalance
Thursday, 5/09/2013 15:46
India's economic rise was achieved on borrowed money...
HOT ON the heels of China's massive gold buying spree in March, where the inhabitants of the Middle Kingdom absorbed 130 tonnes of the (un)precious metal BEFORE April's precipitous price drop, comes news of India's golden appetite, writes Greg Canavan for the Daily Reckoning Australia.
Bloomberg reports that gold imports exceeded 100 tonnes in April, and according to one of the county's largest refiners, May's imports will exceed that figure too. Apparently there is a rush on in India to buy ahead of restrictions soon to be imposed by the Indian central bank.
That is, because of India's inflation problem, corruption, lack of productivity and myriad other issues, it has a chronic trade and current account deficit. Predictably the central bankers blame gold for the country's financial woes and want to restrict imports of the costly, useless metal.
Because of India's huge appetite for gold, and its lack of a domestic gold mining industry, it must import the stuff...swapping precious Rupees for the inert, barbaric lump of dense metal. This contributes to imports exceeding exports.
It hasn't always been like this though. For years India ran a pretty much balanced trade account. Then, around the same time someone coined the marketing term 'BRIC's', (with the 'I' standing for India) the balance of trade began to deteriorate. Perhaps that reflected India's need to import capital goods to assist in its economic development? Perhaps it reflected India's increasing desire for gold as its price rose?
Who knows; we're ignorant of India's economic rise. But the chart does tell you one thing. That is, India achieved its economic rise on borrowed money. The deteriorating balance of trade tells you that India consumes more than it produces. If a large part of that consumption was for capital equipment, which will presumably sow the seeds of a future productivity boom, then the past excess consumption should pay off in the years ahead with excess production.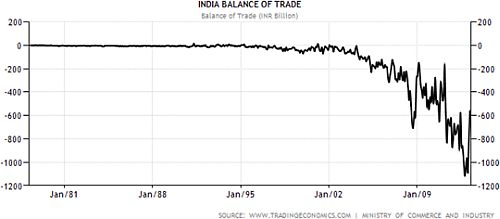 But somehow, we don't think that is the case. The US Dollar-centric global financial system is prone to imbalance. It creates over-consumers on one side, and over-producers on the other.
Perhaps that's why the G20, at the request of Russia (host of the G20 this year) is holding a conference in Istanbul right now. It's called 'Global Finance in Transition'. But a quick Google search tells you the West is not interested in reporting on it. That's because the West is clearly not interested in discussing a transition that would remove their free lunch from the table.
Right now, the West buys real goods and pays for it with IOUs. Take Russia's trade balance for example (see chart below). It runs a persistent trade surplus (it's a net producer) by selling valuable and finite commodities in return for Western government paper. No wonder it's not happy about it.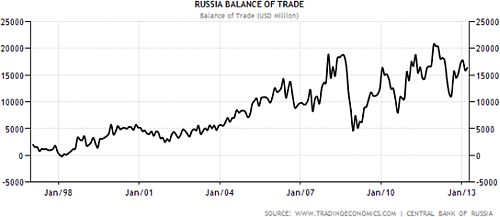 What a strange world we live in where the consumers and the borrowers have it over the producers and the savers!