Trillion-Dollar Hit to World GDP
Thursday, 2/27/2020 09:09
Gold up as coronavirus fears spread...
IN A NOTE to clients last week, analysts at Oxford Economics said they believe that the threat Covid-19 poses to the world economy is currently underappreciated, writes Frank Holmes at US Global Investors.
In a worst-case scenario in which the infection escalates into a full-blown pandemic, as much as $1.1 trillion could be wiped from the global economy in the first half of the year alone.
Again, this is a worst-case scenario, but consider the economic effects if most major cities around the world were placed on lockdown as Wuhan is right now. Lower discretionary spending, lower demand, lower productivity and lower investment would all be likely consequences.
The US and Eurozone would enter, as Oxford Economics lead economist Adam Slater puts it, "technical recessions".
I'm not as much of an alarmist as Oxford is, but Covid-19 is already bigger than SARS and, in many ways, it more closely resembles 9/11 because travel has been suspended.
Wuhan, China, where the virus originated, is home to more than 11 million people. That's four Chicagos. Shipping lines and ports have been impacted. Alphaliner, a shipping consultancy, estimates that 46% of scheduled departures from Asia to North Europe have been cancelled in the past four weeks.
It's for this reason we're seeing investors rotate into perceived safe havens and defensive stocks, starting with utilities. Energy producers were up 8.5% year-to-date through February 20, nearly double the performance of the S&P500 index over the same period.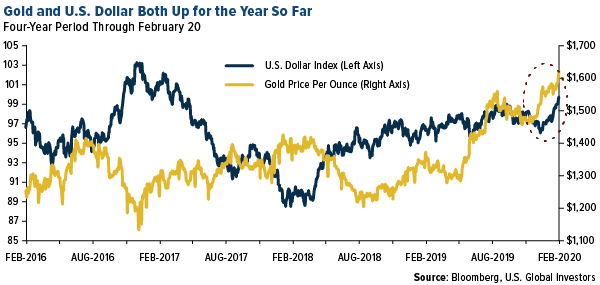 Gold, which I believe to be the ultimate safe haven, rose for the ninth straight day on Friday, crossing above $1650 an ounce for the first time in seven years.
This comes in defiance of a stronger US Dollar, which has been edging closer to the psychologically important 100 mark relative to other world currencies. It's rare to see both assets go up at the same time – the four-year chart below makes that clear – but Covid-19 has spurred the flight to safety and quality, of which gold and the greenback can be considered.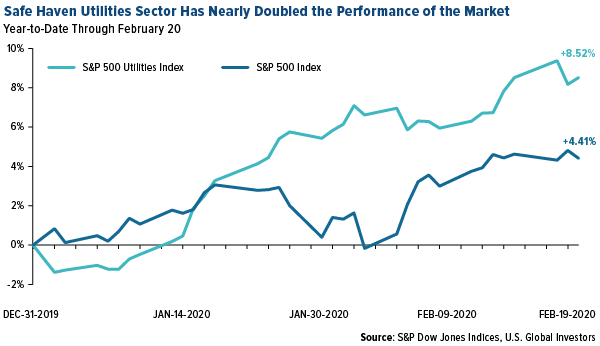 Gold mining stocks have also broken out, with several hitting new 52-week highs last week, including Newmont Mining, Barrick Gold, Yamana Gold and Kinross Gold.
Gold royalty and streaming companies, including Franco-Nevada and Wheaton Precious Metals, also hit fresh 52-week highs. Junior miners weren't left out of the rally, either. The MVIS Global Junior Gold Miners Index climbed to a 52-week high, up more than 58% from its recent low in May.