The New Cash-for-Gold Trade
Tuesday, 5/08/2018 18:46
Like Trump's man said: Dollar up, gold demand down...
SAY WHAT you like about Donald Trump, but he does what he tweets, writes Adrian Ash at BullionVault.
"The Dollar is
going to get stronger
and stronger and ultimately I want to see a strong Dollar," the grabber-in-chief told CNBC in January...back when the US currency fell to its weakest value against the world's other currencies since mid-2015.
Hey presto! The Dollar has snapped that downtrend on the forex market and pushed back against all comers except the Japanese Yen.
That not only defies all the Wall Street hacks, hedge-fund
short sellers
and Washington pundits. They knocked Trump for wanting to boost both US exports and the US Dollar – a near-impossible pairing under the President's own
anti currency manipulator logic
.
It also explains this widening split in gold prices...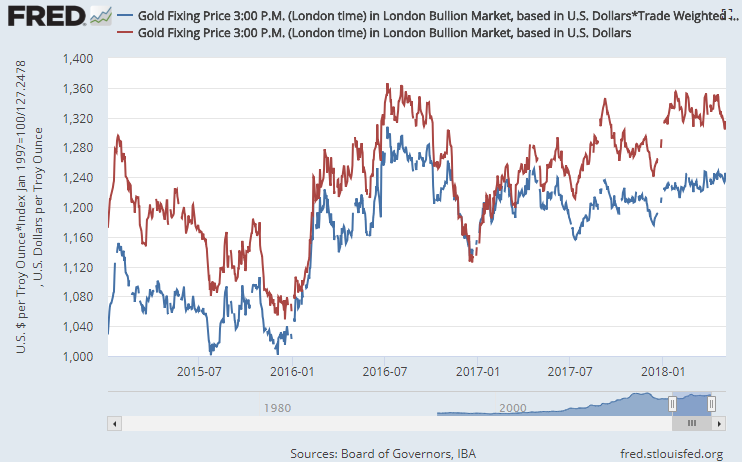 "I would buy King Dollar and I would sell gold," said Trump's new economic advisor, Larry 'let's bomb the Dow higher' Kudlow, on his appointment in March.
Private investors were already way ahead of the ex-CNBC man. But instead of the Dollar, they've been buying stocks. Which may or may not prove smart, depending on what happens to equities up here.
"In the US," says the new 2017 gold demand analysis from specialists Thomson Reuters GFMS today, "the appointment of President Trump led to improving economic sentiment...with investors increasing their appetite for risk as equity markets reached new record highs."
Retail-investor gold bar demand shrank in 2017 by 25% net of investor selling, says GFMS and "coin demand was even softer." Fabrication of new gold coin by the US Mint fell by more than two-thirds from 2016, hitting its lowest level since at least 2005 on the consultancy's data.
How come?
"The underlying reasons were the prior strength of demand leading to an overhang of metal leading to a lack of fresh interest...as equities recorded repeated [new all-time] highs.

"Minting levels were also affected by the second hand coin market, in which low premia on these coins [thanks to ample supplies coming back to market from

previous buyers turned sellers

] negatively impacted the primary market."
Bottom line? The Trump White House has, so far, given private US investors little reason to buy gold bars or coin. Demand has sunk and investor selling has jumped.
And where gold prices diverged in 2017 by holding flat for European, UK and most other investors while US Dollar quotes rose, 2018 has so far extended the trend by flipping over.
Trump's strong Dollar is offering a quick profit in gold to non-US investors. Increasingly they're taking it too, driving down demand for new coins and gold bars in Europe and the UK. That's forcing retailers on this side of the Pond to improve their buy-back offers and advertising, actively seeking a share of this new cash-for-gold market.
If you think you could have seen this coming, you're right.
"Western households couldn't reduce their investment holdings during the bull market of 2001-2011," we

wrote in spring 2016

, "because they hadn't previously built any to sell.

"[But now] Western households cannot repeat the rediscovery of gold they began a decade ago, and retail dealers expecting a repeat of the one-way flows of the last bull market could face a rude awakening...[If prices rise] at least some of the bargain-hunting stockpiles amassed on lower prices since the peak is very likely to come back to market."
No doubt our prescience should look as lucky as Trump's currency call.
But where gold demand was a one-way street during and after the financial crisis, this new normal is bringing back two-way action in coins and bars. If newer retailers struggle to adapt, older players won't lose much sleep. Investors, in contrast, might wonder whether a gold coin or small bar should really qualify for the name "investment" when trading spreads can run so wide between what you pay and what you get back.
Thankfully there is
another way to buy gold
, which makes it so very much easier and cheaper to sell as well. Because any investment can only ever be as good as your ability to get out, whether to cut losses or take profit. And while the underlying trend among BullionVault users remains one of steady accumulation, more price-sensitive UK and European are taking advantage of this current pop higher in prices to sell their securely-stored wholesale gold instantly for maximum value.
Just how high must prices go for this pattern to snap? Still more likely, we think, is that demand will shift back towards one-way only when the stock market cracks. Who today can guess where gold prices will then trade?