Buying Gold in Financial Repression
Wednesday, 4/04/2012 21:01
There's no escaping financial repression. Apparently. But what about Buying Gold...?
SUDDENLY financial repression is everywhere, writes Adrian Ash at BullionVault. Apparently there's no escaping it.
The forced imposition of real losses on savers, aimed at cutting the real value of government and banking debt, financial repression has become a hot topic for analysts and hacks alike. Yet no one's talking about how to wriggle your way out. Which is odd. Because the classic escape from financial repression – Buying Gold bullion – has never been easier, nor more cost-effective.
The Financial Times alone has printed 15 stories about financial repression in the last month. Only two mention Buying Gold bullion. Worldwide in English, says the archive on Google News, financial repression has been featured in 103 stories in the last fortnight. Yet scarcely one-in-four mentions gold. Half of those only mention it to contrast today's enforced losses in government bonds with the return of capital promised under the classical Gold Standard of 1870-1914.
Why run for exit marked "Bullion"? No one's debt, and no one's liability, gold cannot suffer default, unlike government bonds or cash-in-the-bank. Rare and tightly supplied, it cannot be created at will – aka "inflated" – thus depressing its value. And since gold never pays any interest, its yield cannot be repressed any further. It is what it is, and it does what it does, i.e. nothing at all, eternally indifferent to mankind's latest wheezes, diktats and frauds.
An incorruptible element when you trade only fine gold (as the international wholesale market centred in London does), gold doesn't even rust. And for savers trapped or coerced into holding guaranteed losses on prescribed investment products inside their own borders, physical gold is a stateless asset wherever you own it.
So, in all this blather about financial repression, we ask again: Where is the gold?
The finance industry's sudden interest in financial repression is unsurprising. Real interest rates, after inflation, have now been squashed below zero for more than three years in the US and Europe, and nearer 10 years in Japan. Fund managers running the world's $30 trillion in pension savings must all invest a certain, ever-larger portion of that cash in their domestic government bonds. The yield paid by those bonds has fallen sharply as central banks have created money to push national-debt prices higher, while the supply of inflation-linked bonds has been capped well short of unmet demand. And while bankers get a good deal, at face value, by sitting on tax-financed bail-outs and then printing the difference between what they charge borrowers and what they pay savers, they too have to keep an ever-greater chunk of their core reserves in "Tier 1" assets. Meaning government bonds. Including those issued to raise the cash to rescue the banks.
"Financial repression is what we are in," concludes Robert Farago, chief of asset allocation at Schroders Private Banking in London, as if it's news, or true, or both. But how do you get out of this imaginary bind? Bill Gross's latest (and much-followed) monthly outlook for bond-fund giant Pimco is entitled The Great Escape. Yet like Farago's comments to the Financial Times, and even Merryn Somerset Webb blogging at MoneyWeek, he dare not whisper gold by name, recommending instead "Real as opposed to financial assets...For commodities, favor inflation sensitive, supply constrained products."
Could Bill Gross scream "Buy Gold" any more quietly? Western and Asian savers alike enjoy unparalleled freedoms in the gold market today. That may of course change, but if it does, it certainly won't be thanks to economists, analysts, fund managers or financial journalists pointing out the door marked "Exit" to the people they're supposed to be helping escape financial repression. Hell, one analyst from RGE Monitor, writing an 800-word report on financial repression in India last week, didn't mention Buying Gold once. Not once. In a report on India. Which leads the world in physical gold demand. Where private households buy over 1 ounce of gold in every 5 sold worldwide!
Now, with Indian citizens long using gold to escape that miserable store-of-value called the Rupee, you might think Gold Bullion worth a mention. Especially as they already hold perhaps 16,000 tonnes of the stuff...some 10% of the world's entire above-ground stock...equal to their bank-account holdings as a portion of gross household wealth by value. But more than that, New Delhi has now quadrupled gold import duties in 2012 so far, specifically aiming to stop Indian wealth escaping the country's financial borders. That makes Buying Gold the stand-out topic in India's financial repression today. It's conspicuous by its absence in the sudden flood of Western teeth-gnashing too.
India's 2012 tax-hikes stand a long way from banning gold imports, however. Its pre-1991 controls didn't stop gold coming in either, with the big difference that gold went entirely untaxed as tola bars were swallowed and smuggled in from Arabia. So today in India, as in China – where the government also shows nervousness about record household demand – people still enjoy unprecedented freedom to buy gold. So too do savers here in the West.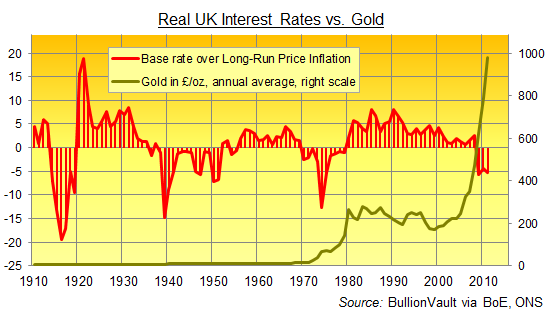 "I propose to end a particular drain on our balance of payments...the cost in foreign exchange of gold coins coming in from abroad, the vast majority having no value other than their content of the metal," announced the UK's then chancellor, Dennis Healey, in April 1975.
It was barely four years since the previous ban on Gold Bullion ownership had been lifted. It would be another four years before Healey's new ban – blocking private citizens from acquiring imported Gold Coins – was lifted in its entirety. The 1970s saw financial repression writ large, but it was only the vicious climax of enforced losses imposed on UK savers since before Hitler invaded Poland. Throughout the 20th century – and unlike today – British savers were barred from owning or trading gold just when its stateless, borderless indifference was most needed, as an alternative to the certain loss of real value being imposed by low interest rates and rising inflation.
Financial repression is not new. Our current freedom to Buy Gold is.
N.B: Gold isn't guaranteed to make good the losses you suffer on other, captive investments amid financial repression. US citizens enduring real interest rates of minus 4.6% were allowed at the start of 1975 to Buy Gold for the first time in three decades. But as they piled in, gold promptly dropped half its Dollar value (the market had got way ahead of itself in anticipation), shaking out all but the most pig-headed investors over the next 18 months before rising 8-fold by the start of 1980.
Deregulation and the gradual end of repression then coincided with such strong interest rates that Gold Investing became much less urgent. Government and banking debt was of course a fraction of what it is today, worn down by financial repression from the post-war peaks only now re-achieved by our war on deflation.
"In such a mildly reflating world," advises Pimco's Bill Gross, "unless you want to earn an inflation-adjusted return of minus 2%-3% as offered by Treasury bills, then you must take risk in some form." Buying Gold is just such a risk – a uniquely simple and obvious one, offering a stateless escape to a borderless market today. But make no mistake: Swapping the credit and inflation risk of cash and bonds for physical gold means exposing yourself to price risk. Volatility is certain as retained wealth worldwide thrashes against its straps and manacles.
Thinking about Buying Gold today...? If you are to escape inflation and credit risk, make sure you own it, be certain your metal exists in full, and get direct access to the borderless stateless market in wholesale bullion running 24/7 only at BullionVault...