The Fed Really, Really Means It This Time!
Friday, 10/30/2015 11:09
Well, maybe. Loss of confidence is gold's final obstacle for higher prices...
WHAT did the Fed do Wednesday? asks Gary Tanashian in his Notes from the Rabbit Hole.
Why, they rolled over once again and held ZIRP. They also got mighty specific with some wording...
"In determining whether it will be appropriate to raise the target range at its next meeting, the Committee will assess progress-both realized and expected-toward its objectives of maximum employment and 2% inflation. This assessment will take into account a wide range of information, including measures of labor market conditions, indicators of inflation pressures and inflation expectations, and readings on financial and international developments."
That freaked out precious metals players and put in a reversal, not only in the metals, but importantly, in their ratio.
A reversal in silver vs. gold would put the sector on a correction and also issue a warning to other global markets.
The Fed still has a few tricks up its sleeve. But they are backed into a corner in which they are expected to normalize monetary policy because well, they are they Fed, they have perceived credibility (ie, the confidence of the markets in what is largely a confidence game) and legions of conventional investors to whom they must appear reasonably normal.
Here is what they actually have, an abnormal distortion of their own creation in the markets; and if you ask me, an out and out disgrace on their hands. The horizontal red dotted line is post-2008 monetary policy. This while the S&P 500 grew a third hump of epic proportions.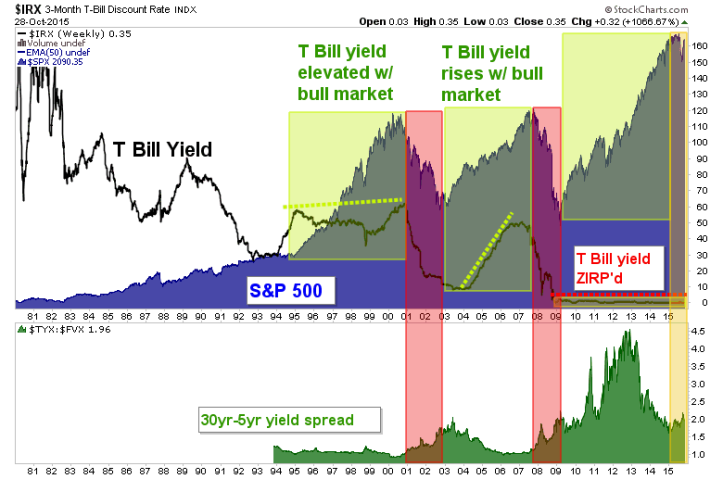 Looking at yields in the 30 year-5 year range (lower panel above), we see that the Treasury bond market is trying to turn that curve up (orange shaded area). The early stages of such upturns have broken the stock market on the last two cycles (red). Is this a picture of the 'Bond Vigilantes' taking over the show out on the curve, far enough away from the Fed influenced short end?

The 10yr-2yr still looks completely under control and in the grips of unbending confidence in the Federal Reserve. You can see the shorter duration popping big with the dreaded wording in the FOMC release. The Fed really really means it this time! Maybe.
The alignment in bonds nearer the Fed-controlled Funds Rate continues to show that all is well, normal, in control and by the way, antagonistic to gold, which most definitely does not want to see short rates rising vs. long rates.
Complicating matters is an appreciating currency, which Fed members are actually fairly neurotic about. Here, courtesy of Bloomberg, is the graphical view of Fed members' mentions of the US Dollar at recent meetings. The chart broke out even before yesterday's meeting.
Meanwhile, Mario Draghi thinks..."Bravo miei amici , bravo! Lavoro ben fatto."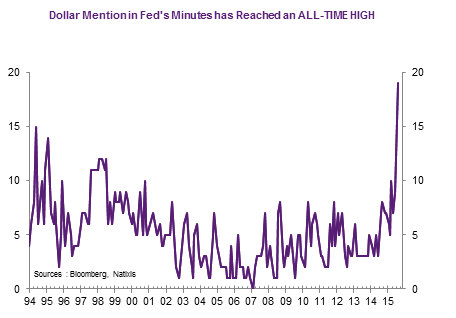 Of course, the implications of higher interest rates favor the banking sector as they disfavor gold. Gold after all is the 'no one's liability' asset in a financial world stuffed to the gills with liabilities, including on Central Bank balance sheets and government coffers. Why on earth would it go up when everything is under control?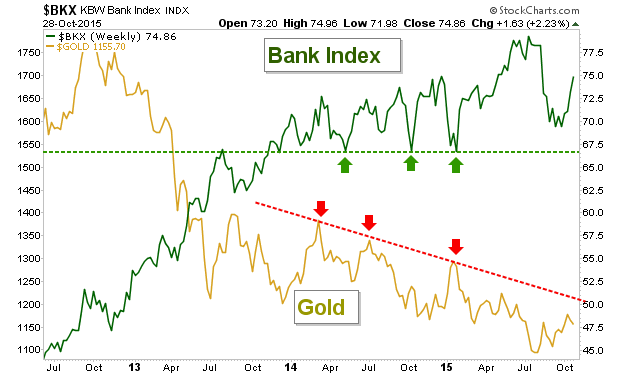 So it is very key for investors to decide whether or not the Fed has credibility. Given Draghi's QE jawbone and monetary easing in China, the Fed sure is putting up a good front. Could the final brush stroke in the work of art created by Ben Bernanke with Operation Twist (which engineered and set in motion current bond market trends) and QE3 (third time's a charm?) be that this Fed can normalize policy with an orderly and extended rate hike regimen against a backdrop of easing global competitors and a rising domestic currency?
We can say 'who needs the industrial sectors?' if we want to be bubble headed dreamers, circa 2000. But even tech captains Apple and Alphabet (Google), in their earnings beats, noted one real negative and that was the impact of currency exchange rates on overall results. How do you think Parker Hannifin, Rockwell International or General Electric are going to take a perpetually strong US Dollar? So again, is the Fed posturing or going all in on the confidence game?
People who prepare for the eventual loss of confidence will be ready with both capital and sanity intact.