The Fed's Old New BFF
Friday, 2/03/2012 22:39
Facebook, the Gold Price, and the inevitable mischief caused by cheap-money love...


The U.S. FEDERAL RESERVE'S status update last month, about how it still loves cheap money always and forever, was sure to work magic, writes Adrian Ash at BullionVault.

Never mind that the pixie-dust blew straight past output, incomes and capital formation. European crude oil this week pushed up through $112 per barrel, taking the average price since Quantitative Easing began in February 2009 above the 3-year "oil bubble" average of mid-2005 to 2008. Swiss commodities trader Glencore is looking to merge with Xstrata mining to create a $79 billion giant – all settled in paper. And the Nasdaq ended this week at an 11-year high, just as Facebook gets ready to float with little but Farmville for income.

Facebook's valuation adds the tang of nostalgia to frontal lobotomies. More than 1 human in every 8 now alive apparently spends an average 33 minutes per day in the roomful of mirrors. But Facebook's profit for scalping their souls? Scarcely a dollar a lobe in 2011. So its brokers expect a price-to-sales ratio near 27 and a likely price/earnings ratio of 100-to-1 – the kind of mindless pricing we saw when the Nasdaq first crossed 2,900.

To repeat: the silver and Gold Price have both risen on the same tsunami of cheap money, that seismic tide set to gift even Facebook's worst enemies a $300 million payday. When the flood next retreats, both gold and silver will likely be left well below their high-water mark, too. But that could look nothing next to the destruction around them.

Which is why cheap-money love is proving so very more-ish to the big central banks.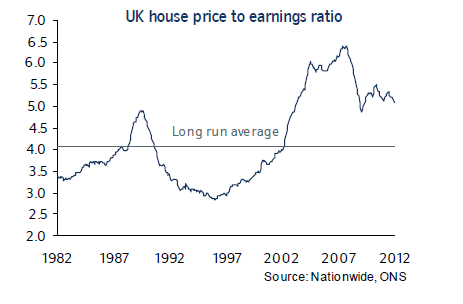 See how UK housing, in terms of average income, is still more expensive today than at the very top of the late 1980s' bubble? And see where the sharp discounting, back towards something like affordable on the Nationwide's data, was stopped in early 2009 by the Bank of England's first injection of queasing?

Cheap money continues to cause more trouble than mischief, in short. And thanks to Ben Bernanke's old-new best friend forever, gold just put in its best 1-month gain of the century so far.

Now, after that rate of gain, it's not surprising to see Friday's trade taking a profit. But cheap money will surely get another +1 when London and Frankfurt's central banks both meet next Thursday. Euro investors in particular will want to like the ECB's Mario Draghi, what with Greece on the verge of default and another two weeks still left before the next round of unlimited 3-year lending to banks.

The Euro Gold Price already topped €1335 per ounce this week. It breached that level on only 5 trading days in last summer's frenzy.

Buying Gold today...?