Dow/Gold Ratio Jumps Back to 2008
Friday, 11/22/2013 21:32
Still waiting on that 1-to-1 ratio of the Dow Jones Industrial to the gold price...?
ONE is a lump of metal, useless for pretty much anything besides storing value, and doing a pretty poor job of doing that as 2014 approaches, notes Adrian Ash at BullionVault.
The other is a random-seeming collection of US equity prices, run through a more random-yet calculation to produce a stockmarket average little connected to the US economy today but still widely cited as if it matters.
Yet the Dow/Gold Ratio still pulls our attention. And here it is, jumping to the highest level since before Lehman Brothers collapsed in 2008. Because the Dow is hitting new record highs. While gold prices are slumping.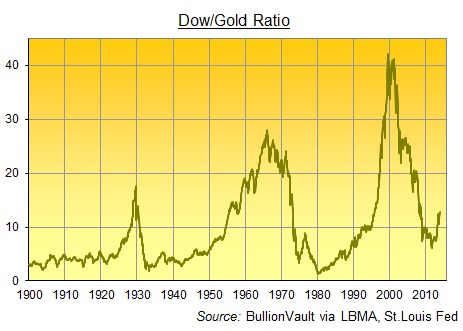 Again, the inputs here matter less than the broad sweep of history their output suggests. In terms of productive business assets, a lump of gold grew 17 times more valuable as deflation washed the Great Depression onto US shores. It gained more value still more quickly as inflation hit in the 1970s, rising 28 times over by the spike of 1980.
And since the Tech Bubble peak in US stocks topped at the turn of this millennium,
gold bullion
has become more valuable once again. Only this time, the unproductive lump's rise in business-value stalled at 7-fold over the decade to Sept. 2011. Gold has since retreated, with stocks up, useless bullion down.
That one-to-one ratio of Dow/Gold remains a bargain-hunter's dream of business investment. With the Dow breaking new ground, this pullback in gold's value might yet offer a neat entry point.