Full Scale Currency Wars
Wednesday, 9/07/2011 10:30
The currency wars have reached an inflection point. It'll be a bumpy ride for gold owners...
ON TUESDAY the Swiss National Bank said it had had enough of a weak Euro and strong Swiss franc. It announced it would not let the Swissy fall below €1.20. It has drawn the proverbial line in the sand, even though everyone knows those lines are easy to step over, writes Dan Denning, editor of the Daily Reckoning Australia.
The immediate reaction in the markets was a much weaker Swiss franc. You can see that on the chart below. That chart is an index that tracks the Swiss currency. It fell by 8.34% yesterday and took the index down near its 200-day moving average. It also put the Swissy close to over-sold territory, as measured by the relative strength index (RSI) at the top. But what does all this really mean for Australian investors?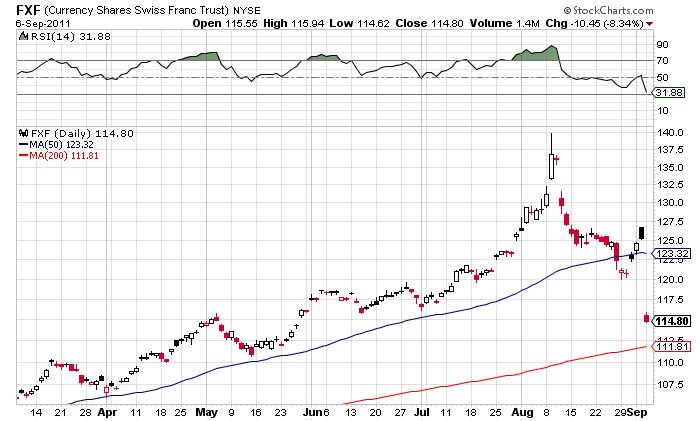 There is now one less safe-haven currency/asset class for global investors. Because the Swiss franc has always been partially backed by gold, it's been a popular investment if you want to get out of the Euro. A lot of people want out of the Euro. Hence the strong rise in the Swiss.
But the strong currency has hammered major Swiss firms like Nestle and Novartis. These multi-national behemoths are based in Switzerland. And like all exporters, they favor a weak currency to enhance their competitiveness.
And so we have reached an inflection point in the global currency wars. The Swiss have pulled the pin on their own currency. Everyone is now running for safe assets. But there aren't many left. There are two immediate consequences to the Swiss action and a third possible consequences.
The first consequence is a flight to low-yielding liquidity. When you're on a sinking ship that's taking on more water, you're happy to jump in anything that floats and can support the weight of your money. The Swiss move led to another decline in 10-year US Treasury Note yields. The real yield on 10-year US government debt is now below inflation. But the market is liquid enough to accommodate all the refugees from the Swiss franc.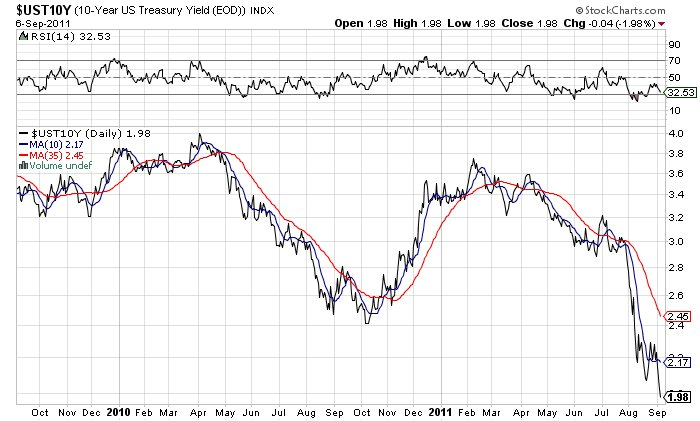 The second consequence is that the US Dollar could get stronger in the short term. Part of this strength will come from people looking for a safer asset class. The US Dollar is hardly safe. But it has the important distinction of NOT being the Euro. And inasmuch as the Swiss move was designed to counter chronic Euro weakness, the Dollar is the natural winner for liquidity seekers.
For sound money seekers, we'd say gold is the clearest winner of all from this. It gets a bright big green light to make new highs in all currencies from this action. You can probably disregard its initial decline, although we would not be too blasé about the capabilities of governments and central banks to make life difficult for gold owners.
The important point about the last 24 hours is that we have now entered a period of full-scale currency manipulation and warfare. There will be casualties and fatalities. Central banks are trying to outdo one another in driving their currencies lower. This, as much as big government-debt-to-GDP ratios, explains the bear market in paper money and the bull market in precious metals.
Full-on currency wars destabilize financial and capital markets. That's bearish. A full-on currency war can't be good for global growth either. That's bearish for commodities and thus bearish for stocks. If we had to be bullish about anything it would be oil, weapons manufacturers, and volatility.
Get the safest gold – stored in your choice of London, New York or Zurich vaults – at the lowest prices with BullionVault...