The End of the Pier Show
Friday, 4/27/2012 17:48
A pier, sir? It's a disappointed bridge...
— Tell me now, Stephen said, poking the boy's shoulder with the book, what is a pier.
— A pier, sir, Armstrong said. A thing out in the waves. A kind of bridge. Kingstown pier, sir [...]
— Kingstown pier, Stephen said. Yes, a disappointed bridge.
James Joyce, Ulysses (Paris, 1922)
SO WHERE did zero rates and $5 trillion of money from nowhere get the developed world, asks Adrian Ash at BullionVault, five years on from the start of the global financial crisis?
To the end of the pier, it seems.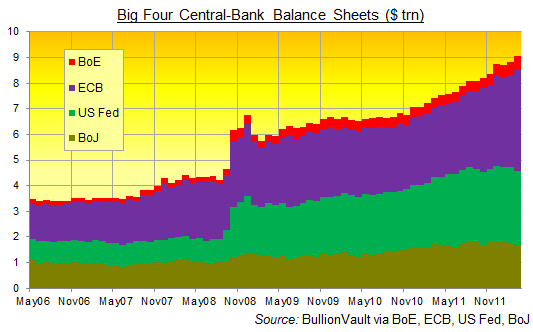 "Having built a bridge for other policymakers and for healthy balance sheets in the private sector," said Pimco CEO Mohamed El-Erian this month, "central banks must now hope that a more timely, comprehensive and effective response will finally be forthcoming (and push for it, as appropriate)."
Push for it, they do. Each of the developed-world's Big Four central bank chiefs has recently said he can't fix the world with more money alone, never mind with lower interest rates, long stuck at zero. So this week European Central Bank president Draghi called for a "growth pact" from Eurozone governments. Ben Bernanke chimed in, saying that he's been "extraordinarily accommodative", and really would rather not print! Print! PRINT! without limit, simply in the vague hope of juicing a marginal, uncertain boost to the economy.
The Fed chairman's actual actions to date beg the question, of course. But anyone who says Paul Krugman is wrong, even this late in the game, can't be all bad. And after kicking the can as far down the road as they could, central bank chiefs really do seem to hope that the fiscal authorities are running into the box, ready to collect their pass, shoot – and score – between the jumpers for goalposts.
If not? "Should [a government fix] fail to materialize," El Erian already said way back in January, "central banks risk finding themselves having built expensive bridges to nowhere."
That choice of phrase – "bridges to nowhere" – is apt but odd. Most often, it describes the huge government spending seen in Japan when it first struggled to shake off debt-deflation after its bubble burst in the early 1990s. Concrete was poured nationwide, with roads and bridges quite literally built to take no one to nowhere, other than keeping construction workers out of the dole queue.
So the fix which El-Erian and central banks everywhere now hope for might not in fact work. It sure didn't reverse Japan's depression two decades ago. And either way, it hasn't yet shown up in the West, where "austerity" (or what looks like it) is only now being challenged by a growing political consensus.
Pending that "fix" – and the extension of policy piers still further out into the waves, this time in hope of reviving private-sector investment by building on top of today's record public debt – "[Central banks] will come under severe pressure," as El Erian warned at the start of this year, "with implications for the future of central banking itself, as well as for the welfare of economies at the national, regional and global."
Couldn't put it better ourselves. So we won't try. It's worth checking a chart of the Dow, Treasury yields or Gold Price, however, to see quite how unnerving this gap between one policy pier and the next is proving for retained capital.
Looking to Buy Gold or physical Silver Bullion today...?