Sterling's Q.E. Overdose
Friday, 10/30/2009 09:58
Will the Bank of England extend its quantitative easing at this week's meeting...?
The BANK of ENGLAND has been overdosing on the hallucinogenic Quantitative Easing drug, writes Gary Dorsch at Global Money Trends.
Its decision to pump an extra £50 billion into the UK money markets last August left many traders convinced that it laid the groundwork for future inflation. Since then, however, the Bank of England has boosted its government-gilt purchases to £175 billion ($293 billion), equal to 12% of Britain's annual economic output.
The newly created money has been used to buy all asset classes, including gilts, equities, Gold and commodities.
Yet on October 26th, Adam Posen, a member of the BoE's monetary policy committee argued that, "There is no evidence from relevant periods of UK or other major economies' economic history, that QE will result in high or sustained inflation.
"Thus, high inflation is not something we should be worrying about," he declared in a self serving manner, in order to cover-up the Bank of England's nasty deeds.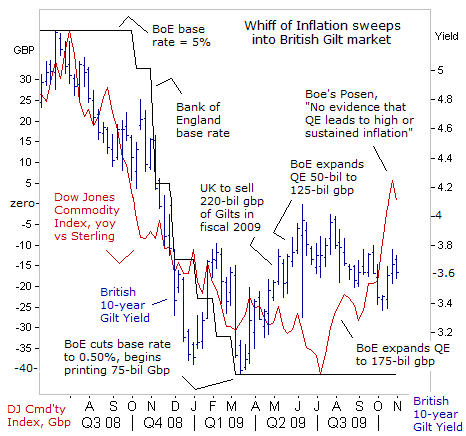 The annualized rate of change for the Dow Jones Commodity Index, when measured in Sterling, has zoomed sharply higher since July, pushing into positive territory for the first time in a year and signaling inflationary pressures are brewing beneath the surface.
Yet the BoE's Posen is still opposed to lifting interest rates anytime soon. "The banking system must be largely fixed before stimulus is withdrawn. The alternative is a still-born recovery, a double-dip recession, or persistently slow growth."
Still, another major threat to the global stock markets would be a further surge in commodities that stokes fears of inflation, and in turn leads to a sharp increase in government and corporate bond yields. A one percentage point increase in 10-year yields could deal a powerful blow to housing markets, and by extension, lead to greater tension in the banking system as mortgage values slide.
Despite the rapid surge in commodity inflation since July, so far yields on the benchmark 10-year British gilt are little changed from a year ago, hovering near 3.65%. There is a tug-of-war between fears of faster inflation, putting a floor under gilt yields, and on the other side of the coin, the Bank of England's ultra-low base rate, combined with its purchases of three-quarters of this year's gilt supply. That's acting to keep a lid on 10-year yields.
However, on October 29th, the Bank of England said it had completed its gilt purchases under its current £175 billion quantitative easing target. The Bank will decide whether to extend the asset purchase scheme in the first week of November.
"The Monetary Policy Committee will review whether the scale of the asset purchase program should be changed at its November meeting, alongside its latest inflation projections," the BoE says.

Want to Buy Gold but unsure how to do it? Learn about the different routes to Buying Gold here...