Meat 'n' Potatoes Inflation
Tuesday, 4/27/2010 10:46
Too busy Buying Gold and silver to notice the rise in agri food prices...?
IT STRIKES ME as odd that there's so much interest in gold – a substance that investors rarely, if ever, get to actually handle (at least in Bullion form) – and so little interest in foodstuffs and agri prices, writes Brad Zigler at Hard Assets Investor.
You can live without gold. You can't without food. Yet investors' eyeballs don't latch onto the stories that deal with agricultural commodities. It's columns devoted to precious metals that get the traffic.
If that describes you, then you're missing out on a big part of the inflation story – and the hedging opportunity – by skimming over the agri accounts.
Last week's US Producer Price Index report showcased the impact of agricultural commodities on price inflation. You could say last week's numbers were the "meat-and-potatoes" of inflation. Well, meat and vegetables, to be more accurate.
Fully 70% of the March hike in wholesale finished goods was attributable to food. And a large part of that was due to soaring meat prices. I believe the parabolic rise in livestock prices, especially in lean hogs, is setting up a massive short. But for now, the appetite for meat among consumers and investors remains unsated.
In the soft commodity sector, cotton's bull market gives no sign yet of relenting. After years of low prices and the ensuing switchover to more lucrative crops, global stocks remain tight. The supply situation could become precarious if there's bad weather in the US cotton belt.
July cotton futures jumped a nickel a pound to the 86 cent level last week. Take a look at the chart of ICE/NYBOT Cotton (Jul. '10 contract):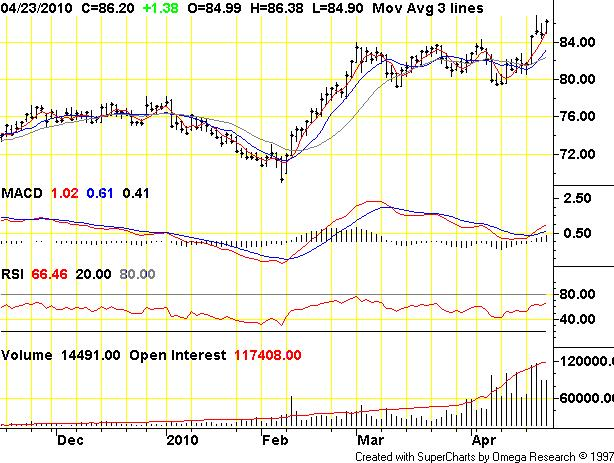 The kindling could have been lit with India's announcement of export restrictions last week. The ban followed a run-up in local prices due to tightening domestic supplies. Now, with the withdrawal of Indian stocks, buyers will have to compete more aggressively for US and Chinese supplies.
With prices clearing resistance at 84 cents – equivalent to a $40 share price for the iPath Dow Jones-UBS Cotton Total Return Subindex ETN (NYSE Arca: BAL) – the market's poised to challenge its decade-long record of 90 cents.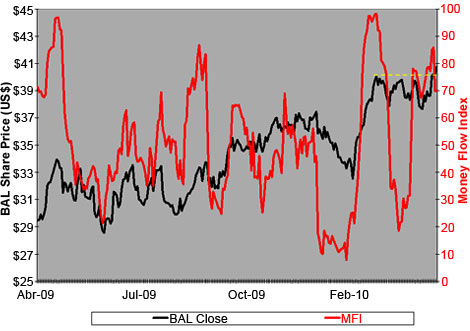 And if the 90-cent level's taken out, you could see a parabolic move upward, like that exhibited in the live hog market.
Better buy your polo shirts and other cotton summerwear now.

Get the safest Silver at the very lowest prices – starting with a free ounce, right now – by using BullionVault...