Crisis? What Crisis?
Thursday, 12/11/2008 12:53
Britain is suffering its worst Sterling Crisis since the IMF rescue of 1976...
THE BRITISH POUND is now suffering its worst crisis since the near-bankruptcy of 1976 required emergency aid from the International Monetary Fund (IMF).
Not only has the Pound reached new record lows against the rest of the world's currencies – down below 80 on its trade-weighted index – but it's fallen by more than 20% in the last 12 months, sinking as the Bank of England slashed interest rates to all-time lows of just 2.0%.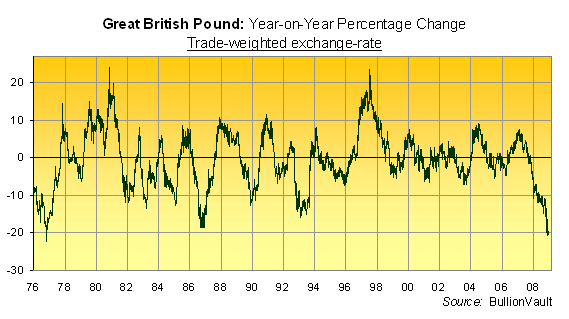 Amid the Sterling Crisis of three decades ago, and after begging for $3.9 billion in IMF aid, the Labour government set about "a package of deflationary measures...public expenditure cuts and tax increases," as a secret memo of November 1976 put it.
Thus Thatcherism began early, even under the left-leaning Callaghan administration. Whereas today, the New Labour Treasury says the public budget deficit will leap to 8% of the national economy in 2009, by far the greatest debt owed by any major world government.
Any wonder that ever-more British investors and savers are choosing to Buy Gold for defence...?