What the Old Lady did to gold
Thursday, 4/05/2007 15:21
Currency traders hated this week's vote by the Bank of England. But UK savers will hate it more...
SO THE BANK of ENGLAND voted to keep Sterling interest rates on hold for another month.
Ahead of the decision, the futures market had put the chances of a further baby-step increase to 5.50% at around fifty-fifty. That would have taken Sterling rates above US Dollar rates for the first time since March last year.

History says that an interest-rate premium for Sterling tends to reward currency speculators with a capital gain, as well as a positive pay-off from the carry. And so, anticipating a hike by the Old Lady, the foreign exchange market got itself increasingly long of Sterling over the last five trading sessions.

No surprise – the forex market really hated Thursday's "no change" decision when it came. Sterling dropped nearly a cent to the Dollar inside two hours. It also gave back the last week's worth of interest-rate speculation to the Euro too, falling beneath €1.4670 – down more than 1.1% inside only 24 hours.

But as much as currency speculators hated this week's shilly-shallying by Mervyn King and his chums in the face of inflation running at a 16-year high, anyone bothering to save cash in the United Kingdom today is going to like it even less.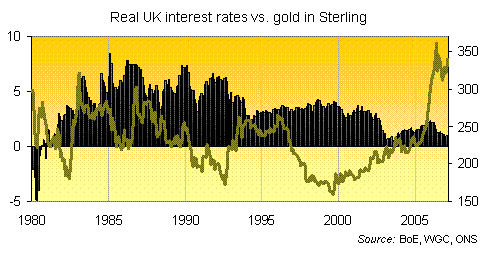 Over the last four years, Sterling has gained nearly 7.3% on a trade-weighted basis against the world's other paper currencies. Versus gold, however, the Pound has dropped more than one-third of its value.

You can see why. Since the start of 2003, British savers have had to endure the worst rate-of-return – post inflation – that they've suffered since the early '80s.

A little over four years ago, the Bank of England moved to cut UK interest rates even as inflation on the widely respected and trusted Retail Price Index moved higher. (Britain also runs the CPI, just like Washington. But no one here takes it seriously.) Since that decision by the Old Lady in Feb. '03, real interest rates have averaged 1.4% per year, their lowest level since 1981. Gold priced in Sterling, on the other hand, has gone from £215 to £340 per ounce.

This correlation offers no short-term easy money, of course. Britain's slow, relentless loss of confidence in Sterling comes thanks to low and shrinking real interest rates over a period of months and years – not just days and weeks. Try timing a purchase or sale of gold on the basis of noisy economic data, and it will soon cost you dear. More even, perhaps, than New Labour's grinding assault on private incomes and wealth.

But across the longer term, buying and holding gold looks set to become an increasingly popular vote of "no confidence" in the Pound from its domestic constituency. The voting will certainly swing away from Sterling for as long as real interest rates in the UK stay so far below their 30-year average of 2.3%. Following today's "no change" indecision from the Bank of England, real rates today stand at just 0.65% – and that's without accounting for tax, either at base or higher rate. The Treasury's chunk of unearned income now knocks all cash savings into negative territory.

The same damage to Sterling hit Britain during the late '70s, of course – only then, the rush into gold was more urgent still. Between 1975 and 1980, real interest rates in Britain averaged minus 4.9%. That hideous theft of cash-saving wealth came on top of punitive tax rates. Un-earned income was devoured by the last Labour government at the rate of 98 pence in the Pound.

Not surprisingly, gold quadrupled in price for Sterling investors during the back-half of the '70s. It hit a monthly peak of £298 per ounce in Jan. 1980. (Spot gold prices closed in London this week above £341 per ounce.)

One further big difference between the 1970s and today, however, is the open access British investors now enjoy to the gold market. Through gold ETFs – or better still, direct ownership of bullion held offshore – they can not only escape the fast-evaporating value of Sterling. They can also escape New Labour's increasingly rabid cant about the excessive rewards paid to financial speculation.

Speculating on gold in the hope of preserving a little of your wealth isn't guaranteed to pay off between now and, say, 2010. But it looks very likely to prove a popular choice if the collapse of real interest rates in Britain continues to destroy the value of Sterling.