Bearish Signs from China
Tuesday, 6/14/2011 13:59
Has China's credit bubble popped...?
MONEY SUPPLY growth in China has slowed to a 30-month low. Hikes in reserve ration requirements and interest rates are finally starting to bite, says Dan Denning in his Daily Reckoning Australia.
That said, the broadest measure of Chinese money supply (M2) was still up 15.1% for the 12 months ending in May. And Chinese banks still loaned $85 billion in new money that month.
Investment in fixed assets — resource-intensive construction and infrastructure projects — is running at 50% of Chinese GDP. That's historically high and unsustainable. But we've been saying that about China for a while now. So what should you watch for to see that the government has finally popped China's credit bubble?
How about the Shanghai Composite, China's broadest measure of stocks? There's been a speculative boom in Chinese property, too. But the stock market is the first place you start to see tighter credit growth hit speculators. The Shanghai Composite is down 12% since early April. Check out the 10-year chart below.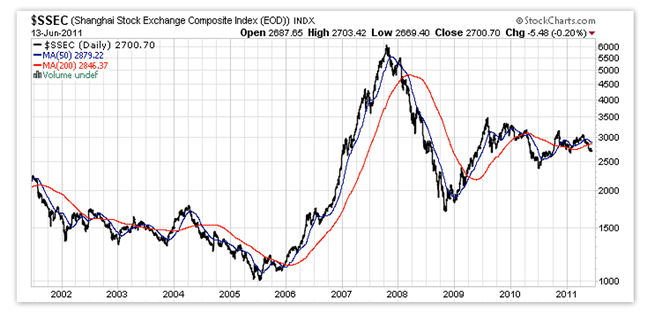 A 10-year perspective captures a lot of history. You can see that Chinese stocks were not big beneficiaries of the big 2003 interest rate cuts in the Western World. But by mid-2005, the resource and consumer demand those rate cuts had triggered (via liquidity) started to get priced into the Chinese market. And with Chinese interest rates low and government stimulus high, the market took off.
After the global financial crisis the Chinese market recovered more quickly than its Western peers. But since touching 3,500 in late 2009, it's made a series of lower lows. Now, the 50-day moving average is again in danger of crossing below the 200-day moving average. That's a bearish short-term sign.
Is it a bearish long-term sign, though? And does it tell you that China's credit bubble has popped, with economy-wide deleveraging on the way?
It's too soon to say that. But with Chinese CPI inflation running hot at 5.5%, expect more monetary tightening by the People's Bank of China. And don't expect investors to like that.
Thinking of Buying Gold? Make it safer, cheaper and easier with BullionVault...