Where Now for Stocks?
Friday, 2/01/2013 14:26
Stock markets have had a bright start to 2013. Is this a sign of more to come...?
THE STOCK MARKET is having a well-deserved break after motoring ahead recklessly for the past few months, writes Greg Canavan for the Daily Reckoning Australia.
The bulls will take comfort in this. They'll say a pull-back should not surprise after such a strong run...that it's 'healthy'.
Indeed it is. And if you look at a short term chart like the one below of the Dow Jones Industrials index, you couldn't help but agree. Since bottoming in mid-November 2012 at around 12,500, the Dow has added nearly 1,400 points. That's an 11% gain in a little over two months. Momentum indicators such as the RSI (top of the chart) and MACD (bottom of the chart) are in 'overbought' territory and the index is well above the 200-day moving average (red line).
So time for a pullback, right?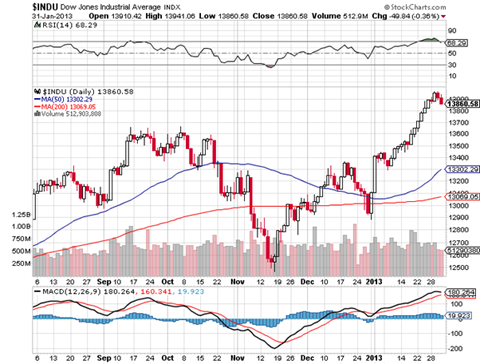 Source: StockCharts
Yep. A good ole pull-back before we're off to the races again...
But hang on a minute. Let's change the context with the same chart in a different timeframe. (Don't you love charts, you can slice them up any way you want to get your point across!) So in that spirit here's a chart of the Dow Jones Industrial Index over 10 years. Same index, different time frame.
And to make it interesting, it's a weekly, rather than a daily chart. That is, the data points are weekly rather than daily...which helps to reduce some of the 'noise' that comes with long term daily charts.
And here's what you get...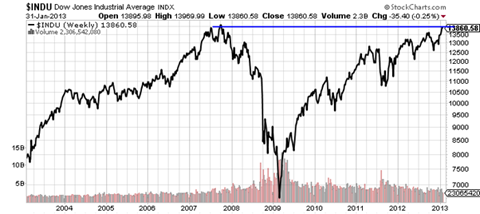 Source: StockCharts
As you can see, the Dow Jones is bumping up against the highs of 2007. Does this mean anything? Well, it's a psychological barrier, that's for sure. Buying stocks at Dow 14,000 in 2007 didn't turn out so well.
And while we're not sure that many traders actually remember back to 2007, there must be a few out there who can recall events further back than a few months.
At the very least you can expect some back and forth around this important psychological level. We're not making any predictions as to which way it will eventually break. But you can be pretty sure that if and when it does punch through that level, it should surge higher again from purely a momentum perspective.
But if it can't manage to do so...the formation of a 'double-top' portends some pretty nasty action ahead.
We'd prefer to sit on the sidelines to watch the outcome. We want no part in the craziness. Economic stagnation and a rising stock market make for strange bedfellows. This weirdness makes us recall a statement made by the world's pre-eminent physicist of the 18th century, Isaac Newton, after he lost his shirt in the South Sea Bubble:
'I can calculate the motions of the heavenly bodies, but not the madness of people'
We concur. But what makes this market even more treacherous is that there is no discernible bubble in stock prices based on traditional methods like price-to-earnings ratios. The bubble is in the system itself...in the creation of credit...
It is this vast creation of credit which bubbles to the surface, finding an outlet in various asset markets...junk bonds and other forms of corporate debt, government bonds, blue chip stocks. But little of it finds its way into productive investment. Easy money tends to find an easy use.
Genuine investment and productive endeavor are hard.
Looking to buy gold? See how BullionVault could dramatically cut your costs...