Russia's FX War with Europe
Wednesday, 2/04/2015 10:45
Putting a price cap on vodka won't save the Ruble...
THERE is another currency war that is being fought in Europe, writes Gary Dorsch at Global Money Trends, and this one has all the makings of a great conspiracy novel.
An uncanny sequence of events is unfolding before our eyes, threatening to topple the world's 10th largest economy, Russia.
For more than a decade, oil income and consumer spending have delivered growth to Vladimir Putin's Russia. Not anymore. Russia's economy is sliding into a severe recession. The Russian Ruble has lost half of its value against the US Dollar compared with a year ago, and with it the faith of the country's businessmen. Banks have been cut off from Western capital markets, and the price of oil – Russia's most important export commodity – has plunged 60%. Consumption, the main driver of growth in the previous decade, is slumping. Money and people are leaving the country.
On Dec 22nd, Russia's former finance chief Alexei Kudrin warned of mounting trouble spreading through the Russian economy, thanks to what Economy Minister Alexei Ulyukayev called a "perfect storm" of plummeting oil prices, EU & US-economic sanctions related to its military action in Ukraine, and a $134 billion flight of investors' capital last year.
"Today, I can say that Russia's economy is entering a real, full-fledged economic crisis. In 2015, we will feel it clearly," Kudrin told a news conference.

"The government has not been quick enough to address thesituation."
Kudrin forecast a series of defaults among both medium and large companies – though he said banks would probably besupported by the state – which was likely to result in rating agencies downgrading Russia's debt to "junk" status.
The collapse of the Russian Ruble will lift Russia's inflation rate to 15% in 2015, Kudrin predicted. Russia imported $341 billion last year, so a devalued Ruble quickly stokes inflation.
Long before he annexed the Crimean peninsula and began backing pro-Russian forces in eastern Ukraine, Russian kingpin Vladmir Putin created an economic system that allowed a clique of oligarchs to grow wealthy on Russia's vast oil and gas reserves. He did little to diversify the economy or to make it more resilient. As such, Kudrin's outlook for Russia's economy is bleak.
Even if the price of Russia's Urals crude oil rebounds to $80 per barrel, gross domestic product is still likely to fall by more than 2% in 2015. At $60 per barrel GDP would decline by 4% or more, he added.
The collapse of the Russian Ruble is a mirror reflecting the crisis undermining its entire economy, which has been devastated by the plunge in oil prices to around $46.50 per barrel today. The Gazeta.ru newspaper said last month was "Black December" in Russian history. According to the central bank, capital flight amounted to $134 billion last year. Bank Rossi responded by tripling its key overnight lending rate to 17% after it burned through $113 billion of foreign currency reserves.
On Dec 15th, nearly $10 trillion of foreign currencies traded hands in the world markets, double the daily average, when the US Dollar suddenly surged 30% higher to 80 Rubles. Moscow reacted by ordering state-controlled exporters to sell their holding of foreign currency, and briefly succeeded in knocking the US Dollar down to 54 Rubles a week later.
On December 19th, Russian president Vladimir Putin met with 41 of the leading Russian finance tycoons and Oligarchs, and asked them to limit their sales of Russian Rubles. The collapse of the Ruble and the Russian stock market has wiped out $73 billion of wealth of the 20 richest Russians.The fortunes of some oligarchs have more than halved.
However, on January 27th, Standard & Poor's became the first of the big-three ratings companies to strip Russia of its investment grade, citing weaker growth prospects and a deterioration of fiscal buffers. Russia's debt rating was lowered one notch to BB+ by S&P, while Moody's and Fitch cut Russia to one level above junk last month.
Now the country's debt will no longer be eligible for some indexes that track investment-grade sovereigns if two of the three biggest rating companies cut it to junk. The cost of insuring Russian debt against default using credit-default swaps (CDS) has soared to 600-bps, up sharply from around 95-bps in Dec '13
Russia may have to spend more than $40 billion of its dwindling FX-stash this year in order to avert a banking crisis. Last month, the state spent 130 billion Rubles to bail out the first major bank to fall victim to the Ruble crisis, mid-sized lender Trust Bank, then ranked 15th biggest by retail accounts and 32nd by assets. If any of Top-30 banks get into trouble, the government will have to save them at any price, as it could spark a crisis of confidence in which the population withdraws deposits en masse and interbank lending rates spike sharply higher.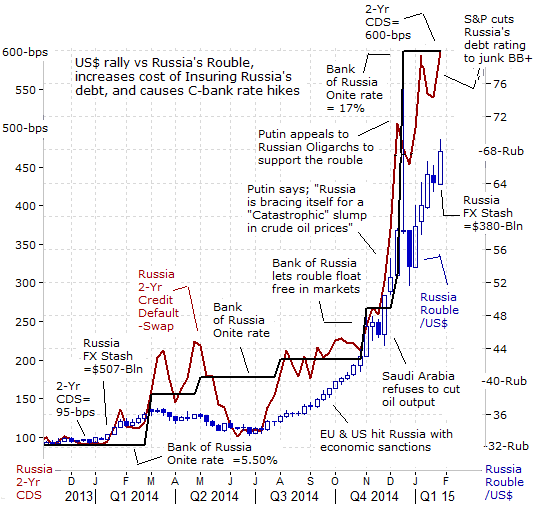 Russia's finance ministry is warning of at least a $45 billion drop in revenues this year if the average oil price is $50 per barrel. Finance chief Anton Siluanov said all state expenditure should be cut by 10% except defense, a priority for President Vladimir Putin.
"The state cannot have the kind of spending it used to have with the oil price at $100 per barrel," Siluanov warned. Russia's budget for 2015 was based on an oil price of $100 per barrel but prices are now close to six-year lows at just above $46 per barrel. Siluanov said Russia needs to conserve its foreign currency reserves to overcome difficulties as the price of oil looked set to continue at low levels.
"We think that with the average oil price at $50 per barrel (in 2015), we will lose some 3 trillion Rubles in revenues."
While Russia's sovereign debt is just $57 billion, many Russian banks and corporations, including large oil and gas businesses, went on a borrowing spree. They increased their foreign-currency debt by $170 billion in the past two years, and are on the hook for a total of $614 billion in foreign currency debt.
Most of this debt was racked up by state owned corporations and national energy companies, which gives it a quasi-sovereign status. And by the end of 2015, Russian firms will have to repay about $130 billion of foreign debt. The 50% devaluation of the Ruble makes the servicing of the foreign debt twice as expensive.So instead of preparing itself for a crisis, Russia has prepared a crisis for itself.
Rosneft, Russia's national oil company, run by Igor Sechin, Mr.Putin's close confidant, is already asking the Kremlin for a bailout, in part to help it repay $30 billion of debt which it took on when buying a successful private company, TNK-BP. If the price of crude oil stays below $50 per barrel for two years, much of Russia's treasure chest of foreign currency reserves could become depleted.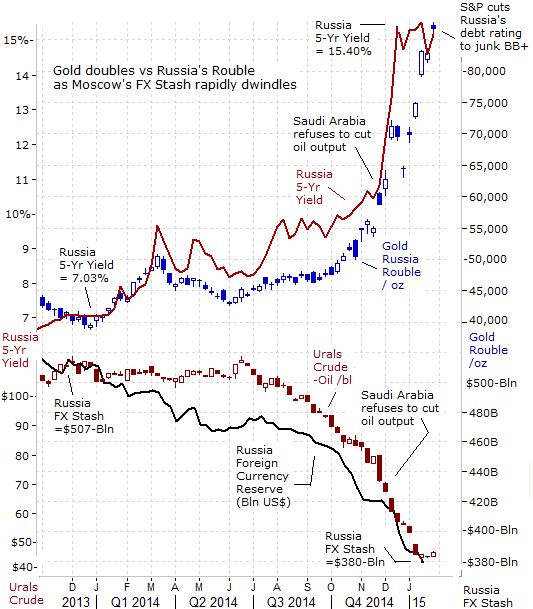 As such, the ordinary Russian citizen is able to protect his or her purchasing power by purchasing gold – a hedge against massive currency devaluation. The price of gold has nearly doubled since June '14 to above 87,000 Rubles per ounce at the end of January. Interestingly enough, the Kremlin was the world's biggest buyer of gold in 2014, adding 150 tonnes to its hoard and catapulting its holdings into the top five among nations.
Russia's gold reserves stand just shy of 1,170 tonnes, worth about $50 billion at today's prices. But Russia is facing its worst economic crisis since 1998, when the country devalued the Ruble and defaulted on its debt. Putin's popularity is partly based on his reputation for providing prosperity and stability. And so, amid a double-digit inflation rate, Russian kingdom Vladimir Putin has ordered his government to rein in rising vodka prices.
Under the Kremlin's new price control policy, the cheapest half-liter legally available will continue to cost 220 Rubles ($4).