Equity Investors Hit 'Acceptance' Phase
Friday, 1/20/2017 10:33
...and just as the US market shows a big imbalance...
IT MAY be one of the more powerful contra-indicators in finance, writes Tim Price on his ThePriceofEverything blog.
The attendance at SocGen's annual investment conference in London is widely tracked for the signals it may be sending about market confidence. Last year the conference was packed to the rafters with supposed 'perma-bears' – and FTSE, along with many other stock markets, enjoyed an excellent year.
This year, the conference – which took place last week – was full, but not bursting. In the words of David McCreadie at Hobart Capital Markets:
"That nicely sums up the stage of acceptance the market has reached with current equity levels."
While many of those Britons who wish to Remain in the EU are still stuck in the Denial stage of the Kübler-Ross grief cycle, many asset managers – in the face of a continued bull market for stocks – have clearly moved on to the Acceptance phase.
But for investors of an inquiring or somewhat sceptical hue, SocGen's various speakers provided plenty of food for thought.
We are constantly told, for example, about the cash piles that US companies have hoarded around the world. As Andrew Lapthorne points out, these cash piles may be somewhat more concentrated than we have been led to believe.
While the largest 25 US companies may be rolling in cash, the remaining 99% of corporate North America barely has any. It's a similar story of concentration when it comes to corporate profitability.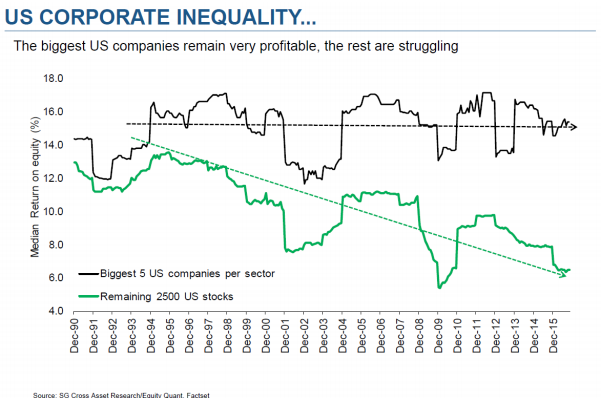 While the largest five US companies in each business sector are enjoying relatively high returns on equity, the trend in profitability for the remaining 2,500 stocks has been deteriorating for the past two decades.
In other words, US market breadth is extremely concentrated, and the health of the overall market has been obscured by the performance of a handful of mega-cap companies now sporting premium multiples.
As value managers we were particularly interested to hear Andrew Lapthorne's take on the growth versus value debate. His take: value stocks were in a bear market, but have started to recover strongly over recent months. 'Growth' stocks, however, or what SocGen refer to as 'High Quality' stocks, now enjoy record valuations, as expressed in 12 month median p/e ratios. Given the acute concentration of profitability and cash hoarding displayed by the handful of US market leaders, investors searching for a margin of safety may wish to be somewhat more discerning in 2017.
For us, Andrew Lapthorne's stand-out chart was the one that follows.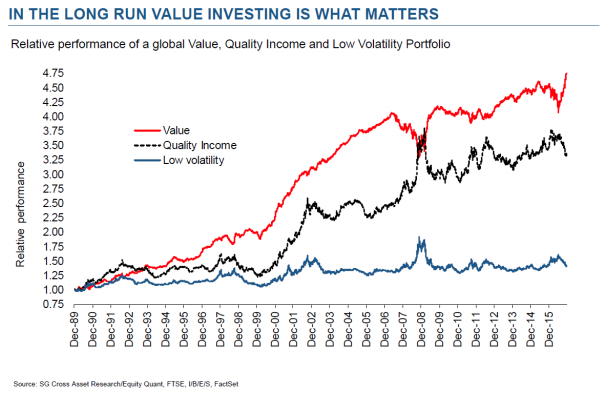 From a style perspective, on SocGen's analysis of markets since 1990, value as a strategy outperforms everything else, and certainly outperforms both 'Quality Income' and the particularly disappointing-looking 'Low volatility' strategy.
Which is not to say that value doesn't incur drawdowns – but rather that the longer term performance of value justifies the commitment to the strategy, warts and all.