The Changing Structure Of The US Economy
Wednesday, 6/08/2011 15:21
It's not all bad news – the federal government is buying more limos...
THE US ECONOMY seems to be running at quarter-speed, says Eric Fry in the Daily Reckoning.
Just in the last few days we learned:
Factory orders slumped 1.2% in April, compared to a gain of 3.8% in March.
Car sales tumbled 10% in May – the lowest level in seven months.
The ISM's manufacturing index dropped to 53.5 in May from 60.4 the prior month – the slowest pace since September 2009.
The Consumer Confidence reading for May slipped to 60.8 from 66 in April – the lowest level of the year.
The Median home price fell to a new low for this cycle – the lowest since 2003.
As anticipated, Ben Bernanke's quantitative easing has failed to stimulate enduring economic growth, but it has done a masterful job of simulating inflation and Dollar weakness. These trends should continue.
To be fair, the Fed Chairman did as much as he could, armed with only a printing press and a few moronic economic theories. He's a modern-day Davey Crockett, trying to repel overwhelming hostile forces with the financial equivalent of a Bowie knife.
A printing press was never meant to nurture the economic growth of an entire nation. It is good for mass-producing Bibles, and putting monks out of the illuminated manuscript business. But a printing press is not so good for inspiring an entrepreneur to take a chance.
In fact, an active printing press undermines capitalistic enterprise because it creates the inflationary episodes that disrupt pricing throughout the supply chain, while also raising the cost of credit.
But Bernanke's efforts have yielded some measurable results, even if they are the wrong results to be measuring. Government employment is soaring.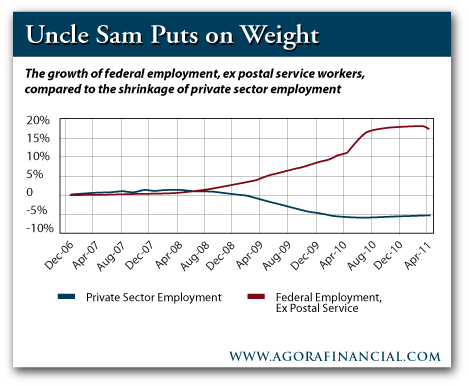 "The structure of the US economy was changed by the two bubbles and reflations over the past ten years, as private and public debt levels have ratcheted up," observes Eric Janszen, of iTulip.com.
"Consider the fact that total employment fell by 2.6 million jobs since the year 2000 while local, state, and federal employment grew by 1.8 million… In 2001, 14 million were employed in local government and 17 million in manufacturing. Ten years later, 15 million are employed in local government and 12 million in manufacturing."
The growing legions of federal employees are doing their best to jumpstart the economy, as the a chart illustrates.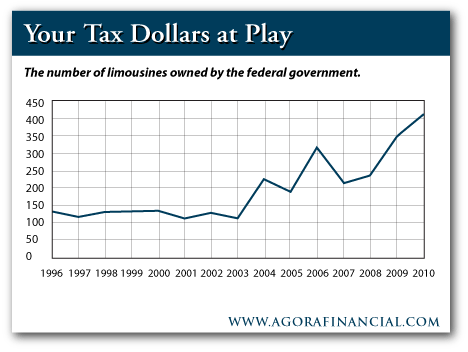 The number of limousines owned and operated by the federal government has doubled over the last three years. The booming federal limousine trade is good for the limo industry, which is also good for related industries like limo driver uniform vending, sun-roof installing and crystal whiskey decanter manufacturing.
Two hundred new limos in three years isn't going to turn the economy around overnight, but at least it's a start, right?
Buying Gold today? Get direct access to live, 24 hour markets with BullionVault...