Turkey Flirts with Dictatorship
Wednesday, 5/30/2018 09:01
Lira sinks as Erdogan pushes for new powers...
WHEN Turkish President Recep Tayyip Erdogan called for a presidential and parliamentary election June 24th – jumping the gun by more than a year – the outcome was foreordained, writes Gary Dorsch at Global Money Trends.
Erdogan has imprisoned a presidential candidate, and the election will be held essentially under martial law. There is virtually no independent media left in the country. Erdogan has loaded all the dice, marked every card, and rigged every roulette wheel, making sure a victory next month is guaranteed.
Two years ago, Erdogan accused Muslim cleric Fethullah Gulen of masterminding a scheme to overthrow his autocratic rule, and quickly took advantage of a failed coup to arrest more than 60,000 soldiers, police, teachers, judges and others suspected of links to his opposition.
Erdogan's cronies arrested 40% of all Turkish generals and admirals. In addition, three news agencies, 16 television channels, 45 newspapers, 15 magazines and 29 publishers were ordered shut down. For Erdogan, the coup was a gift from God: he arrested 3,000 secular judges – to forge a radical Islamic Turkey.
The hard-line Islamist leader managed to cling onto power after making a dramatic appeal for his supporters to confront the military units that attempted to seize strategic locations in Istanbul and Ankara. Erdogan, surrounded by his heavily-armed bodyguards, declared:
"They will pay a heavy price for this. This uprising is a gift from God to us because this will be a reason to cleanse our army."
It was Turkey's version of the "Night of the Long Knives", the day Turkey became a ruthless dictatorship, and turned away from its experiment as a secular democracy, in place since the fall of the Ottoman Empire.
There is a great deal at stake in the June vote. Based on the outcome of a referendum last year, Turkey will officially move from a parliamentary system to a dictatorship. A win would enable Erdogan to eliminate the position of prime minister and weaken parliament, thanks to a constitutional referendum passed last year that would heavily concentrate the president's power. But the referendum vote was very close, and this time around Turkey's dictator is taking no chances.
The electoral law has been taken out of the hands of the independent electoral commission and turned over to civil servants, whose employment is dependent on the Erdogan's Justice and Development Party (AKP).
Still, Erdogan is nervous about the Turkish economy. While growth is solid, unemployment is 11% (21% for youth), debts are piling up and inflation is flaring and eating away at standards of living. The AKP's 16-year run in power is based on raising income for most Turks, but wages fell -2% over the past year, and the Turkish Lira has plunged -20% against the US Dollar so far this year, driving up the price of imported goods. Standard & Poor recently downgraded Turkish bonds to junk status at BB-, and Turkey's 10-year bond yield has spiraled upwards to above 14.5% this week.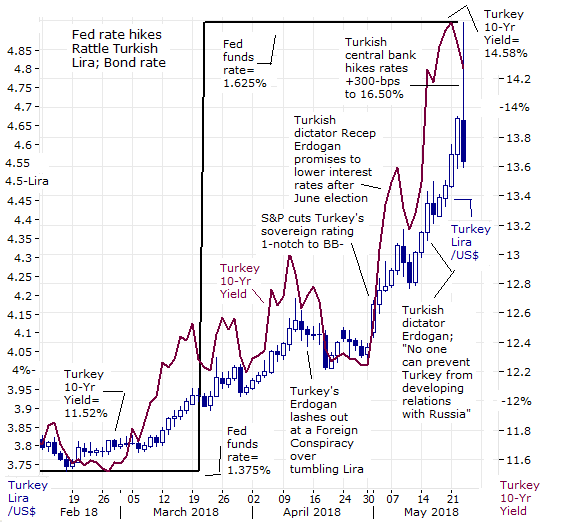 After Erdogan's 'interview from hell' with Bloomberg TV in London this month week – in which he said he foresaw himself taking a greater role in monetary policy if he is elected the country's first executive president in the upcoming June 24 elections – the Turkish Lira plunged to a record low of 4.92 against the Dollar, and is among the worst-performing currencies this year.
The reason? Erdogan plays an unusually heavy-handed role in deciding his country's monetary policy, and many observers say he ties the hands of the central bank, opting for a monetary policy that prioritizes growth over controlling its double-digit inflation.
Turkey's growth rate reached an impressive 7.4% for 2017, faster than China or India, but at the expense of inflation, which has shot up to 11%.
Ankara has managed to fuel outsized economic growth by handing out low interest rate loans, pumping up the economy with subsidies and giving bonuses to pensioners. But the debt keeps rising. Turkish non-financial companies owe $222-billion of net debt in foreign currencies. And each -1% depreciation of the Turkish Lira adds about TRY-5-billion to the cost of Turkey's foreign borrowings.
Erdogan often lashes out at traders trying to crush the Lira, and crash Turkey's economy, as part of a foreign conspiracy. But traders point to Turkey's vulnerabilities on the balance of payments front. Although the central bank's gross FX reserves totaled $85.6 billion as of May 11, Turkey's finances could deteriorate rapidly if authorities fail to stem pressure on its currency and borrowing costs.
Credit rating agency S&P rates Turkey at BB-, and warned on May 22nd, "Higher oil prices are not being passed on at petrol pumps," meaning that the government's tax income was falling there too, while the large amounts of Dollar loans given by the country's banks were becoming more expensive to repay due to the Lira's slump.
Turkey's central bank did hike it main policy rate +75 basis points to 13.5% in late April. The Lira temporarily jumped on the news. But Erdogan foiled the rescue attempt, saying he was aiming to bring the rate back down, in order to ease pressure on Turkish households and drive the growth needed to create jobs for Turkey's youth.
However, on May 23rd, in a desperate attempt to prevent a currency crisis just as the Turkish Lira was crashing to record lows, and ratcheting up Turkish bond yields to dangerously high levels above 14%, the Turkish Central Bank finally caved in to heavy market pressures. It jacked up interest rates in an emergency meeting, pushing the Late Liquidity Window rate +300-bps higher to 16.5%, in order to put a floor under the plunging Lira currency.
The stronger than expected move triggered a sharp rally in the Lira to 4.56 per US Dollar after it tumbled -5% to 4.92 earlier in the day.
In a televised speech in Ankara Erdogan reversed his earlier stance, telling currency traders that Turkey will comply with global principles guiding monetary policy after the June 24 election.
"In the new government system, we'll continue to abide by the global governance principles on monetary policy. But we will not let global governance principles finish off our country." [END QUOTE]
He also added that Turkey will never abandon principles of open and free markets, and said that Turkey has the capability to prevent problems emanating from Lira volatility.

Still, if the Turkish Lira remains weak, and if Turkey's 10-year bond yield stays above 14%, its economy could eventually slide into recession.

Erdogan might be right about a foreign conspiracy aimed at toppling his dictatorship and disrupting his budding alliance with Vladimir Putin and the Ayatollah of Iran. Hours after being confirmed as US President Donald Trump's new secretary of state, Mike Pompeo headed to Brussels on April 27th to participate in NATO meetings. Pompeo told his Turkish counterpart Foreign Minister Mevlut Cavusoglu that the White House is irate over Ankara's decision to buy Russian S-400 surface-to-air missile batteries.

The S-400 system is incompatible with the NATO alliance's systems, and their purchase by Turkey has unnerved NATO member countries, which are already wary of Moscow's military presence in the Middle East.

Turkey signed an agreement with Russia for S-400 missiles, reportedly worth $2.5 billion, in late December. Cavusoglu told Turkish broadcasters after the meeting "We have completed the S-400 purchase. That is a done deal."

In turn, three US senators introduced a measure to block the transfer of Lockheed Martin's F-35 Joint Strike Fighter to Turkey, over what they said was Erdogan's "path of reckless governance and disregard for the rule of law." Cavusoglu replied that Turkey would not be deterred by possible sanctions.

"The 'I will impose sanctions if you buy' approach will not affect Turkey. Turkey will not accept this."
Yet over the next three weeks, Turkey's Lira plunged into a free fall, and forced Ankara to jack-up short term interest rates a total of +375-bps to 16.50% in order to stop the speculative rout against its currency.
On May 21st, Secretary of State Mike Pompeo delivered a speech outlining President Trump's new strategy to counter the Islamic Republic of Iran: Intensify the Iranian regime's ongoing liquidity and political crisis to induce fundamental changes in behavior across a range of malign activities. In short, maximum diplomacy backed by maximum pressure.
Perhaps, Turkey's Lira might suffer the same miserable fate as Iran's Rial in the currency markets in the year ahead.