Tweeter-in-Chief, Destroyer of Stocks
Friday, 1/20/2017 10:36
Foreign currencies also in Trump's sights for being 'too cheap'...
The NUMBER of followers on US President Donald Trump's Twitter page is increasing at an exponential rate, writes Gary Dorsch at Global Money Trends.
It reached 20.3 million this week, up from around 19.9m just a few weeks ago.
Mr.Trump's frequent use of Twitter to communicate with the US public, and with the greater audience of the world's citizens, without the filter of the mainstream media, is also adding a new element of volatility in the world's financial markets.
Nobody knows when the US's Tweeter in chief, will launch a Twitter tantrum that roils the Mexican Peso, or forces China to lift its interest rates, in order to defend the value of the Yuan versus the US Dollar.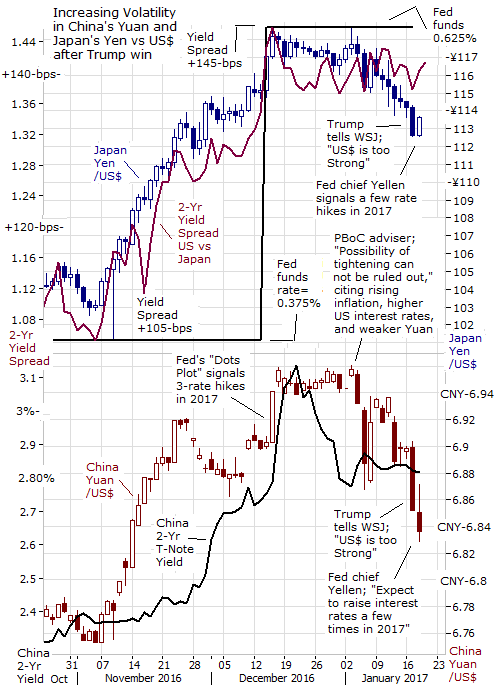 Since becoming the President elect, Mr.Trump has used whatever strong arm tactics he could to persuade some big name manufacturers, such as United Technologies (maker of Carrier air conditioners), Fiat Chrysler, General Motors, Ford Motor, Toyota Motor, to re-direct their future capital spending, away from Mexico and towards the US instead.
In turn, within the $5.1 trillion per day foreign currency markets, the Dollar has risen the most against Mexico's Peso, up 21% since Trump was declared the winner of the US presidential election on the morning of Nov 9th. Against the Euro, the Dollar is up a much lesser +3%, and is up +8% against Japan's Yen. In mid December, the Dollar was up as much as +12% and briefly reached as high as ¥118.50.
Trump has not shied away from bringing up any topic on the currency markets, which is rather unprecedented, including promising during the campaign to label China a currency manipulator as soon as he takes office. He has also been vocal on foreign trade, vowing to withdraw the US from the Trans-Pacific Partnership negotiations and singling out China, Mexico and Japan as contributing the most to the US's trade deficit and costing US factory jobs.
"We have hundreds of billions of Dollars of losses on a yearly basis – hundreds of billions with China on trade and trade imbalance, with Japan, with Mexico, with just about everybody. We don't make good deals anymore," Trump said in New York last week.
On 22 December 2017, China's state media expressed alarm and warned of a "showdown with the US" after Mr.Trump named Peter Navarro, an economist who has urged a hard line against China, to head a new White House National Trade Council.
Navarro is an academic and one-time investment adviser who has authored books such as "Death by China: How America Lost its Manufacturing Base". The book was made into a documentary film about Beijing's desire to become the dominant economic and military power in Asia.
"That individuals such as Navarro who have a bias against China are being picked to work in leading positions in the next administration, is no laughing matter," the official English-language China Daily said in an editorial.
Despite his aggressive China bashing throughout the election campaign, officials in Beijing's Politburo have long believed that Trump's business acumen would overshadow his sensationalist rhetoric. But that perception has now changed after the Republican also chose Wilbur Ross for commerce secretary, who is also hawkish on China.
The Global Times warned that it risked a full-blown conflict between the two heavyweight countries. "China needs to face up to the reality that the Trump team maintains a hard-line attitude toward China. It must discard any illusions and make full preparations for any offensive move by the Trump government," the newspaper said in an editorial published on December 23rd.
The China Daily, meanwhile, warned that any moves to damage the US – China relationship would result in a loss for both sides. But as far as Ross and Navarro see it, the US is already engaged in a trade war with China and is losing badly. They might be willing to do whatever it takes to get out a losing trade war, and that means enormously risky steps, such as naming Beijing as a currency manipulator, raising tariffs on Chinese products, and more enforcement actions against Chinese dumping, especially steel.
So far, Beijing has made the first move to avoid the label of a currency manipulator, lifting short-term Chinese interest rates about 50 basis points higher from a few weeks ago. That stopped the Dollar from rising above the psychological 7-Yuan level.
China's 2-year T-note yield is hovering around 2.82% today, up from around 2.38% when Trump won the election on Nov 8th. But China's 2-year yield was as high as 3.12% in December, showing how far Beijing is willing to go to tighten its money supply and to cap the Dollar's rise.
China's foreign exchange reserves fell to near six-year lows in December, but held just above the critical $3 trillion level, as authorities stepped in to support the weakening Yuan ahead of Mr.Trump's inauguration. China's FX reserves shrank by $41 billion in December, the sixth straight month of declines, and caused Beijing to move more aggressively with capital controls in order to make it harder for China's citizens to ship Yuan out of the country. For the year as a whole, China's reserves fell $320-billion to $3.01 trillion, on top of a record drop of $513-billion in 2015.
The main reason China's forex reserves fell in 2016 was because the central bank used them to stabilize the Yuan, the State Administration of Foreign Exchange (SAFE) said. With the Dollar gaining ground, a decline in the value of other currencies held by China also contributed to the decline. On January 18th, the US Treasury reported that China sold a net $66bn of US T-notes in November – the sixth straight month of net sales. However, that creates a Catch-22 situation for China, since such heavy sales of US T-bonds leads to higher US interest rates, which in turn, exerts upward pressure on the Dollar versus the Chinese Yuan and other currencies.
Donald Trump has repeatedly made waves with hard hitting tweets and striking statements, but Japan's former currency chief is more surprised about what Trump isn't talking about: Japan's Yen.
"What's amazing is that he hasn't said anything about the Yen," Tatsuo Yamasaki, a former vice finance minister for international affairs, said in an interview on January 15th. The Yen has weakened -26% against the Dollar since Prime Minister Shinzo Abe came to power in late December 2012. Although Trump did comment on Tokyo's manipulation of the Yen on the campaign trail, there has been little said on the subject from him since Nov 8th.
However, officials in Tokyo fear he may start pointing the finger at the Yen as well, as both China and Japan appear on Washington's list to monitor what it calls potentially "unfair" currency practices.