US Steel Loves Trump's Tariffs
Friday, 3/09/2018 09:10
But the cost of living won't...
ARE Trump's steel and aluminum tariffs good for America? asks Frank Holmes at US Global Investors.
President Donald Trump's proposed tariff on imported steel and aluminum, at 25% and 10%, is much more than a shot across the bow. Indeed, this could be the official kickoff of the trade war we all anticipated.
The protectionist trade policy, announced last week as the president met with metals executives, raised fresh inflation worries and had an immediate impact on capital markets.
As expected, the winners were domestic steelmakers. AK Steel, the only manufacturer in North America that produces carbon, stainless and electrical steels, rose as much as 9.5% on the day.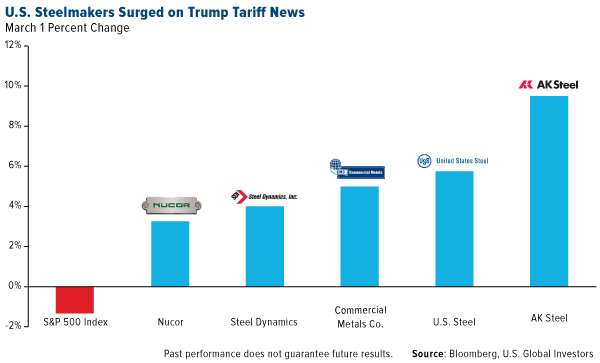 AK Steel CEO Roger Newport praised Trump's decision, saying he fully supports "the actions he plans to take to stem the tide of unfairly traded steel imports that threaten the national security of our country."
Newport wasn't alone. Drew Wilcox, vice president of steel giant Nucor, called the tariffs "a clear message to foreign competitors that dumping steel products into our market will no longer be tolerated."
Among the biggest losers from the news were automakers, which account for a little more than a quarter of steel demand in the US, according to the American Iron and Steel Institute (AISI). That makes the industry the second-largest consumer following construction. Ford, General Motors and Fiat Chrysler all fell more than 2% as US steel producers rose on the Thursday, and losses extended into Friday.
To be clear, this is a huge deal, with serious inflationary implications. The US is the world's largest steel importer, so it's very possible we could see retaliation from multiple trading partners on exports ranging from Florida orange juice to Kentucky bourbon to Wisconsin cheese. It's hard to imagine a scenario where this is not passed on to consumers.
Trump was reportedly advised to exempt select allies, but it appears he's chosen a no-exemptions option. Canada, the top supplier of steel and aluminum to the US, was spared in 2002 when former President George W. Bush imposed tariffs as high as 30% on steel.
When a country (USA) is losing many billions of Dollars on trade with virtually every country it does business with, trade wars are good, and easy to win, President Trump tweeted Friday morning.
The country with which the US has the biggest trade deficit is China. In 2017, the deficit stood at $375 billion, which accounts for about 65% of the total US trade deficit. The tariff on steel and aluminum should have a negligible impact, however, as the US imports a relatively small percentage of those metals from China.
As I've explained numerous times before, one of the most prudent ways investors have positioned their portfolios in times of rising inflation is by adding to their gold exposure.
The chart below, courtesy of the World Gold Council (WGC), shows that annual gold returns were around 15% on average in years when inflation was 3% or higher year-over-year, between 1970 and 2017. In real, or inflation-adjusted, terms, returns were closer to 8%. This is still higher, though, than average returns in years when inflation was lower.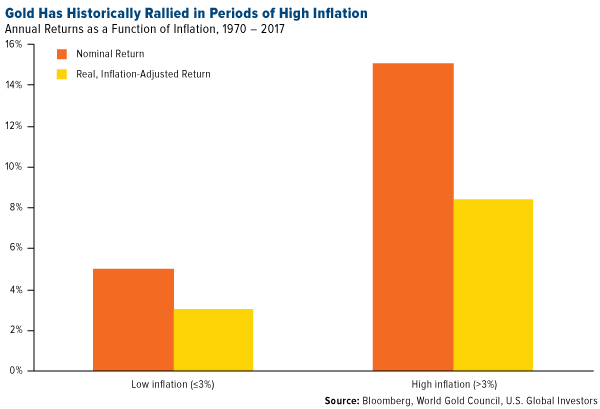 According to the WGC, "gold returns have outpaced the US consumer price index (CPI) over the long run, due to its many sources of demand. Gold has not just preserved capital, it has helped it grow."
The most recent report from the Bureau of Labor Statistics (BLS) shows that consumer prices rose 2.1% year-over-year in January, but as I said earlier, real inflation could be grossly understated.