When in Tokyo...
Tuesday, 11/14/2017 15:01
Trump stays silent about falling Yen...
PRESIDENT Donald Trump hit the golf course on Sunday, Nov 5th with Japanese Prime Minister Shinzo Abe, writes Gary Dorsch at Global Money Trends.
The world's #4 ranked golfer Hideki Matsuyama joined them, playing nine holes before retiring to the club house.
"Two wonderful people!" Trump tweeted, along with a video of his swing. Abe also chimed in on Twitter: "A round of golf with a marvelous friend (President Donald J.Trump), full of spirited conversation."
Trump and Abe later posed for photos holding aloft white and gold caps embroidered with the message: "Donald and Shinzo Make Alliance Even Greater."
Abe and Trump frequently chat on the phone, but speaking before business leaders in Tokyo, Trump accused Tokyo of engaging in unfair trade practices. He began to air his long held complaints before the cameras, saying too many trade deals have benefited the US's foreign partners at the expense of American workers.
"I have to say for the last many decades Japan has been winning – you do know that. Too many free trade deals have helped US businesses move overseas, leaving behind newly unemployed Americans."
Taking aim at the US trade deficit with Japan (now about $70 billion annually), Trump said, "The US has suffered massive trade deficits with Japan for many, many years. Many millions of cars are sold by Japan into the United States, whereas virtually no cars go from the US into Japan.
"We want free and reciprocal trade, but right now our trade with Japan is not free and it's not reciprocal. And I know it will be," Trump added.
At a news conference with Japanese Prime Minister Shinzo Abe, Mr.Trump added, "The Japanese people are thriving. Your cities are vibrant and you've built one of the world's most powerful economies," And Mr.Trump joked "I don't know if it's as good as ours, I think not. Okay? And we're going to try and keep it that way, but you'll be second."
Trump pointedly teased Abe over the trade deficit between the two countries, and called for Japan to buy US-made anti-missile batteries to counter the growing ballistic missile threat from North Korea, saying buying more US military equipment would create more jobs for Americans and increase security for the Japanese.
"It's a lot of jobs for us, and a lot of safety for Japan, and other countries that are likewise purchasing military equipment from us," Trump said.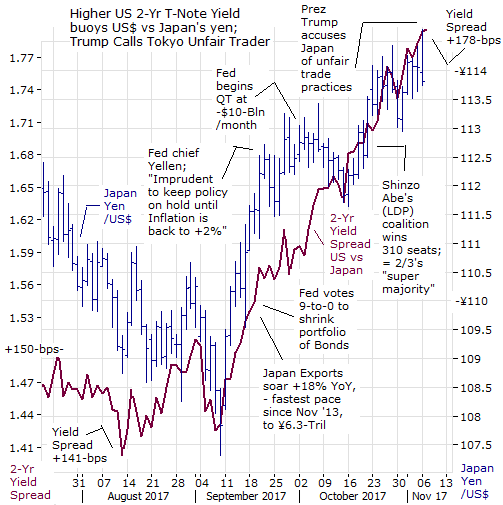 Abe agreed that "Japan should enhance our defense capability, based on cooperation between Japan and the US. If it is necessary to shoot down a missile, of course we will do that."
For Trump, more known for shoving a fellow leader aside than embracing one, the relationship with Abe is a way to show he can work with his peers around the globe. "He will shoot them [North Korean missiles] out of the sky when he completes the purchase of a lot of military equipment from the US," Trump said, as a way to close the trade gap. Abe listed several missile defense systems Japan is planning to buy as well as Lockheed Martin's F-35-A fighter jets. Yet all the deals had previously been announced.
The Trump administration also wants Japan to purchase US liquefied natural gas, hoping exports could cut into the trade deficit. Gary Cohn, the president's top economic adviser, voiced support for a terminal in the US Northwest that would send tankers full of LNG to Asia.
But throughout Trump's two-day visit, Abe publicly ducked any talk of major trade concessions even though Trump kept bringing it up. The only major investment cited – a $1 billion project in Tennessee from auto parts maker Denso was old news, contrasting with Trump's plan to announce billions of Dollars in deals on his stop in China later this week.
Trump called on Japanese car makers to build more factories in the US, "Invest in the US, and we'll make sure they speed right through the approval process." Yet Abe's deflections showed Trump that it won't be that easy to narrow the trade deficit with Japan, driven largely by US imports of cars and electronics.
Yet what is not known is if President Trump is aware that Tokyo is playing a key role in keeping US interest rates artificially depressed, through the Bank of Japan's "Yield Curve Control" scheme.
Under a policy framework adopted in September '16, the BoJ guides short-term rates to minus 0.10%, and the 10-year bond yield is tightly pegged around zero percent. The BoJ also has a loose pledge to buy bonds so its holdings increase at a pace of ¥80 trillion ($728 billion) per year. But it has recently been slowing purchases to around ¥60 trillion as it already owns 45% of the entire JGB market.
The BoJ may also switch its policy to targeting three- or five-year yields, instead of the 10-year yield, as the shorter end of the curve is easier to control with fewer bond purchases. But by keeping Japanese bond yield near zero percent, the BoJ encourages fixed income investors to buy higher yielding US T-bonds, and thereby helping to keep the US's borrowing costs at artificially low rates.
However, while the BoJ is keeping its short-term interest rates pegged near zero percent, in the US, Fed chief Janet Yellen has kept the door open to another increase in short-term US interest rates this year.
The "ongoing strength of the economy will warrant gradual increases over the next few years to sustain the economic expansion," she said. At their last policy meeting October 20th, Fed officials left rates unchanged and penciled in one more rate rise in 2017. Philadelphia Fed President Patrick Harker, who is also a 2017 voter, has "penciled in" a +25-bps rate hike to 0.375% for December. Kansas City Fed chief Esther George – the most hawkish Fed policy maker – urged her colleagues to continue tightening policy to avoid the threat of financial instability from asset-price bubbles. The Fed's "Dots Plots" are projecting three rate increases next year, two in 2019 and one in 2020.
As such, the yield spread between the US and Japan's 2-year notes has widened to +178-bps, up from +141-bps three months ago, and in turn, the wider yield spread has lifted the US Dollar's exchange rate from around ¥108 in August to above ¥114 – just as Trump arrived in Tokyo.
Traders in the $5.1 trillion-a-day foreign-exchange market were watching all updates on Trump's Twitter account to see if he would label Japan a currency manipulator through the use of Tokyo's double barreled, QQE and YCC schemes. However, traders were surprised that Trump didn't talk about the Yen.
"When I was alone with the president, I told him that it would be inappropriate for us leaders to directly debate exchange-rate issues. Currency issues are best dealt with by the finance minister and Treasury secretary of both countries," Abe said, adding that Trump consented to the idea.
Any concessions won by Abe from Trump to refrain from making direct, market-moving comments that might have triggered a Yen spike and knocked Japan's Nikkei-225 stock index lower, were a big relief to traders who have bid up the Nikkei to its highest in 25 years. Trump might be oblivious to the inter-linkages between various global markets, but a sharp sell-off in Japanese stocks might ricochet to Wall Street, and dampen the enthusiasm for Trump's greatest accomplishment so far – increasing the wealth of shareholders of US-stocks by +$5.2 trillion since his election, one year ago.