Trump's Chums
Friday, 2/10/2017 09:01
What Modi, Xi, Macri, Farage and Le Pen share with The Donald...
PRESIDENT Donald J.Trump was elected on promises to "Make America Great Again," and since January 20 he's already signed a number of executive orders to tighten border security and ease regulations, writes Frank Holmes at US Global Investors.
Whether you approve of his actions or not, no one can deny that many of Trump's policies are a sharp departure from American politics of the last 70 years, which has emphasized globalism and interventionism.
It isn't until we look at the bigger picture, though, that we realize Trump's ascent is in line with a nationalistic wave that's spreading across the globe, from Asia to Europe and beyond.
As investors, it's important that we familiarize ourselves with these global policymakers, thought leaders, mavericks and disruptors.
Government policy, after all, is a precursor to change.
Below are four such leaders who have more in common with Trump than you might realize.
#1. Narendra Modi – India
Narendra Modi's 2014 campaign slogan, "Good times ahead", is in many ways cut from the same idealistic cloth as "Make America Great Again".
Indeed, the similarities between Modi and Trump are numerous. Both men have made it their top goals to strengthen economic growth by deregulating key industries and taking a protectionist approach to manufacturing, reflected in their respective "Make in India" and "America First" policies. A former tea merchant, Modi has often been described as a Hindu nationalist, with alleged goals to replace secularism with Hinduism as the guiding principle of Indian government and society.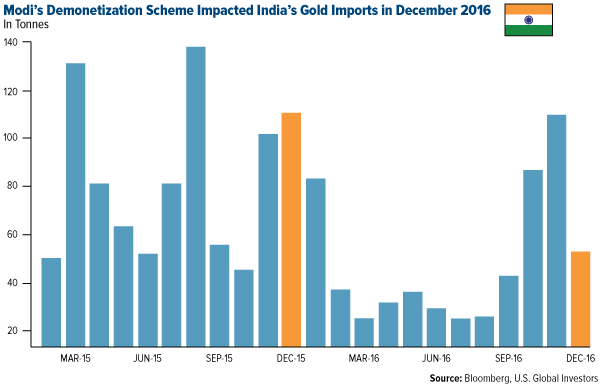 Like Trump, he's interested in "draining the swamp" of public corruption. To that end, Modi took an extreme measure in November, eliminating all 500 and 1,000 Rupee banknotes – 90% of the nation's currency – one of the effects of which was a sharp decline in December's gold demand.
#2. Xi Jinping – China
Upon taking leadership of the People's Republic of China in 2013, Xi Jinping made it his mission to crack down on corrupt "flies" (rank-and-file party officials) and "tigers" (senior officials) who were suspected of lining their pockets with black money.
Since Xi began to "drain the swamp," courts have prosecuted more than 200,000 officials on corruption-related charges and disciplined hundreds of thousands more. His campaign, which has been wildly popular with the masses, hit Asian gaming capital Macau particularly hard.
Before the crackdown, Macau, a special administrative region of China, was adding the equivalent of a Las Vegas Strip every year in revenue, according to the Wall Street Journal. More recently, Xi instructed senior officials to lead by example, warning them there were "no forbidden areas in intra-party supervision, and no exceptions."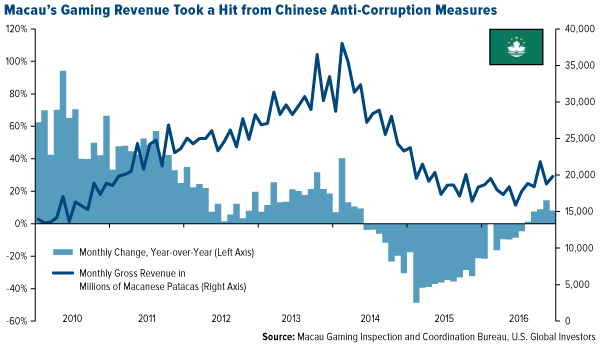 #3. Mauricio Macri – Argentina
It might be hard to believe now, but Argentina once ranked among the top 10 wealthiest nations in the world, following the UK, US and Australia.
Following years of rule by the far-left Justicialist Party, however, the South American country languished in corruption and stagnation. In November 2015, voters said "no, gracias" to further leftist rule by electing businessman and two-term Buenos Aires mayor Mauricio Marci as president.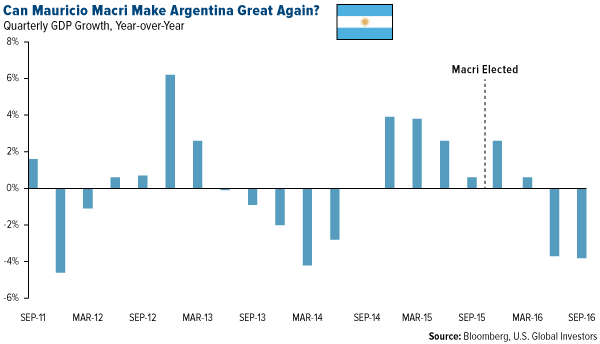 It was an upset victory for the people of Argentina, who have seen their once-prosperous nation deteriorate under decades of Marxist policies. Since being sworn in, Macri has made business growth and the economy a number one priority, loosening regulations in the telecommunications sector, easing currency controls, cutting energy subsidies and eliminating tariffs.
#4. Nigel Farage – United Kingdom
Not all disruptors need to be presidents or prime ministers. As founder and once-leader of the populist, right-wing UK Independence Party (UKIP), Nigel Farage has already made a lasting impact on the United Kingdom.
The former commodities trader was instrumental in the campaign to leave the European Union (EU), and following the referendum's passage, Farage declared June 23 "our independence day" from failed socialist rules, regulations and immigration policies.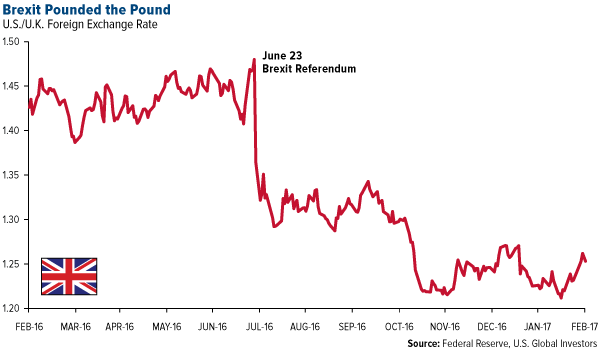 Reportedly close to Trump, Farage was the first British politician to meet with the then-president-elect after the November election and has since come out in full support of his more controversial policies, including the "extreme vetting" of refugees.
#5. Marine Le Pen – France
The five global mavericks above, Trump included, are certainly not the only ones in power right now, and we can expect to see more in the months and years ahead.
Emboldened by Brexit and Trump, other nationalistic candidates are rising in European polls, with several major elections coming up this year in France, Germany, Hungary, the Netherlands and elsewhere.
Among the candidates with a reasonable chance to gain control is Marine Le Pen, president of France's Front National Party, which takes a hard Euroskeptic stance. (She is, in fact, daughter of its founder, Jean-Marie Le Pen.) If elected president of France in May, Le Pen pledges many dramatic changes, including withdrawing from the Schengen Area, which eliminates border controls and passports among 26 European countries; giving priority to French citizens with regard to jobs and housing; reintroducing the death penalty and boosting spending on prisons; and issuing a "Frexit" referendum to quit the EU