Trucker Shortage, Truck Inflation
Wednesday, 7/18/2018 09:04
The US needs 50,000 more truck drivers...
IT IS a problem impacting everyone, including you, writes Jody Chudley, financial analyst for The Daily Edge, in Addison Wiggin's Daily Reckoning.
And it is hitting us right where it hurts – in the wallet.
The issue is a massive shortage of truck drivers in the United States. American Trucking Associations believe that we need at least 50,000 additional truck drivers, and we need them today.
It isn't hard to fathom how a shortage of truck drivers impacts all of us financially. Just take a look around you right now...
If something is in your home, then it has at some point been on a truck.
To attract new drivers companies have had to pay more. On top of that we also have rising fuel costs.
The cost of shipping a "dry good" (one that doesn't require refrigeration or special conditions) by truck has risen by almost 80% since 2010 and 40% in the past year alone.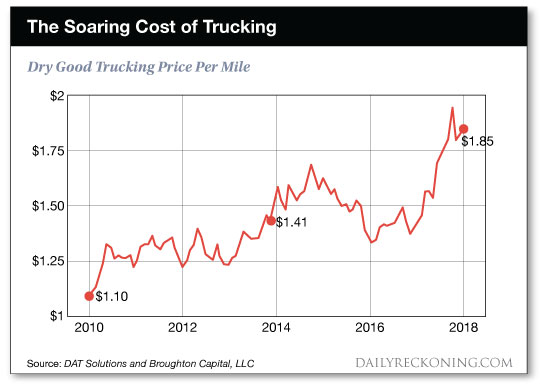 These increased trucking costs are impacting nearly every company that is in the business of selling goods.
Tyson Foods (TSN:NYSE) for example has indicated that its shipping costs will increase by a whopping $200 million this year. It doesn't matter what is being shipped, if it is going by truck it will cost more.
You know what happens when corporations see their costs rise. They pass those cost increases on to us, the consumers. Since virtually everything we consume gets shipped to us, that means we are going to be paying more for everything.
Were you wondering why the cost of your Amazon Prime membership jumped from $99 to $119? This truck driver shortage is it.
Worse still, this is not going to be a temporary problem.
With e-commerce growing at a rapid pace, an even greater strain will be placed on our transportation system and the truck driver shortage will grow.
Expectations are that we will need nearly 900,000 new drivers over the next decade to keep up with the growth in demand for freight transportation. There is no way that the trucking industry attracts all of those bodies without continuing to offering higher and higher compensation.
It is pretty clear that as consumers, we are going to be bearing the brunt of these shipping cost increases over the coming decade.
It therefore makes sense for us as investors to hedge way our exposure to what is coming.
So how do we do that? How do we profit from truck driver wages rising?
Next to becoming truck drivers ourselves, the most obvious way to do that is by owning the railroads which become much more competitive as the cost of trucking goes up.
Interestingly, we wouldn't be the first smart investors to see opportunity in the railroads. Warren Buffett purchased all of Burlington Northern Santa Fe in 2009 for his company Berkshire Hathaway, and his pal Bill Gates has owned a significant position in the Canadian National Railway since 2002.