Tax & Regulation: 2 Modest Proposals
Thursday, 4/27/2017 15:12
Trump has got plenty done in 100 days. But there's much to do...
LAST FRIDAY President Donald Trump tweeted his frustration with the "ridiculous standard of the first 100 days," claiming that no matter what he accomplishes during this period, the "media will kill" it, writes Frank Holmes at US Global Investors.
There's some truth here. No US president in modern history has been so vehemently and routinely lambasted by a hostile press corps as Trump has. Harsh jabs have even been thrown by business news sources such as the Wall Street Journal and Bloomberg, which are normally pretty centrist.
But for those keeping score, Trump's 100th day arrives this Sunday, April 29, and it would be disingenuous to describe his tenure so far as smooth sailing. He's faced a number of significant setbacks and distractions, including federal judges' smackdown of his two travel bans, a failure to repeal and replace Obamacare and an ongoing investigation into his administration's possible collusion with the Russian government in the months leading up to the November election.
Although consumer confidence remains at scorching-hot levels, markets are beginning to express doubt in Trump's ability to streamline corporate tax and regulation reform. From their all-time high in mid-March, blue chip stocks have given back more than 1%, while the US Dollar has contracted more than 3.4% since late December.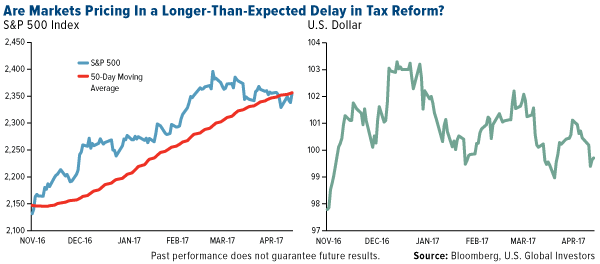 I believe this response is way overdone. BCA geopolitical strategist Marko Papic said as much during his visit to our office last month.
Marko insisted that tax reform is still on its way, despite Congress' earlier failure to repeal Obamacare. Just last week, House Speaker Paul Ryan said lawmakers were putting the "finishing touches" on a new health care bill – one that reportedly might scrap protections for people with preexisting conditions – while Treasury Secretary Steven Mnuchin reassured Americans they can soon expect to see proposals for "the most significant change to the tax code since Reagan."
Such change can't come soon enough. Since 1993, the US has had a top statutory corporate tax rate of 35%, the highest of any other economy in the Organization for Economic Cooperation and Development (OECD). Trump expressly prefers to lower the rate to 15%, but I wouldn't be surprised if it ends up between 20 and 25%.
Regardless, tax relief would be a major win for small and mid-cap firms especially and encourage large multinational companies to repatriate foreign cash. According to one recent estimate, the top 50 largest American corporations stashed as much as $1.6 trillion overseas in 2015. It's time we give them an incentive to bring some of that cash back home.
It's worth pointing out that Trump is not yet lagging his predecessors in terms of delivering fiscal reform. Going back to the Kennedy administration, the average number of months into a new presidential term for fiscal legislation to be enacted is six months, according to LPL Research. It took nearly a year for the Tax Reform Act of 1969 to reach President Nixon's desk. Last week marked Trump's third month in office, so I see no cause for alarm just yet.
As for the American Recovery and Reinvestment Act of 2009, signed by President Obama not 30 days into his first term, it had already been in the works before he took office.
There are other obvious reasons for lowering the corporate tax rate. Just take a look at Singapore and Hong Kong, both of which enjoy a top tax rate of between 16 and 17%. Consequently, they stand as glittering marvels of the modern world.
In the World Bank's 14th annual "Doing Business 2017" report, Singapore ranked second in the world in ease of doing business, Hong Kong fourth. The US, meanwhile, came in at number eight. Tax reform could have the potential of moving the country up the scale.
Besides tax reform, hearings are expected to take place this week on how best to loosen Wall Street regulations. At the top of the docket is the 2010 Dodd-Frank Act, for which Rep. Jeb Hensarling of Texas has drafted a 600-page replacement called the Financial Choice Act 2.0.
If passed, the legislation would relax some of Dodd-Frank's more restrictive rules and limit the powers of the Consumer Financial Protection Bureau (CFPB) and Securities and Exchange Commission (SEC). It would also roll back the so-called Volcker Rule, named for former Federal Reserve Chair Paul Volcker, which effectively bans banks from making speculative investments that don't directly benefit their customers.
In Hensarling's words, the Financial Choice Act "holds Wall Street and Washington accountable, ends taxpayer-funded bank bailouts and unleashes America's economic potential."
Also facing a questionable future is the Labor Department's Fiduciary Rule, which regulates how financial advisors service their clients, specifically by eliminating conflicts of interest. Originally scheduled to go into effect April 10, the Trump administration has delayed it until June 9, pending review.
As I wrote back in January, the Fiduciary Rule, though well-intentioned, would inevitably limit the number of investment products available to retail investors. In an effort to remain compliant with the rule, well-meaning financial professionals would recommend only the least expensive products, regardless of whether they're a good fit. As a result, many mutual funds – which might be better performing but have higher expenses than other investment vehicles – would fall off of brokerage firms' platforms.
In all fairness, there's definitely demand for improved investor service among financial professionals. In a recent survey conducted by advisory firm Financial Engines, 93% of respondents said they felt financial advisors should legally be required to put investors' interests first.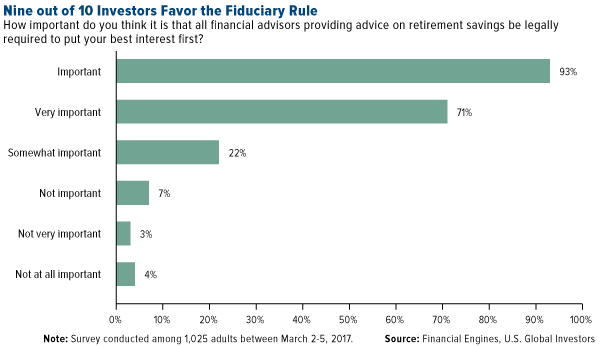 However, the same survey found that nearly 70% of respondents had not heard of the DOL's Fiduciary Rule. This tells me they might not have considered all the ramifications, including the good and the bad, of holding advisors to such strict standards.
To be clear, I'm not in favor of scrapping every banking regulation that's been introduced post-financial crisis. I am in favor of reviewing them, as Trump has ordered, and streamlining them to make them work for the financial sector and consumers rather than against them. This week Federal Reserve Governor Jerome Powell made a similar statement, cautioning policymakers against rolling back "core reforms" that in many ways have strengthened our financial system.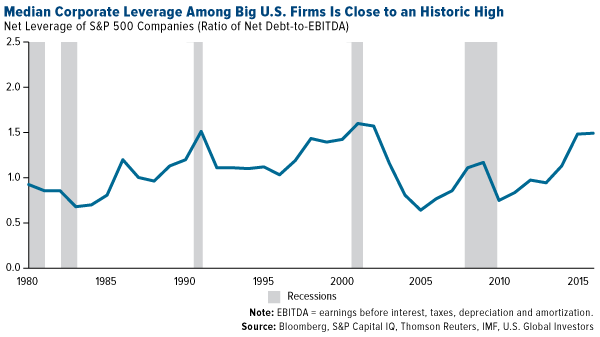 In addition, the International Monetary Fund (IMF), in its Global Financial Stability Report, warned that a "wholesale dilution or backtracking" of existing regulations in the US, coupled with deep tax cuts, could lead to dangerously high financial risk-taking such as we saw pre-2008.
"Many nonfinancial firms do have the balance sheet capacity to expand investment, and reductions in corporate tax burdens could have a positive impact on their cash flow," the IMF writes.

"But reforms could also spur increased financial risk-taking and, in some scenarios, could raise leverage from already-elevated levels."
Indeed, as you can see, median corporate leverage among the largest US companies is nearing a record high as measured by debt-to EBITDA (earnings before interest, taxes, depreciation and amortization).