Gold – the technical picture today
Monday, 4/23/2007 10:57
The technical charts in April 2007 show great strength in spot gold...
Global Watch: 23rd April 2007
A snippet from the latest weekly issue of GoldForecaster.com
THE MARKET in physical gold bullion continues to show great strength, now pushing $690-700.
Good support is seen along the 50-day moving average, currently holding at $668 and moving higher along with the channel support that now sits in the lower $680s.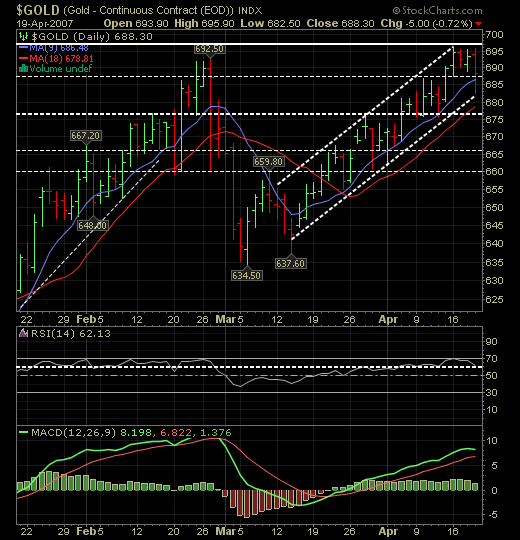 $690-700 and then $730 remain upside targets. Given the action of the past few months, the market is showing us that it is only a matter of time. With this steady march higher here, gold is looking quite healthy.

There are a few factors to consider here, however. Resistance is quite heavy around $690-700 while the US Dollar is nearing a series of very strong multi-decade supports. It should be expected that there should be a battle before the inevitable fall in the US Dollar. That will bring with it another large impetus into the gold rally.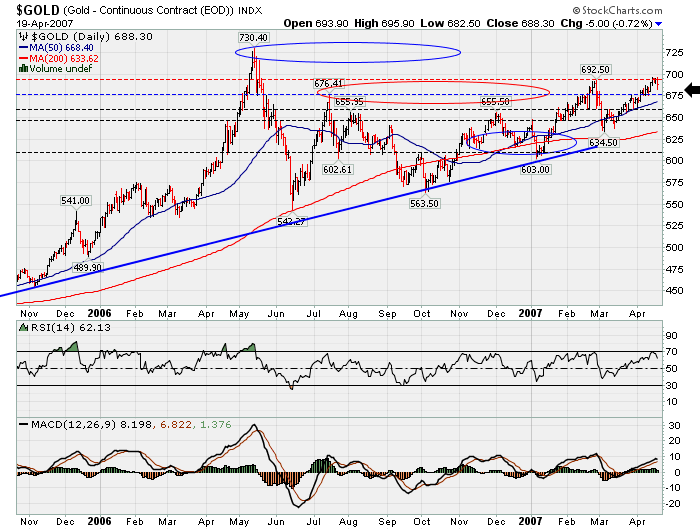 Conservative investors could play the $700 resistance by selling into this strength and wait for a pullback. Alternatively, they may wish to buy back into the market on the break of the $700 mark.

That said, the growing recognition that the US Dollar may move significantly lower is generating more interest in gold and a temporary bounce in the US Dollar may not cause gold to retrace. In fact, gold may continue to move past $700 on its way to $730, $750 and then $800 in the process. The market is primed to make the move higher.

Repeating from past issues of the GoldForecaster.com, "The gold market looks like it wants to move higher at this time, but we may need to do some more base building around the mid to upper $600s first before we see the next move higher – which is likely to bring $800+ gold. I do believe we are drawing closer to the point where gold will take its next rally higher though.

"This is a time to continue to position yourself and ensure the core positions are solidified."

Pullbacks are very attractive at this time! For the entire report, please visit GoldForecaster.com.