Trump Kills Solar? Really?
Saturday, 2/25/2017 10:01
Big silver consumer meets The Donald. Irony ensues...
LAST WEEK, a small solar firm called SunPower Corp. (NASDAQ:SPWR) reported 2016 earnings, writes Greg Guenther in Addison Wiggin's Daily Reckoning.
The company lost nearly $2 per share for the year, tripling its 2015 losses. Revenue came in below expectations. Guidance was lackluster at best. As one analyst put it, this earnings report was a disaster.
The news surprised no one. After all, solar has been in disarray for more than 18 months. Since mid-2015, solar stocks have collectively dropped more than 60%. Now we can expect even more headwinds in the industry...
Only a special kind of idiot would believe the solar industry could survive under the thumb of Donald J. Trump. The president just rolled back coal regulations last week. Specifically, Trump signed legislation nixing the stream protection rule, which was written up by the Obama administration to protect America's waterways from mining pollution.
Climate change and the environment be damned! In Trump's world, the coal miner and other relics from the country's dirtiest industries can flourish once again. Any investor worth his salt should bet big on coal and short solar, right?
Not exactly...
Solar stocks aren't sinking anymore. In fact, this beleaguered industry is perking up now that a brutal bear market has finally bottomed out.
SunPower – the down-and-out solar loser we mentioned just a moment ago – quickly rebounded after its dismal earnings report. The stock rose double-digits by Friday's closing bell. It jumped another 9% the next trading day.
That's not the type of price action you would expect from a stock in distress...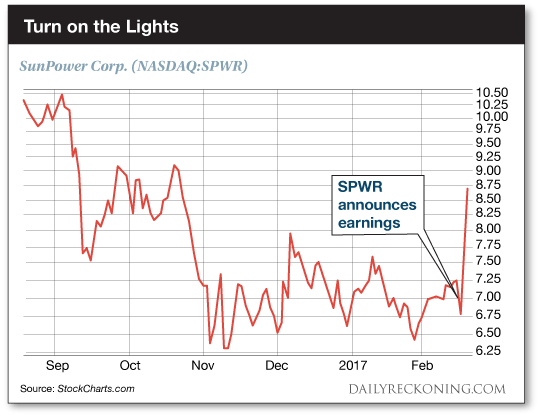 There's nothing more bullish than a stock ramping higher on "bad" earnings. It's a sign that sellers are completely exhausted. A quick squeeze higher on Friday helped launch SunPower's stock off the base it had been building since early November. New four-month highs are now in sight.
SunPower isn't the only solar name headed higher this past week. The sector is starting to perk up after going nowhere but down for months. In fact, the entire industry is defying conventional wisdom that Trump will stomp out any potential growth.
The numbers don't lie. The solar industry is alive and well. In fact, new solar installations just surpassed gas and wind for first time ever.
Bloomberg reports:
"Solar developers installed a record 14.6 gigawatts in the US last year, almost double the total from 2015 and enough to make photovoltaic panels the largest source of new electric capacity for the first time.

"Total installations surged 95 per cent from 2015, led by large fields of solar arrays, which generally cost less than putting panels on rooftops. Utility-scale development increased 145 percent last year, the most in the industry, as costs became increasingly competitive with power produced from gas..."
Now let's compare the recent action in solar stocks with the coal industry. Remember, coal was one of the big energy winners of 2016. We were able to book gains of 40% on our VanEck Vectors Coal ETF (NYSE:KOL) trade back in December as the sooty stuff rocketed to new 52-week highs.
But coal stocks have been stuck in neutral since election day. The consolidation looks healthy so far – but the amazing red-hot run off its lows has finally cooled. That's how markets work: price leads the news. Traders were rewarded with a Trump win, which is exactly where KOL topped out and reversed.
Meanwhile, unloved solar stocks are about to seal the spotlight. Judging by the price action we're seeing right now, it does not appear that the new administration is going to be able to put a lid on solar's growth.