Is the Silver Price Trying to Break Out?
Wednesday, 2/29/2012 15:14
A "quiet breakout" for the Silver Price...?
WE WRITE this near midday Tuesday in Texas, say Gene Arensberg's GotGoldReport.
The Silver Pricehas broken out above the giant flag downtrend line and it seems to be doing so like it "means it." So far. Just below is a chart of iShares Silver Trust (SLV) as a proxy for silver.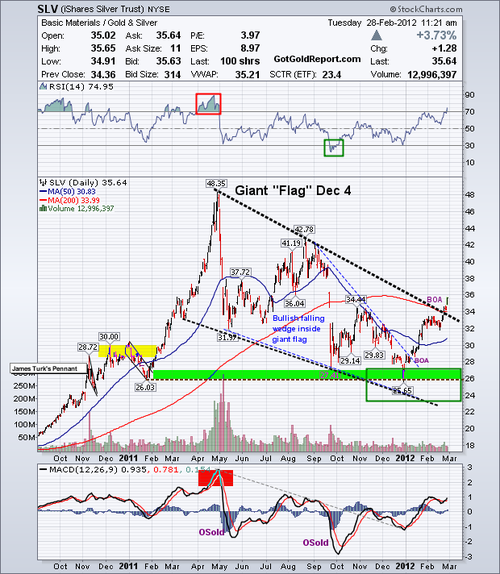 Notice also that silver (and SLV) has managed to reclaim chart real estate above the 200-day moving average. As we send this note to be posted gold is trading with a $1784 handle, with silver near $36.59.
[Ed note: to see the latest spot market Silver Price, visit Bullion Vault's price chart]
Kind of a quiet breakout, don't you think?
Get the safest gold and silver at the lowest possible price with BullionVault...