Gold and Silver Prices Find Their Footing
Monday, 1/16/2012 14:58
A technical look at gold and Silver Prices...
IT WOULD SEEM gold and silver have found their footing at the start of 2012, notes Gene Arensberg's GotGoldReport.
Last week gold logged a $22.37 (1.4%) advance for a last trade of $1,638.68 (USD Cash Market).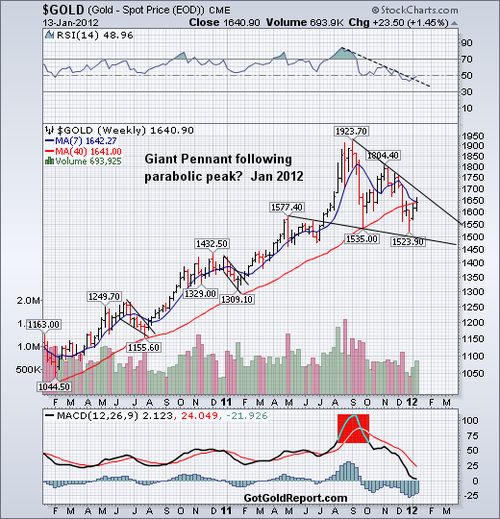 Here at GotGoldReport we have adopted the notion that gold is currently inside a giant, months-long pennant formation – still digesting its fear-assisted parabolic interim pinnacle of $1,923 last September. Most technicians will agree that pennant formations are often continuation patterns that resolve in the direction of the prevailing trend more than not.
Silver Prices added $1.01 or 3.5% last week to close at $29.71 in New York. We regard silver as also being in a huge consolidation, a giant "flag" formation that has been in play since its near $50 parabolic surge in April of 2011.
As the very simple chart below depicts, our view is that silver has recently been contracting in a bullish falling wedge pattern inside that great flag formation. (A consolidation inside a larger consolidation as part of silver's digestion of the new higher plateau.) As everyone knows by now, silver bounced precisely in line with its September panic spike nadir (about $26.15), which happens to coincide with where it found support last January, 2011. (Brown dashed line.) Therefore $26 has once again proven it is an important support zone for the second most popular precious metal.
The support bounce is pretty interesting to us, but perhaps just as interesting is that from our simple-Simon trading point of view, silver made a run at a breakout of that falling wedge on Thursday, January 12, touching $30.62 briefly before running into a Euro-centric negative news loop and a profit taking, just ahead of a 3-day-weekend-"Give Back Friday."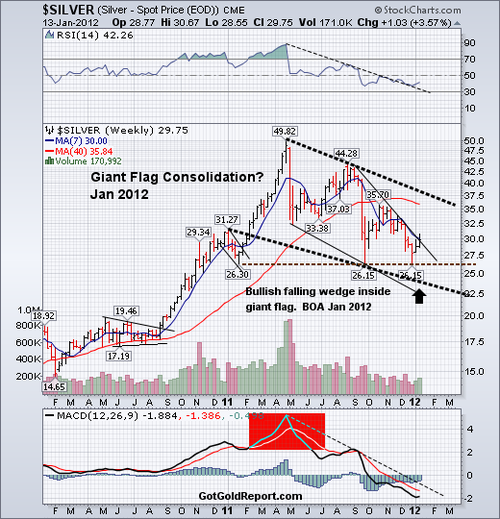 Like pennants, flags are contra-trend consolidations or digestion periods that often, but not always, resolve in the direction of the prevailing trend. Although flags are normally thought of as more short-term animals, we do indeed believe they are appropriate to consider in longer-term events inside great secular bull markets.
Just below is a much reduced example of one of those very large linked graphs – the 3-year weekly gold graph. Note that even in this greatly reduced format, the giant pennant formation idea we have championed is quite visible. Perhaps less visible is a budding breakout attempt of a declining wedge inside that giant pennant, which just got underway this past week.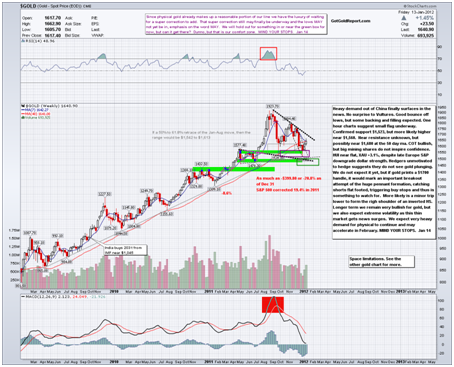 We have to be somewhat impressed that gold and silver advanced despite continued Orwellian strength in the US Dollar this past week.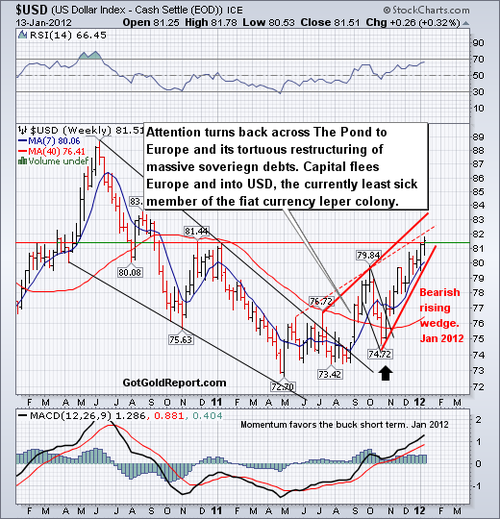 The US Dollar is imperfect; it is far from a satisfactory, stable and confidence inspiring, well-backed medium of exchange, but for the time being, at least, the greenback is where people gravitate to in a time of crisis. That is even if the Dollar is merely a waypoint on the road to something else for scared European wealth. The US Dollar is deep, liquid and accepted worldwide, for now. But gold is rapidly gaining acceptance and confidence as an alternate "currency" to fiat money.
Come to think of it, the "Dollar-gold-exchange-rate" pretty much confirms that notion, does it not? As fiat currencies everywhere have been in an accelerated competitive debasement phase, since about, oh, say 2005, haven't we seen the major fiat currencies all losing purchasing power at a blistering pace? Isn't that the same thing as gold gaining in purchasing power relative to those debt-based paper promises?
Just below is a graph of the Euro Index in terms of gold metal for reference. When most people think of currency fluctuations they think in terms of one fiat currency versus another. This graph shows the "value" of Euros to "buy" the one "currency" that cannot be printed and abused by politicians and central banks. Quietly, but surely, gold is taking over the lead role as the ultimate reserve "currency" on Earth.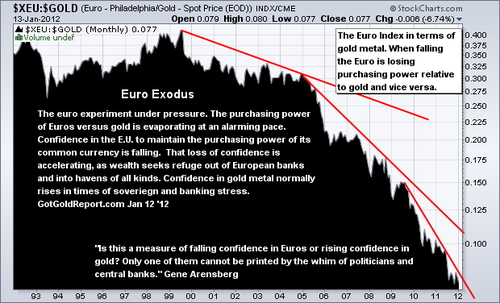 Decades of an experiment where the world's leaders were entrusted with the responsibility of maintaining their currencies without the burden of being tied to gold – without gold being the "currency policeman" proves at least one thing. That governments will not act responsibly in the monetary realm without an "enforcer" to govern them. In the 41 years since August, 1971, when President Nixon severed the last feeble ties of the world's reserve currency, the US Dollar, to real gold metal, governments have gone hog-wild, making government-give-away promises to their voters, borrowing to pay for them, racking up deep oceans of sovereign debt in the absence of that currency policeman. Debts that cannot be repaid in today's value currencies, at spending levels that cannot be sustained in any currency.
We are involved in the slow-but-accelerating-motion involuntary global restoration of sound money, which 'smart money' figured out quite some time ago. Given the size and depth of that 'ocean of irresponsibility,' and given that there are really few alternatives for the world's wealth to seek safe haven, we conclude that there is little chance that 2012 will be a year where confidence in fiat currencies increases and confidence in gold decreases. To the contrary, we are more likely still in Act I of this Greek Tragedy, in Intermission, about ready for the curtain to open for Act II.
Get the safest gold at the lowest prices with BullionVault...