A Thin Market Like Silver
Tuesday, 9/01/2009 10:25
The outlook for silver as an industrial and precious metal...
BACK IN APRIL this year, we spoke with David Morgan, editor of Silver-Investor.com and The Morgan Report, about the silver market, writes Julian Murdoch at Hard Assets Investor.
Given the metal's role in the green revolution and his thoughts on silver's future, we thought it was time to check back in with the precious metals expert now that silver is up 10% (and gold is up 5%) since we spoke.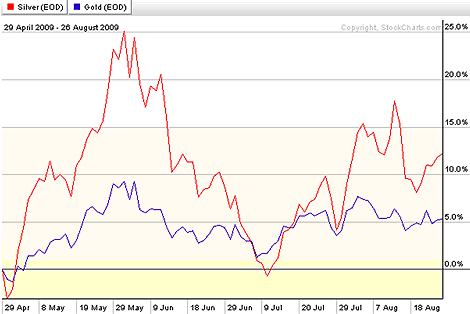 It turns out that Mr. Morgan's long-term forecasts have changed little. But in the short term, he thinks we may see something new.
"Going into the fall and into the next year, I expect to see much more strength in the markets, once we get past what I think will be a spike low in the next couple of months," said Mr. Morgan in a phone interview last week.
"I may be wrong on that call," he caveated, "but I'll be writing more about that in The Morgan Report this month."
In the long run, Mr. Morgan expects that once gold breaches the $1,000 level and remains there for several trading days, it will be time to look for the next level in silver.
"I'm expecting to see around the $1,250 to $1,300 level in gold," he said. "Silver may be lagging at that point – somewhere in the $15-$17 range. But once the Gold Price goes through it, it will have a magnet effect for silver. You'll see silver reach the $21 high it experienced last year and move upward."
For Mr. Morgan, silver's key price level is $25 an ounce. "That is the point where I think you're going to see an acceleration in the price of silver, because for all practical purposes, everyone that's held silver and owns it at $25 an oz is going to have it at profit.
"When markets go into a profitable scenario – especially in a thin market like silver – everyone asks the question, 'How high is high?' So you have very few sellers, and they are all holding or buying more. That puts more upward pressure on the metal. I think we're going to get to that scenario sometime in 2010," he said.
Silver has a dual personality, serving both as a safe haven (like gold) and an industrial metal. Teasing out which drivers are applying the most pressure at any given time can be difficult to analyze – and may be unnecessary.
"Obviously in the severe recession that we're experiencing, industrial demand for silver goes down, and the investment demand may go up, because of the safe haven status," said Mr. Morgan. "I see both pressures coming in over the next couple of quarters."
One important supply factor, he adds, is that 70% of all silver comes out of the ground as a by-product of base metal mining – and base metal miners have been hit hard in the recession. The companies in the S&P GSCI Industrial Metals Index are still struggling to recover the losses they sustained during the financial crisis: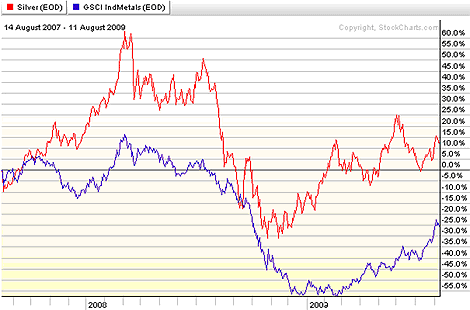 Silver prices, on the other hand, have been able to recover more rapidly, despite mining cutbacks and less silver being pulled out of the ground.
That's because in economic downturns, industrial production drops as well; fewer electronics, optical systems and other silver-centric applications are also manufactured.
"It's sort of a self-correcting mechanism on the industrial side," noted Mr. Morgan. But where industrial demand has slid, investment demand has picked up the slack.
Barclays Capital recently estimated that investment demand for silver (in the form of silver coins and ETF inflows) will grow to 4,850 tonnes this year – almost a 20% increase from 2008. Barclays also forecast a demand decrease to 2,310 tonnes in 2010, as the economy recovers and generates less "safe haven" demand.
But if silver prices take off, as some think they will, that number could change.
Back in April, we also mentioned the possibility of swine flu (the H1N1 virus) impacting copper production – and by extension silver – but so far, the more dire predictions haven't come to pass. The next bugaboo in silver supply is also tied to copper miners, but to their paychecks, not their temperatures.
Copper miners in South Africa, Peru and Chile looking for higher wages have threatened to strike later this year if their demands aren't met. Over 20% of global copper production is at risk, and should the strikes occur, it could have drastic effects on the world's silver supply.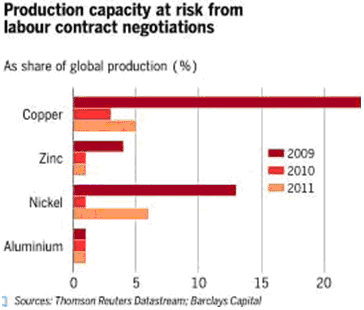 Of course, how this will affect the silver market is unknown: If investor demand drops, as Barclays predicts, then the market should remain well supplied. On the other hand, if silver prices continue to climb as Mr. Morgan forecasts, and more investors want in, then strikes just might be more fuel for the fire.
The one thing we do know is, whichever way silver goes, it's sure to be volatile. So strap in, and get ready for the ride.