Silver Down, Gold Up?
Wednesday, 2/17/2010 11:06
How silver's industrial uses are dragging on its price right now...

A LOT OF disappointed investors are wondering why silver hasn't done a better job catching up with the Gold Price, writes Brad Zigler at Hard Assets Investor.
You can see their predicament in a chart plotting silver's relative strength. Think of it as a Gold/Silver Ratio turned upside down.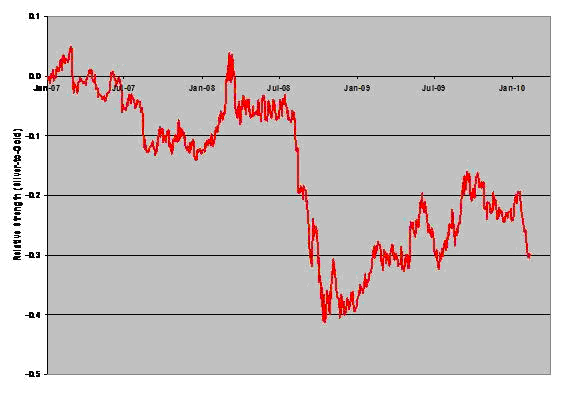 There are myriad reasons for silver's lackluster performance compared with gold. Not least is the fact that silver's an industrial metal as well as a precious metal. Industrial use, in fact, outstrips jewelry fabrication demand by more than a threefold factor.
Silver is a component in batteries, bearings, solder and brazing materials as well as electronics. And in an economic downturn, demand for these materials naturally declines.
Add to that the diminishing role of silver in photography in the digital age and you have a very elastic price. Whereas gold, by comparison, has limited industrial utility. So its price mainly reflects jewelry and Gold Investment demand.
Silver's recovery to its former highs seems more likely in a booming economy when industry is cooking. Plainly, that's not now.
Silver will of course have its shining moments. It does, after all, run alongside gold with an 82% correlation. But gold just isn't dragging the ball and chain of an economic recovery around with it.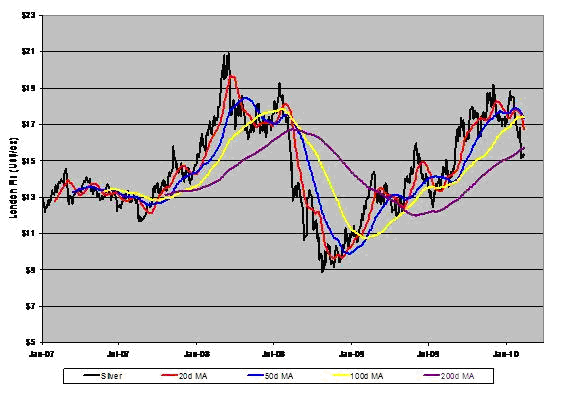 Some hopeful investors believe that, because silver fell harder than Gold Prices, there's a more explosive recovery due.
Perhaps. But the one element most likely to lift silver up to challenge its former highs is a broad-based economic resurgence. What are the odds of that...?

How best to Buy Gold, and store it securely, at low cost today? Start with a free gram of gold at BullionVault here...