Silver's 2011 Lesson for Equity Bears. And Bulls
Sunday, 4/12/2015 10:00
Working the sick joke of whipsaw nonsense from mainstream news...
YOU MIGHT NOT be the type who needs or cares to subscribe to commercial market commentary/advice/trading/management services, writes Gary Tanashian in the latest of his Notes from the Rabbit Hole.
But one thing we all can do is work through the freely available stuff calling itself 'analysis' flying around out there at warp speed, and cull what is based on facts or honestly produced analytical work from the other garbage that is all too often based on ego, bias or agenda.
Most weeks you are able to download a time-delayed version of Bob Hoye's
Pivotal Events
newsletter right here at
Biiwii.com
. While Bob has certainly got his opinions and biases (as we all do, let's be honest), he is the most historically learned commentator I have read. I enjoy the old and not so old news article quotes from bubbles that culminated in 1873, 1929, 2000 and 2007. Reading Bob's history lessons is like hitting a 'Refresh' button on personal perspective each time.
This is not a promo of Hoye's service and Institutional Advisors are not even aware of this post. Hoye is simply one of several influences on my own market management methods, and probably a reason the words "patience" and "perspective" show up so often in my own writing. It is vital to keep frames of reference and perspective at all times, no matter how long things that we view each day with our own two eyes take to play out as noisy short-term components of a longer-term process.
It used to be easy to skim Bloomberg or MarketWatch (or in the old days when people actually knew it existed, TheStreet.com) and pick out 'bubble head' headlines during bull markets, but the current phase is complicated by the fact that these services, especially MarketWatch, seem to 'day trade' the news based on what is happening on any given day or over night action.
Taking the likes of MarketWatch seriously can induce a whipsaw like you read about (literally) to an investor's frontal lobe. I know for a fact that there are some sharp commentators there (as I have interacted with some of them elsewhere and found them to be very forthright and intelligent) but there are dullards as well and more than the actual writers, I think it is the editorial staff that is responsible for selecting and presenting content each day and creating a noise level that can literally scream 'Market Crash Imminent!' one day and 'Here's Why You Need to be Fully Invested in US Stocks' the next. It's like a sick joke.
Let's use a few pictures to illustrate some historical facts. The S&P 500 is happily climbing despite a gathering of economic data that has gone negative by month-over-month change as it did in the last two recessions. The facts are that this condition actualized the implied risk to equity investors in both previous examples but on this occasion has not yet done so.
I have marked up
@dv_dend
's graphic to better illustrate how in 2000 the market topped out and began to turn down as a group of economic indicators turned down and how in 2007 the market began to turn down before the indicators went negative.
Then...the whole ball of wax nearly collapsed.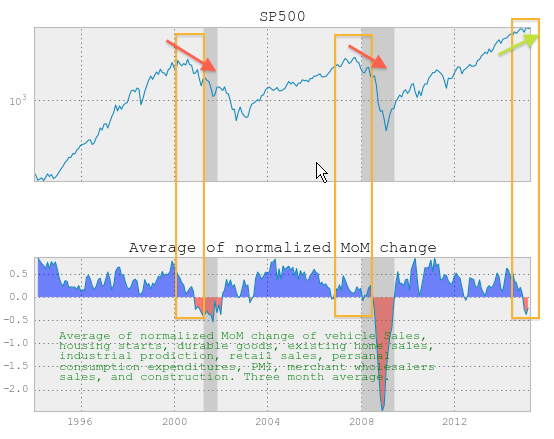 The current cycle sees the economic indicators in a danger zone and the stock market – which should have topped – has not. That (the stock market intact, technically) is a fact and it needs to be respected every bit as much as the implied risk to today's confident bulls.
Hence, while working this market happily and gainfully, we continue to advise the only rational orientation for this circumstance; when in doubt the default is CASH, not heavy long and not heavy short...CASH.
Another picture comes from China. We have charted FXI and its parent FXT for years in Notes from the Rabbit Hole, and over the last several months followed its progress in attacking and surmounting long-term resistance. We have assigned targets and I have had the pleasure of having a subscriber tell me he is getting nervous about his profits in FXI (after buying in the 41's based on our charting) and would like to know a good selling point.
It was advised that rational measured targets are being registered now and that profit is good. Consider taking some of it...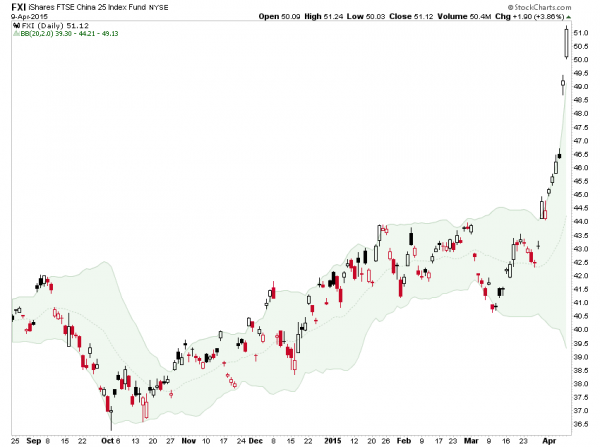 Because, sadly, history is littered with examples like this...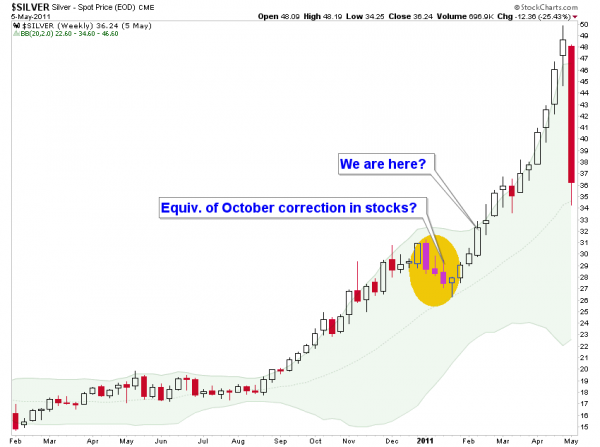 The 'We Are Here' reference is from
NFTRH 318
, which introduced the above chart to talk about a
historical precedent in silver
for the current stock market mania and the potential that the October 2014 market correction was just a pause to refresh prior to a manic blow off.
History is a 'probabilities and perspective' guide...always. It is also fact. It is a time in history now to play what the market gives, sure. But it is also a time to manage risk and default to cash.