New! Silver Investing Grows Again, But Sellers Jump 83%
Tuesday, 2/10/2015 09:00
Silver Investor Index falls to 50.1, but investing positive by weight at New Year 2015...
SILVER INVESTING sentiment amongst private individuals in the West fell near record lows at New Year 2015 as the metal's strong price rally invited existing owners to sell, writes Adrian Ash at BullionVault.
That's the conclusion of our new Silver Investor Index, launched today.
The metal's 10% rise during January saw more private investors sell
silver using BullionVault
than any month since summer 2011, very nearly equalling the number who chose to buy silver VAT-free at live spot prices on the world-leading precious metals exchange online.
That put BullionVault's new Silver Investor Index – a companion to our
widely-cited Gold Investor Index
launched in 2012 – near the series low hit when silver sellers outnumbered buyers in June 2014.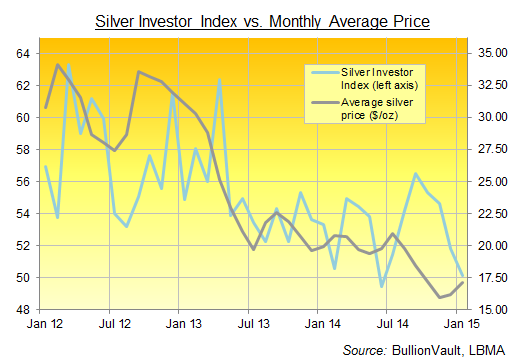 Five years since BullionVault first made silver trading and storage available online, it has become a leading provider of silver bullion to private investors online, now caring for 502 tonnes on their behalf – all securely vaulted in the user's choice of London, Singapore, Toronto and Zurich.
More than 55,000 people have now used BullionVault to buy, store and trade physical gold and silver. Because in contrast to silver coins or small bars from a shop, costs are very much lower. You'll also sidestep VAT sales tax, running to 20% in the UK and Europe, when you buy. Selling is as just as easy too, live online for instant settlement of top-grade bullion.
January 2015 saw the number of people choosing to start or increase their silver investing on BullionVault rise 39% compared to December. It reached the highest level since September last year.
But the number of sellers rose 83% from December, almost doubling from the 2014 average to hit the highest level since August 2011.
That meant silver sellers very nearly equalled the number of buyers, pulling the Silver Investor Index down from a reading of 51.9 in December to just 50.1 last month.
A reading of 50.0 would signal a perfect balance. Data for the last 3 years shows the Silver Investor Index peaking at 63.3 in March 2012 and hitting a low of 49.4 – its only sub-50 reading to date – in June 2014.
That compares with the Gold Investor Index's swing between 58.6 and 50.5 – the
near-record low hit
in both December and January.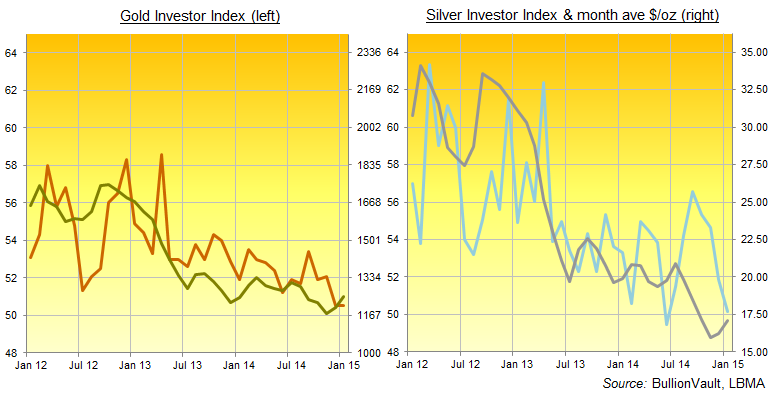 The smoother lines above are the monthly average prices for gold and silver. The left axis above for both the Gold and Silver Investor Index is the same. In percentage terms, so is the axis for gold and silver prices on the right of each chart.
Hence the much shallower drop in gold's monthly average Dollar price per ounce. Silver fell much further from its 2011 peak to last November's new 5-year low, down 71% compared with gold's 40% drop.
You can also see how private trading in silver, as shown by the Silver Investor Index, reflects the metal's greater price volatility. Silver prices are 75% more volatile than gold on a daily basis. So the metal appeals more to active traders looking for quick gains than gold.
Private investors holding silver on BullionVault are in fact 50% more likely to trade it each month than investors holding gold.
Silver's volatility cuts both ways of course, and many bargain hunters from the 2013 price crash have been wearing bad long-term losses in silver. As we saw in gold, the New Year's sharp rally in silver prices spurred both a rise in private investors buying but also a surge in sellers.
With silver rising so sharply against all currencies that should be expected.
Recording a monthly average of less than $16 per ounce in November for the first time since summer 2009, silver prices have since risen strongly. Dollar prices peaked in late January over $18 per ounce, some 28% above end-November's new 5-year low.
That was twice the gain offered to US investors holding gold. So if you were investing in both, taking profits in silver – or cutting your losses – might have felt more urgent.
Outside the Dollar, the gains from silver investing over New Year 2015 were greater still. For Sterling and Euro investors respectively, silver rose 31% and 42% from end-November to late January, hitting 16- and 21-month highs.
Note again: Silver's extra volatility cuts both ways. It has already dropped more than 10% against all major currencies from the peaks of less than two weeks ago. That compares with gold's 6-7% drop for US, Euro and Sterling investors.
One last note too, as we launch this new gauge of silver sentiment today. Because while the Silver and Gold Investor Indices both showed near-record lows in January, only just above the 50.0 mark, total client holdings by weight went in different directions.
Gold holdings by weight last peaked at 33.2 tonnes in October 2014. Since then, BullionVault clients have been net sellers by weight for three months running, cutting aggregate holdings by 9 kilograms in January for a 0.4-tonne drop overall.
Silver holdings, in contrast, rose again in January, expanding as customers grew their total silver investing by weight for the 8th month of the last twelve.
Indeed, since BullionVault first launched silver investing and trading five years ago this month, clients have never sold metal net-net. Private investors have only added more silver by weight – a phenomenon confirmed by our friends and competitors across the silver bullion industry – as the price has surged, fallen, surged again, crashed, declined and now rallied since we added the metal to our world-leading gold service in February 2010.
Whether that investing demand might pause or reverse if silver prices keep rising in 2015 remains to be seen. Quite where silver prices are heading, in fact, beware anyone who says they know for certain. The one sure thing however, once you have made your own investing or trading decision, is that silver will likely get where it's going much faster than gold. Both up and down.