Modi's India Whacks Jewellers Again, Hikes Silver Import Duty
Wednesday, 2/01/2023 19:02
No cut to gold tax despite smuggling and industry pleas...
The GOVERNMENT of INDIA has again shocked the country's massive gems and jewelry industry, hiking import duty on silver in its latest tax and spending plans while giving no relief on gold taxation despite widespread calls for a cut to help reduce smuggling and illegal sales.
After hiking the import duty on gold bullion to 15% last July, "India's budget [was]
expected to slash the gold import duty
to undercut smugglers," said Reuters last week, citing anonymous "government and industry officials".
But instead, Wednesday's Union Budget from the Goverment of BJP leader Narendra Modi made no change to gold taxation and hiked silver duty to match that rate.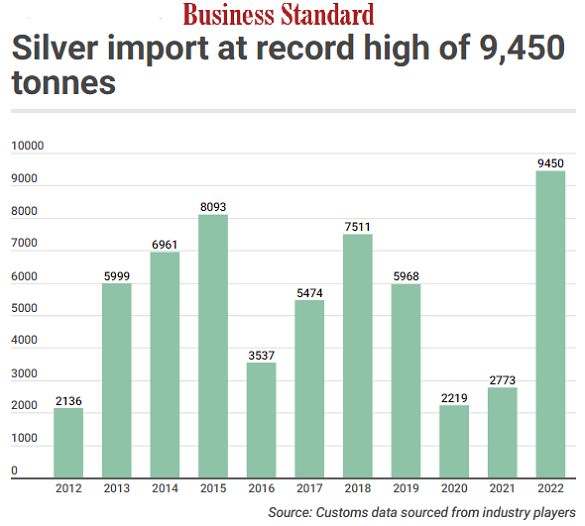 Silver imports to India last year jumped to a new record, almost doubling from the prior 5 years' average on surging demand for industrial products including solar panels, as well as from jewelry manufacturers and for small bars and coin.
Whenever silver prices dipped in 2022, "silver fabricators were having their order book full for four months," says Chirag Sheth, principal consultant for south east Asia at independent research specialists Metal Focus.
But in a pattern reminiscent of the gold-price discount widely offered to official import rates thanks to heavy inflows of smuggled gold, silver in India's domestic market has been trading at a discount of 50 US cents per ounce so far in 2023, while the global price (as tracked by London qjotes) has averaged $23.75.
Now employing
perhaps 8.2 million people
according to the Department of Commerce's Indian Brand Equity Federation, the industry contributes around 7.5% of India's Gross Domestic Product (GDP).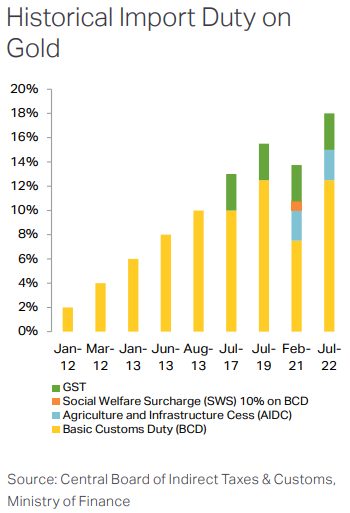 "With taxes on gold now extremely high, there has been a jump in unofficial imports," says analysis from Metals Focus.
"The higher duty has also resulted in a spurt in cash sales, where the gold is available at a discount to the official price...[leaving] many organized retailers and refineries struggling to compete."
Now making an annual plea ahead of the Union Budget, senior figures and business leaders in India's gems and jewelry industry have
repeatedly called for lower gold import duty
specifically to target the continued and growing smuggling trade.