Demonetisation Shock to India's Gold Bullion Demand 'Only Temporary'
Friday, 2/10/2017 12:42
Gold bullion imports hit 13-year low in 2016 as 86% of all cash cancelled...
GOLD BULLION demand from India's huge jewelry sector is set to recover from last year's plunge according to dealers and retailers, as consumers make delayed purchases and the industry adapts following November's shock demonetisation.
Holdings and spending of undeclared 'black money' were wiped out by the Modi government's
cancellation of India's highest-denomination banknotes
. Analysts now expect larger jewelry and bullion retail chains to benefit as the country's more traditional, artisanal trade suffers.
India's largest jewelry retailer, the Titan Company, said this week that sales of gold adornments across its 1,333 stores
grew 14% year-on-year
in the last 3 months of 2016, "despite initial headwinds on account of demonetization," according to managing director Bhaskar Bhat.
"The festival season was very good for both our jewelry and watches business."
"For two to three months,
there was no business
," adds Vishal Jain, partner at jewelry supplier Sensuel – speaking at this week's IIJS Signature trade fair at the Bombay Exhibition Centre – "but activity started to pick up again in late January.
"Now retailers need stock as the wedding season continues until late April."
After this week's Union Budget failed to cut import duty on gold bullion from the 10% high imposed since 2013, "jewelers are
expecting pent-up demand
among consumers," agrees Surendra Mehta, secretary of the India Bullion and Jewellers Association.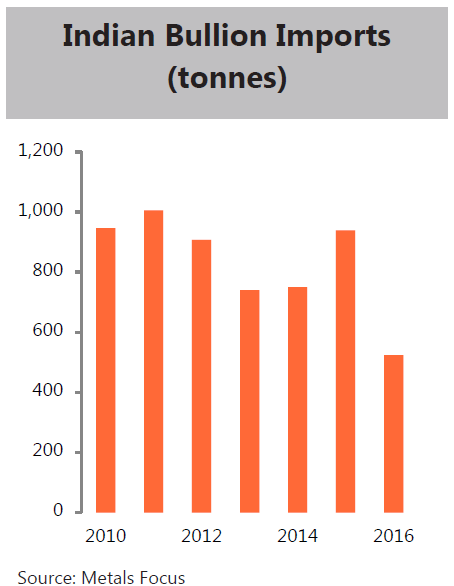 With India producing next-to-no domestically mined gold, India imported less than 500 tonnes of bullion in 2016 said specialist analysts Thomson Reuters GFMS last month, almost halving from the year before and the lowest annual total since 2003.
Bullion imports from Australia – the world's No.2 mining producer – fell to the lowest since at least 2009 on data from IHS Markit cited this week by Metals Focus.
In contrast, Australia's gold bullion exports to the UK – where London vaults remain the world's central storage point for wholesale and investment stockpiles – jumped to match 2010 levels.
Imports to India of silver – an increasingly popular substitute for household jewelry buyers as well as investors amid the crackdown on gold – were last week hit by
a new 12.5% customs duty
, added in the government's Union Budget and surprising dealers who were hoping for some relaxation of the country's restrictions on bullion imports.
Looking at the demonetisation shock, "Demand from the cash-reliant rural population fell sharply as liquidity dried up," reports the latest Gold Demand Trends from mining-backed market-development organization the World Gold Council, "and not just for gold."
Sales of tractors sank 23% in November, the report says, with a 22% drop the following month for motorbikes and scooters.
"But this is a temporary phenomenon," the
World Gold Council believes
, because "liquidity will improve" as 500 Rupee notes are re-issued along with India's new ₹2,000 note. Solid income growth following 2016's good monsoon is also "positive for gold demand" after the correspondingly strong harvest it says.
"The market is picking up, and things are starting to normalize," agrees diamond-jewelry dealer Sunil Mittal of Shailja. But after Indian gold prices spent most of 2016 at
a discount to global quotes
– reflecting a glut of local supply over demand – "wholesalers are discounting in order to move inventory," he told Diamonds.net at
this week's IIJS trade fair
.
Other attendees "expect it will still take another six months for the market – and liquidity – to return to its old levels," the site reports.
Competing with gold for household savings, India's interest rates on cash-in-the-bank may have to rise, the Reserve Bank of India said Wednesday, as
inflation risks overtake
the economic threat from November's shock demonetisation, which saw 86% of the country's cash in circulation cancelled with just 4 hours' notice.
The RBI surprised analysts by failing to cut rates again after taking the cost of borrowing down from 8% to 6.25% over the previous two years.