Silver Price Touches 3-Month High Even as SLV Shrinks, India Adds 12.5% Tax, Gold Reclaims 2/3rds of 'Trump Dump'
Thursday, 2/02/2017 14:17
SILVER PRICES hit new 3-month highs and gold rose to the highest in 11 weeks against the Dollar on Thursday as world stock markets stalled near record highs amid news of new US president Donald Trump slamming down the phone on key Pacific ally Australia's prime minister Malcolm Turnbull.
"He didn't let diplomatic niceties get in the way of how he felt about [the] refugee policy," Australia's ABC News quotes Philip Rucker, the Washington Post journalist who broke the story, referring to what Trump called "a dumb deal" on Twitter.
Trump also today attacked long-time US antagonist Iran, as well as former president Barack Obama's policy towards the Middle Eastern state.
Silver bullion rose to fresh 12-week highs at $17.70 per ounce as bond yields fell and commodities held flat overall, still some 16% below last summer's 2-year highs in the wake of the UK's Brexit referendum shock.
Gold's jump to $1223 today still left it 11% lower from July's 2-year high in Dollar terms, but recovered two-thirds of the metal's
sharp post-US election slump
.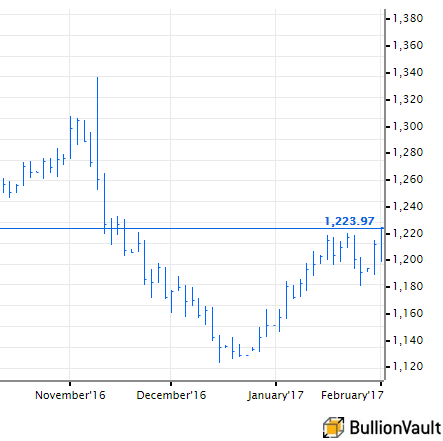 Gold priced in Sterling meantime reversed all of last week's 2.7% drop as the Pound fell 1.5 cents after a vote of 'no change' from the Bank of England – now holding £445 billion ($556bn) of QE bond purchases with interest rates at 0.25% despite raising its own 2017 economic forecast dramatically – followed last night's parliamentary vote to let the Conservative Government trigger Article 50 and proceed with taking the UK out of the European Union.
"Clearly, money managers want to be diversified in these turbulent times," reckons a note from Canadian brokerage TD Securities, "as markets question Mr.Trump's ability to deliver strong growth."
Favored hedge-fund vehicle the giant SPDR Gold ETF (NYSEArca:GLD) yesterday saw a 10-tonne inflow, needed to back extra shares issued to meet investor demand in the trust-fund product – the heaviest creation of new shares since early October.
Seeing only three 10-tonne-plus days in the 3 years starting 2013 – all of them in 2015 – the GLD saw 14 in 2016, helping grow its bullion holdings 28% from the lowest levels since 2008.
Silver's largest ETF however – the iShares Silver Trust (NYSEArca:SLV) – saw a net outflow of metal as shareholders liquidated stock on 3-month price highs.
With no mention of gold meantime, yesterday's new budget from the government of India disappointed dealers hoping for a cut in India's 10% import duty and a higher threshold for purchases to need reporting to the tax authorities.
Instead, the new Union Budget added 12.5% tax to all silver bullion, including coins, in what finance minister Arun Jaitley's department called an "anti-avoidance measure" to follow the shock demonetisation of India's largest banknotes last November.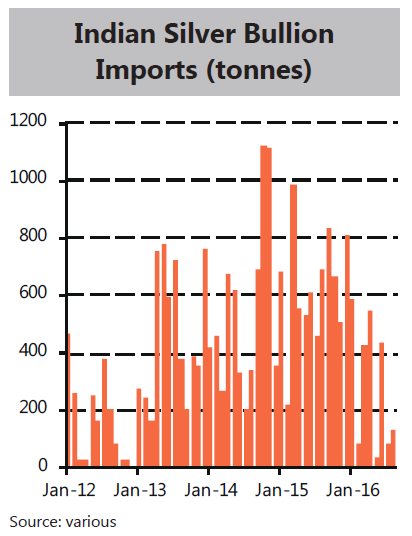 As tax and curbs on gold imports rose over the last 5 years, India's silver investment demand rose more than 4-fold, almost matching the United States' world-leading private purchases of coin and bar before easing back according to data from specialist analysts Metals Focus.
The long-awaited decision on India's General Sales Tax – aimed at unifying and simplifying the system, and likely to bring extra value-added tax to jewelry – is yet to come.