Silver Bullion: Preparing for a Breakout?
Wednesday, 12/12/2012 18:06
"The Mother of All Mid-Point Consolidations"...
THE LONG TERM graph for silver shows what we have dubbed THE MOTHER OF ALL MID-POINT CONSOLIDATIONS or MOAMPC, writes Gene Arensberg at GotGoldReport.
Silver has broken out of the giant flag consolidation and has put in one new higher high and low since doing so. A print above $35.50 will establish the second higher high.
Bull markets are measured on charts as a series of higher highs and lows.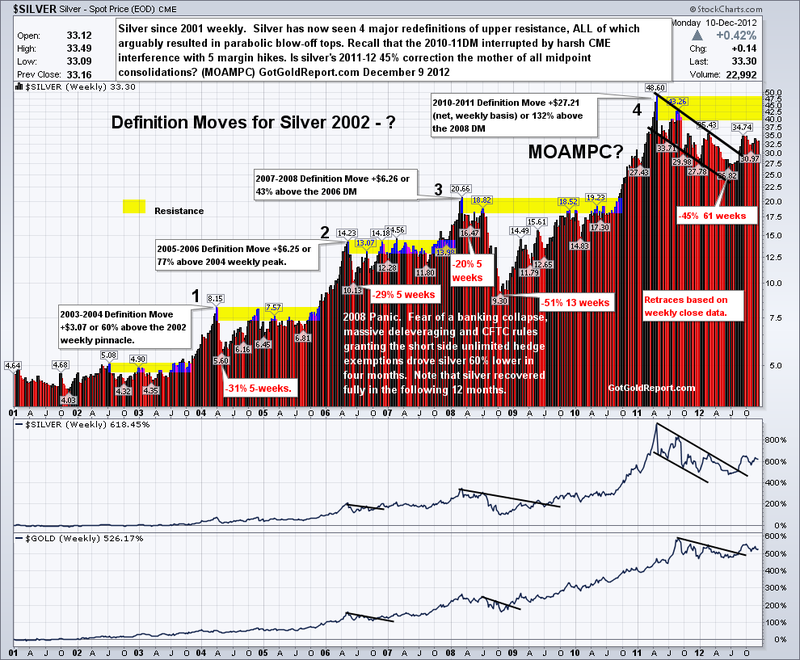 Click on image for larger version
Since 2003 silver has redefined upper resistance four times in what we call Definition Moves (DMs). Definition Moves are periods where the issue or market breaks out above long time resistance, surging, often in a parabola, to define a new, much higher level of resistance for a significant period of time.
If silver is in the beginning of a new DM, now, 20 months after its test of the all-time high, we would expect it to challenge the resistance area more than once before it blasts higher in another parabolic thrust. It has done so (tested the new resistance zone without breaking out more than once) in all of the previous DMs. We note that silver has already tested the resistance zone once.
Of course, past performance is no guarantee of future results...
Buying gold or silver? Visit BullionVault...