Big Buyers Push Silver Bullion Demand to Record
Tuesday, 7/05/2016 16:37
Sellers outnumber buyers but net silver bullion demand hits record in Q2...
SILVER BULLION demand jumped amongst self-directed Western investors amid June 2016's run-up to the Brexit crisis, writes Adrian Ash at BullionVault.
But so too did the number of existing silver owners choosing to sell.
Because that's what acting early enables you to do. Provided you can exit to take profits – or cut losses – quickly, easily and cheaply.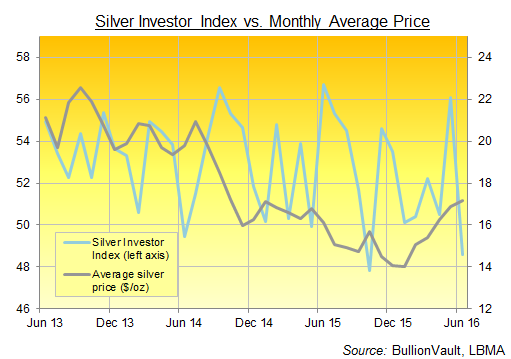 June saw a jump in both buying and selling of silver on BullionVault, with the number of sellers overtaking the number of buyers for the fourth time in the last two years as prices also rose.
Adding 14% from the end of May for Dollar and Euro investors, silver bullion gained 24% versus the British Pound.
That invited earlier buyers to sell, cutting our Silver Investor Index to an 8-month low of 48.6 from May's 11-month high at 56.1.
The index would read 50.0 if the number of net buyers across the month were perfectly balanced by the number of net sellers. And like the metal itself, our Silver Investor Index is much more volatile than the
Gold Investor Index
.
Silver typically tracks gold prices, and explodes when markets smell central-bank inflation ahead. That's what we saw either side of last weekend, as the financial markets digested Bank of England governor Mark Carney's big hint that
QE is returning to the UK
sooner, not later.
Right now, that inflationary aspect is battling silver's main use as an industrial metal, because it suffers with other commodities when global growth looks threatened. And they surely look to be in trouble with the UK's Brexit decision blamed for London's
real estate market freezing up
, plus the slump in the Pound, spreading to
a boom in 'safe haven' government bonds
, currencies such as the Swiss Franc, and – of course – gold.
Yet even as the number of silver sellers outnumbered buyers in June, demand by weight continued to grow, adding another 17 tonnes to
client bullion holdings
– very nearly a new monthly record.
Indeed, that inflow saw Q2 set a new quarterly record for silver demand amongst BullionVault users, who added 48.8 tonnes of silver bullion from end-March, a rise of almost 9% taking client holdings to 601 tonnes.
Larger investors, in short, are taking larger positions in physical silver – and taking them at the lowest trading costs too.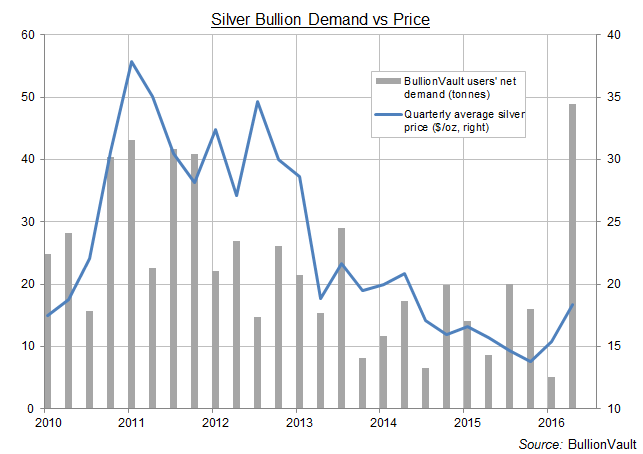 Launched in 2005, BullionVault has now enabled more than 61,000 private investors across 183 countries to benefit from the low dealing costs, deep liquidity and ultra-high security of the wholesale bullion market.
Some 89% of our users live in North America or Western Europe. Altogether, they own more than $1.5 billion worth of gold bullion between them (£1.1bn, €1.3bn, ¥154bn), more than is held by most of the world's central banks, plus a further $354m (£263m, €318m, ¥36bn) in physical silver.
Peaks and troughs in the price will no doubt continue to lead the ebb and flow of private investor demand. But the underlying trend remains clear to see.