Stocks Go Sideways. And Then...?
Thursday, 8/27/2015 12:58
Reviewing the US stock market picture from a few different angles...
WE HAVE
been using the Equity Put/Call ratio to gauge pressure on the US stock market for all of 2015,
writes Gary Tanashian in his Notes from the Rabbit Hole, referring to a measure of options traders' bets on stock prices rising vs. bets that stocks will fall.
Many people think that anxiety indicators like this and the VIX are contrary indicators (ie, when they spike you buy the fear in the markets, which often does work well) but when smoothing out the ratio – ticker symbol CPCE – using a moving average (weekly EMA 20 in this case) you get a trend.
The market benefited over-long stretches from the calm atmosphere and the down-trend in put buying vs. call buying. One explanation is that the market felt safe in mommy and daddy's arms (Bernanke and Yellen) amidst 'peak confidence' in the Fed with a side of Goldilocks.
Then came transition and then came uptrend. The market has gone exactly sideways for all of 2015.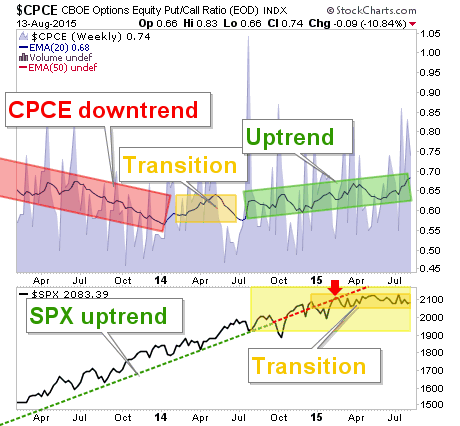 Meanwhile, gold is breaking out vs. commodities, so a counter-cyclical message is back in play. Now, this has not stopped the market yet, as the implication has been to this point a Goldilocks scenario for the US.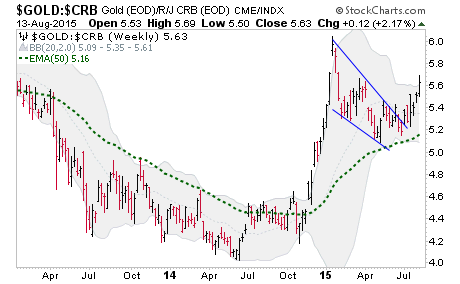 Except that this time the Palladium-Gold ratio, a cyclical indicator, has joined its bearish fellow above, in making a counter-cyclical turn.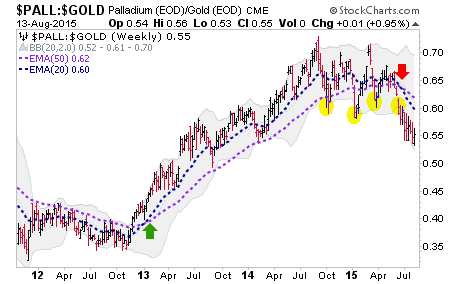 As long as the stock market's price is in an uptrend, which it is, then that is the primary ruler of things. The Dow is in an uptrend because it has not violated the October low and it is at the weekly EMA 85, which has supported every routine correction since 2011.
Bullish per cent (faded into background) is another of those indicators you could consider a contrary indicator – ie, buy the correction. But there is one notable difference between this instance and the previous ones where BP declined; in this case BP (a measure of market participation) has ground lower while the Dow went sideways before recently dropping.
Previously, BP has plunged in concert with corrections.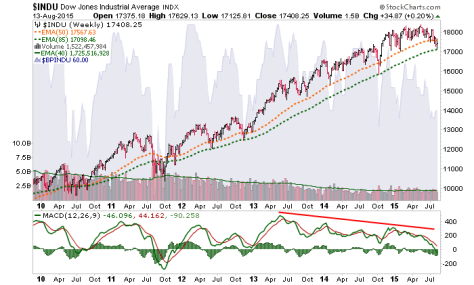 S&P 500 is more egregious, as it is still sideways and only testing the first key moving average. This is a very thinned out market as the majority of components have been weak. The Nasdaq 100 has a bigger divergence, still. Price has continued up, as fewer big tech captains do the heavy lifting.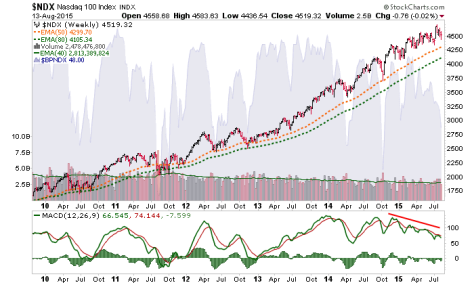 As noted above, price is the ultimate decider and price has not yet decided. Dialing in the view of SPX to a daily once more, we note an index getting pinched between the daily SMA's 50 and 200.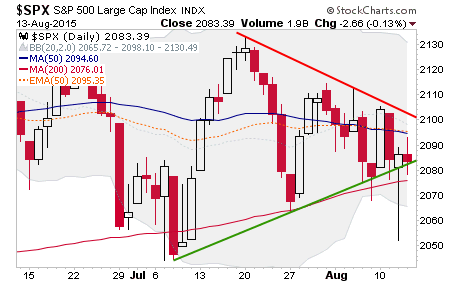 Price direction, up or down, will be coming soon.