Oil Bust to Oil Boom
Wednesday, 1/04/2017 14:01
Russia's dark start to 2016 is but a distant memory...
The price of Urals blend of crude, the Kremlin's top income earner, was sliding below $30 per barrel. That spelt more pain for Russia. Oil and gas exports make up almost half of the Russian government's revenue. Moody's and S&P had already downgraded Russia's debt to junk status. As a direct result, the Russian Rouble was plunging in a death spiral.
Squeezed by a renewed pick-up in inflation and sharply higher import prices, real wages after inflation – one of the most important factors for household spending – plunged -10% compared with a year earlier. Sanctions from the West and Russian retaliatory counter-sanctions had cost Russia at least -1.5% of GDP Russian First Deputy Economic Development Minister Aleksey Likhachev said in Moscow on January 13th, 2016.
As the sanctions cut off Russia's access to global financial markets, traders began to worry that future requests by Russian companies for money from the National Wealth Fund, whose external debts totaled $568-billion, would far exceed the actual total in the coffers.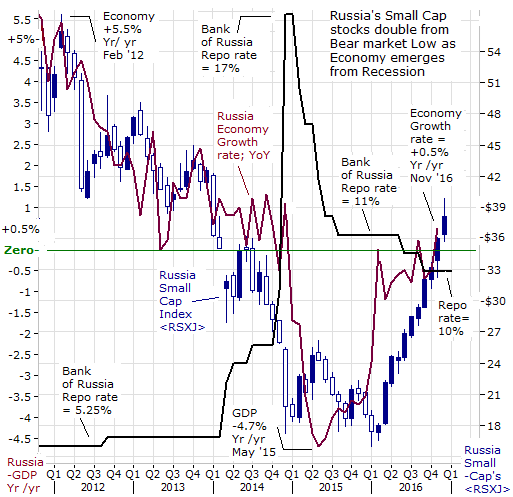 During the 2015-16 recession, Russia's economy had contracted by as much as -4.7%. Despite a dramatic -70% decline in oil prices and the burden of sanctions imposed by Western governments after the Crimea conquest, the Putin regime was able to avert economic disaster and it even engineered a muted recovery. Moscow slashed spending -10% across the board (excluding the military), and tapped its supply of foreign currencies in the Reserve Fund and the National Welfare Fund.
The Kremlin shrewdly decided to fully float the Russian Rouble in November 2014, and the currency depreciated by -50% within a year. Although a weaker Rouble hurt the living standards of ordinary Russians, it increased the income of Russia's exporters that sell energy and minerals to foreign customers, in US Dollars, and in turn, boosted tax revenues to the Kremlin. More surprising is that while 73% of Russians are unhappy with their economy, 8 in 10 approve of the way Putin is handling it.
How is that possible? About 90% of all Russians get their "FAKE News" from Russian television channels directly controlled by the Kremlin.
As fate would have it, the climax of a 7-year bear market for Russian stocks was just around the corner. For US-based investors, ETF's like VanEck's Vectors Russia fund (RSX) fell as much as 20% last January, before hitting rock bottom at $11.81 per share. RSX had traded above $59 per share in May 2008. A US-based investor gains direct exposure to the Russian Rouble exchange rate versus the US Dollar, as well as the underlying companies in the RSX basket. The sharp devaluation of the Rouble versus the USD was wiping out investors' equity.
However, by the end of 2016, RSX had managed to rally significantly higher and closed at $21.22/ share, up +45% for the year, with a third of the gains coming from the Rouble's +17% advance against the Dollar.
The Market Vectors Russia Small-Cap ETF (RSXJ) fell as low as $16 share last January, before mounting an amazing recovery rally to as high as $39, its highest level in three years.
The strength in Russian equities were partly fueled by bets on cheap markets. Among the emerging markets, Russian equities were the most undervalued. For instance, at the bottom of the bear market, RSX showed a price-to-earnings ratio of 7.0 and RSXJ was trading with a P/E ratio as low as 5.4 times.
In contrast, the MSCI Emerging Markets Index was trading slightly above a 11 P/E and the US S&P500 index was trading around a 18.5 P/E.
Russia's capital markets and currencies overcame major shocks. The selling climax was reached in the first quarter of 2016, when the price of crude oil hit a double bottom at $27 per barrel.
Also one year ago, on January 23rd, 2016; the New York Times published a story claiming the Kremlin would go bankrupt in 18-months.
"At current spending rates, Russia's foreign currency and two rainy day funds, are expected to last only 18-months. It might need to sell significant stakes in state-run companies like the oil giant Rosneft or Sberbank."
However, in hindsight, the "FAKE news" reported by western media outlets, predicting the demise of Vladimir Putin's regime, was about the perfect timing for a contrarian buy signal. Since February 2016, Putin's regime was rescued by the combination of a doubling in Urals crude oil prices and hopes that Donald Trump's US presidency will warm relations between Russia and the west
Russia's foreign currency reserves are $30-billion higher today than when the NY Times' article was published, and along with higher oil prices, Russia's economy has slowly moved from crisis to stagnation. The Kremlin managed to maintain its ability to control the economy, fulfill their social obligations and ensure that budget-funded salaries and pensions were paid. The consumer inflation fell to +5.8% in November. Russia's 10-year bond yield closed at 8.40% last week, and down sharply from above 12% in August 2015. Most importantly, the price of Urals crude oil has doubled from its lowest point to $53.50 per barrel and fueled the Rouble's recovery rally. In turn, foreigners have plowed monies into Russian equities and bonds, and lowering the cost of borrowing for companies and the state. Russia's economy emerged from recession for the first time in two years, in November- up +0.5% from a year earlier.
On Dec 20th, 2016, Mr Putin signed onto an austerity budget for 2017 drafted on the assumption that the price of Urals crude oil would average $40 per barrel. That's looking very conservative, since Urals crude is trading above $53 per barrel, and could climb towards $60 per barrel this year. if correct, that would enable the Kremlin to boost its FX stash in 2017 by tens of billions of US Dollars.
After nearly a year of wrangling, the OPEC cartel agreed on Nov 30th to cut output by 1.2-million barrels per day for six months from January 1st, 2107, to 32.5mbpd, with top exporter Saudi Arabia cutting around 486,000 bpd to curb the oversupply that has dogged markets for two years. On Dec 12th, producers from outside OPEC, led by Russia, agreed to reduce output by 558,000 bpd, short of the target of 600,000-bpd but still the largest contribution by non-OPEC ever. Thus, the total crude output reduction will total 1.8mbpd. But for the deal to be effective, all parties must stick to their word.
On December 21st, Russia's Energy Minister Alexander Novak told the Rossiya-24 TV news channel; "The oil market has stabilized in the range of $50-to-55 per barrel." "This is good for the oil and gas market in order to ensure long-term investments in the sector, which by the way have dropped by around $500-billion over the past 2-½-years. If oil prices keep at this level both consumers and producers will benefit." Novak does not rule out "upward volatility" to $60 per barrel. If oil prices stabilize at the level of $58 per barrel for Brent and $56 per barrel for Urals, Russia's economy could expand +1.2% in 2017. The US Dollar's exchange rate could fall below 60 Roubles.
On Dec 24th, Finance Minister Anton Siluanov told Rossiya-24 TV channel; "Russia's industry has already gotten used to the rate of 65 Roubles per Dollar, and a further strengthening would actually lead to a decline in competitiveness. In the 2017 budget, Siluanov's ministry expects oil prices at $40 per barrel ($53.50 today) and 67.5 Roubles per Dollar (61.2 today) as a projected exchange rate. "If the budget receives some extra revenue from more expensive crude, it will be either saved as reserves or used to cover the deficit," Siluanov said. Some in the Kremlin are increasingly confident that the sanctions, tightened over Russia's role in a separatist rebellion in eastern Ukraine, will go away after the Trump administration takes over.
As such, Russia's budget deficit could be much less than projected (-3% of GDP) and instead, might be closer to -1.5% of GDP in 2017. If Russia's inflation rate continues to fall towards +4% in the year 2017, the Russian central bank could lower its repo lending rate -2% to 8-percent.
Overall, 2016 did not turn out as difficult for Russia as its beginning, and certainly not severe as the crisis 2015. The main challenges facing Russia's economy remain the same as before: the uncertainties over the direction of oil prices, Western sanctions, corruption within its government agencies, and foreigners' questions about the legality of its laws.