1999 Again! Tech IPO Boom from VC
Friday, 8/09/2019 09:01
Private equity cashing in by listing stocks...
The DATE was May 15, 1997, says Jeff Brown, chief technology analyst for Bill Bonner, writing in Bonner's Diary of a Rogue Economist.
A small company founded in Bellevue, Washington was set to go public. With the modest ambition of selling books online, Amazon (AMZN) listed for just $18 a share.
We all know what happened next...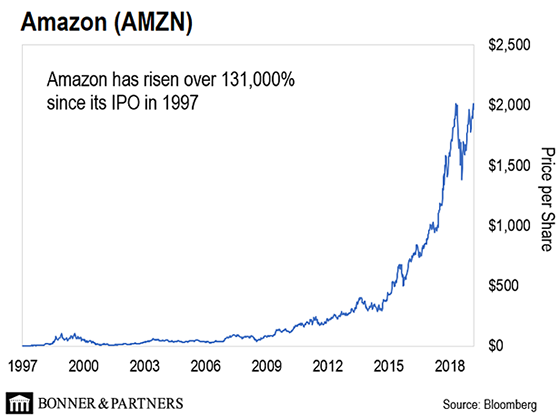 On a split-adjusted stock basis, Amazon rose from $1.50 per share to where it is trading today around $1975 per share. That is an incredible 1,317 times your money, or a 131,567% return on investment. That turned every $1000 invested into more than $1.3 million.
The best part? Every retail investor had an opportunity to "get in" on those investment returns. Anyone that had a brokerage account could have enjoyed those kinds of gains.
But sadly, the opportunity to invest in the "next Amazon" has all but disappeared today.
You see, something extraordinary has changed during the last decade. And very few investors know about it...
The pace of technological innovation and new company creation is one we have never seen before. But the opportunities to invest in the next Amazon or Google have all but disappeared.
What happened?
Back in the late 1990s or early 2000s, if a private technology company had $20-$50 million in revenues and was generating free cash flow (ie, its cash balance was growing, not shrinking), it was time to go public.
Companies sold shares via initial public offerings (IPOs). This gave them the capital they needed to reach the next stage of growth.
Today, more and more technology companies are using angel investors (funds from private individuals) and venture capital (VC) Dollars (funds from private investment groups) to bring their products to market.
These companies can fund research, development, and revenue growth without the scrutiny and expense of being publicly traded companies.
2018 was absolutely a record year for venture capital activity. Venture capital firms invested $156.5 billion across 8,661 deals. That's the most VC investment in a given year ever. 2018's venture capital investment eclipsed that of even the dot-com years.
And it's not just venture capital funds. A flood of private money has been funneled toward early stage tech companies. Since 2009:
Asset management firms increased their exposure to technology startups by 11 times
Family offices increased their exposure by 14 times
Hedge funds increased their exposure by 16 times
Mutual funds increased their exposure by 38 times
These investment flows into technology companies led to 10s of billions of funds in technology annually that never existed before.
That was great news for tech startups that needed capital to grow and develop their businesses. But there was a downside for the average investor...
The private financing of technology companies caused the entire technology IPO market to dry up over the last few years. After all, why would a company go public if it can just raise round after round of private funding?
The flood of private capital let leading-edge technology firms stay private for much longer than they normally would. They could have "easy" access to round upon round of new capital to invest in and grow their businesses, without ever needing to go public.
But it also meant that regular, Main Street investors couldn't profit from these transformational companies. The biggest returns went to connected venture capitalists. Everyday investors were left out in the cold.
But I have good news...
After more than two decades of locking regular investors out of the most exciting technology investing opportunities, the trend is finally reversing.
There are hundreds of "digital-first" tech companies ready to IPO in the near future.
These are companies that were born in the ashes of the 2001 dot-com bust and remained private for a long time because of the flood of private capital into private technology companies.
Collectively, the 2019 IPO boom is expected to set the record for total capital raised by US IPOs in a single year. It should eclipse the dot-com boom of 1999...when 547 IPOs raised $107.9 billion.
Ultimately, 2019 will be a banner year for tech IPOs. And that will give investors the chance to invest in the most exciting companies on the planet.
Already, companies like Uber, Lyft, Pinterest, and Slack have gone public. For the first time in years, average investors will have the chance to invest in leading-edge technology companies by simply clicking a button in their online brokerage accounts.
And this trend is only picking up. May was a great month for IPOs. In fact, US IPOs raised more money during the month of May than they did from January to April combined.
What does this all mean to you as an investor?
It means that, for the first time in years, everyday investors will be able to invest in the best technology stocks on the market.
You've likely already heard about some of these blockbuster IPOs, like Uber and Lyft.
But make no mistake. This trend is much bigger than just Uber and Lyft.
There is a backlog of technology deals right now waiting to hit the public markets.